In ancient Tahitian lore, the God Oro touched the heart of his love with a magnificent black pearl. In modern Tahitian history, a mortal named Salvador J. Assael enabled millions of hearts to be touched by this extraordinary gem when he restored the black pearl to its rightful place as the "Queen of Jewels."
Salvador Assael's story didn't start with Tahitian black pearls. It dates back three generations to the early 1900s in Europe, where his family was in the precious gem business. In 1941, they relocated to the United States. Little did anyone know that in a mere fi ve years, destiny would begin to play its hand for the younger Assael. Fate brought him to the world of pearls in 1946 when he bartered thousands of his father's excess watches to post-war Japanese companies for cultured pearls—and so began his love affair with these precious jewels.

Always seeking new markets, this brilliant young marketer and strategist would, in 1976, bring "The Tahitian Natural Colour Cultured Pearl" to the attention of the world. Assael's plan included introducing the newly perfected Tahitian black cultured pearl to Harry Winston who, because of their remarkable beauty, instantly bought all the strands he offered. But instead of selling them as necklaces, Winston created spectacular diamond and pearl jewelry. Upscale jewellers everywhere quickly jumped on the bandwagon, in part due to Assael's clever approach of allowing them to return any that didn't sell. "None were returned," he says, and by 1980, the Tahitian black pearl became the counterpart to the heavily prized South Sea white cultured pearls.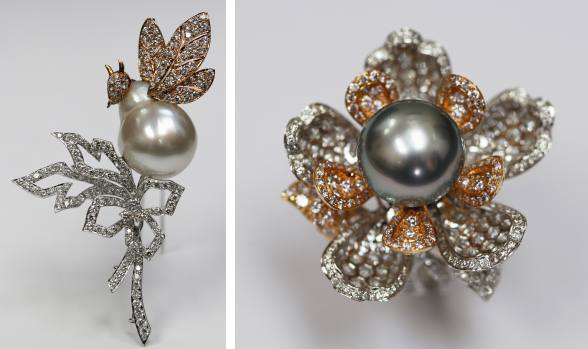 Today, Assael International is the world leader in South Sea and Tahitian natural colour cultured pearls. Through its leadership and relentless efforts, these extraordinary gems have reached worldwide demand and prominence. No longer is the black pearl, with its bewitching magic, the exclusive domain of royalty. Stunning designs swirl diamonds around perfectly shaped pearls, or interlace them with exotic gems, and are worn by women the world over.
Magnificent golds, enticing greys, seductive blacks, and lustrous whites are set with precious and semi-precious stones to create necklaces, brooches, and earrings that would make Oro himself jealous. Each pearl in an Assael necklace is carefully matched, marked, and graded by highly trained individuals with years of experience. Every strand is of the highest quality, and all Assael pearls, whether from Australia, Indonesia, Japan, or Tahiti, are guaranteed to be of natural colour and untreated.
But spectacular jewels are not the only appeal of Assael International. The company's handpicked staff is equally as exceptional. They are individuals and artisans who bring intuition and a lifetime of experience to each jewel.
"Our experts travel the world to fi nd the best quality cultured pearls and precious stones for our creations," Assael proudly insists. "We demand the highest level of quality to assure a superior product." This is evidenced by the fact that when the company participated in the most prestigious fashion show in Paris, all twenty-two models wore necklaces, earrings, and rings made by Assael.
And no wonder, one look at the company's new collections and it is clear that even the ancient Tahitian gods could not have created more seductive jewels.