Boucheron introduced a new collection called L 'Artisan du Rêve , a journey through the Maison's archives. A path of discovery into Boucheron's rich history, each jewelry set is inspired by heritage, a favoured theme or a particular technique, as an emblem of the Maison's expertise, savoir-faire and creative vitality.
Bouquet d'Ailes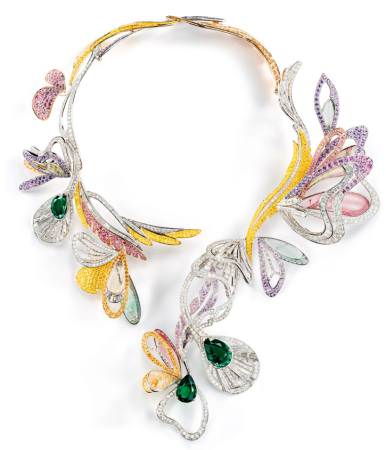 Inspired by the naturalist period of the 1900s, the Bouquet d'Ailes jewelry set reinvents the Point d'Interrogation necklace, a signature piece of the Maison Boucheron, by taking inspiration from its exquisite menagerie. This is not a jewel, it is a work of art: a masterful assembly of butterfly and dragonfly wings and of peacock feathers. Like a bouquet, these wings come together to form a harmony of shapes, of colors and of volume which is graceful and light. Emerald, colored sapphire, fine stone and diamond necklace
Nature de Cristal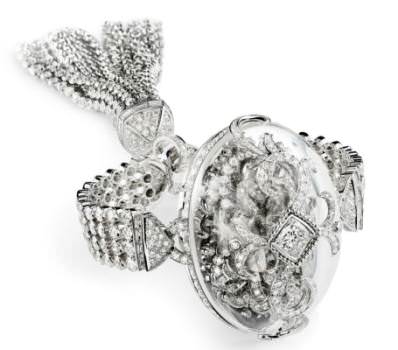 The first jeweler to work on crystal, the Maison Boucheron has created a breath-taking Garden of Eden. Placed under the exquisite haven of a crystal dome, it comes alive. The Jardin de Cristal jewelry set is the allegory of a wonderful life, sheltered by love's dome, offering a woman the promise of a life to be lived with more strength and intensity than any other. Diamond and rock crystal necklace. Versatile wearing.
Lierre de Paris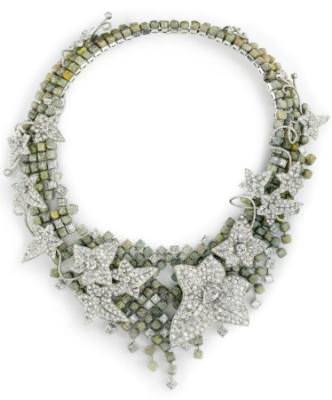 Inspired by the City of Light, the most Parisian of jewelers pays tribute to its origins: the Maison's beginning at the Palais-Royal and the fascination for nature in the city. At the time when the fashion for jardins à la française was all the rage, Frédéric Boucheron admired the wild ivy that grew spontaneously under the arches of the Palais-Royal. With the Lierre de Paris jewelry set, Boucheron celebrates nature and its triumph in the city. Always seeking modernity and innovation, the Maison makes ivy spring up from under Parisian cobblestones. Faceted and rough diamond necklace.
Mosaïque Delilah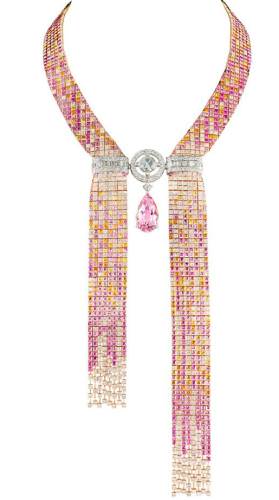 Fabrics, cloths and pleats, the Maison Boucheron has regularly taken inspiration from Haute Couture for its collections. Using technique to serve creation, the Maison pushes the boundaries of its craft to work on gold as one would a fabric, weaving it to become as supple and light as a drapé material. Like a cloth, the Mosaïque Delilah jewelry set unveils an array of stones delicately set onto a gold mesh that is as soft and fine as a scarf. This extraordinary new technique that gives life and suppleness to metal is called mosaic setting.
Opalescent Serpent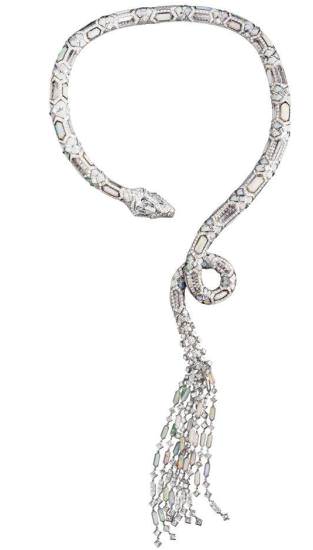 Frédéric Boucheron one day gave his wife a present ; a necklace in the shape of a serpent, which promised her a happy life. Since that day, it has become a symbol of love and protection, a pledge of enduring happiness for all Boucheron women. This year, the serpent is re-invented, shedding its skin for a new life. The icon of the past is reborn for the Serpent Opalescent set in a modern and striking light. The reinterpretation of a great classic of the Maison, combined with the use of new materials, colors and technical expertise make this multiple- wear piece a signature Boucheron creation.
Perle au trésor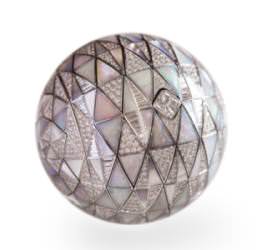 A legacy of the Maison Boucheron's great tradition of multi-wear jewelry, the Perle au Trésor creation is so much more than a jewel. It is the object of a thousand and one mysteries. Indeed, the pearl transforms into an inlaid jewel-case that opens and unveils all of the wonders it contains: a necklace, brooches and a bracelet. A precious treasure chest, it offers a cornucopia of jewels, bringing to mind the fabulous jewel boxes of fairy-tale dreams. Diamond, pearl, opal and mother-of-pearl Perle au Trésor object. The object opens and unveils a necklace, two brooches and a bracelet. The pedestal is in rock crystal.
Plume de Paon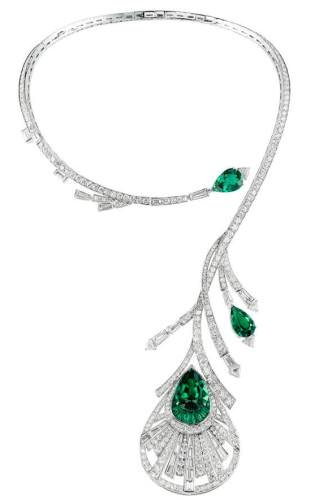 It was a peacock feather that inspired Frédéric Boucheron, in collaboration with the head of his atelier Paul Legrand, to imagine, draw and create the point d'interrogation necklace. The year was 1883 and this major innovation soon became an icon of the Maison Boucheron, with its fresh new approach to femininity. Indeed, far from sitting tightly around a woman's neck, which obviously constrains her movements, this necklace gives her freedom while sumptuously adorning her. The Plume de Paon jewelry set is its re-incarnation.