Following several years as a hotelier in Guernsey, the Venetian born Roberto Coin, returned to Italy to established his company in 1977 at the age of 33 in Vicenza, the Italian town famed for its jewellery throughout the world. With immense passion and entrepreneurial spirit, he created a company that soared to the top of the jewellery sector in only a few years expanding his market well beyond the boundaries of Europe. He now boasts a staggering 975 retail outlets globally and has recently expanded to his own stores in key strategic cities around the world.
Roberto Coin
Roberto has created a reputation for well-crafted, fashion forward designs that have made him one of the most recognizable names as a manufacturer and designer.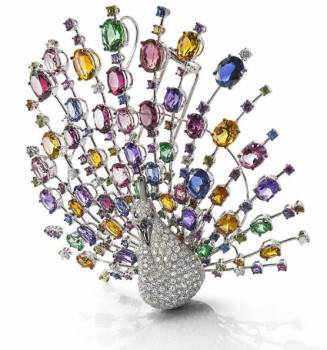 Roberto Coin creates jewellery that inspires the imagination, enhances the beauty of every woman and is designed with meticulous attention to detail. The designs show the versatility of gold to perfection, every piece exuding its warmth, sensuality and inherent richness with beautiful stones added in a variety of colours bringing life and excitement to every piece.
"I always wanted to dress women, and jewellery is an extension of this, women should be able to dress and act with spirit no matter what their age. It is my duty to know about the colours and fashions of the season so I can create the designs to compliment this.
Roberto Coin has marked several milestones for innovation including:
1978, the company was the first to reintroduce the use of three coloured golds. In 1990 the company was the first to make fashionable satin and silky finishes in gold, but Roberto's most important goal was achieved in 1998 with the Appassionata collection, in which he made gold become supple like silk, fulfilling the dreams of every woman.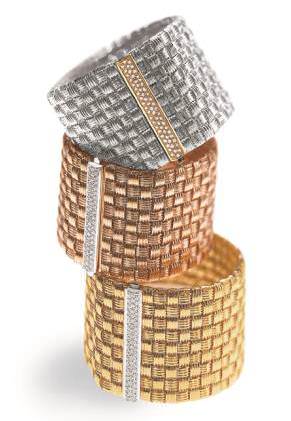 Roberto patented this new production technology after having spent 2 years developing it and now it is one of Roberto's best selling collections.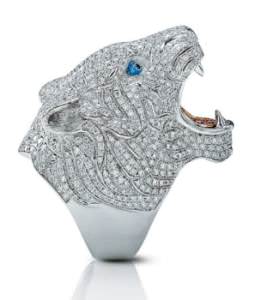 Roberto hates to follow trends but makes it a mission to be the first to tread a particular path each season. Like revered fashion icon Yves Saint Laurent, Roberto Coin professes to create for the woman. He is a designer who is not content with a mere signature style but who strives for innovation. Roberto's philosophy is that 'fashion is an art, but to be fashionable you must possess the art of being different'. "We want our jewellery to last more than six months and that is why we sell high end, classical and beautifully made jewellery" says Roberto Coin uses predominantly 18ct gold and 2% of the collection is made in platinum.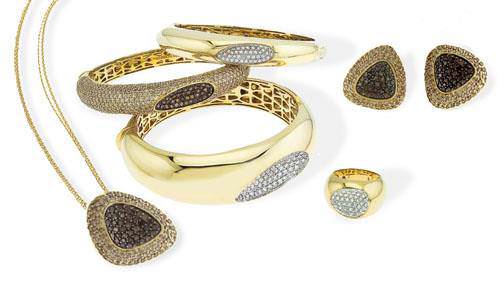 One of Roberto's recent collections which is selling very well due to its simplicity and price bracket is Capri Plus. This offers his followers a totally different look to his normal style: New price points are created by using silver or wood with innovative techniques and finishes combed with colourful precious and semi precious stones.
Inspired by the beauty of the island of Capri, it is a collection based on vibrant Mediterranean colours and contrasts whilst remaining true to Roberto Coin's requirement that every piece he creates is the embodiment of quality and style.
18kt with diamonds, beautifully faceted Capri cut coloured stones such as Amethyst or stunning rich colours of cabochon Chrysoprase and Orange moonstones complimented by black sapphires or other precious stones in pave settings.
Topaz, Rhodolite or Icy diamonds combine with silver bringing affordability to a new wider customer base.
The range excitingly also incorporates recycled and reclaimed ebony, complimented by warm brown diamonds.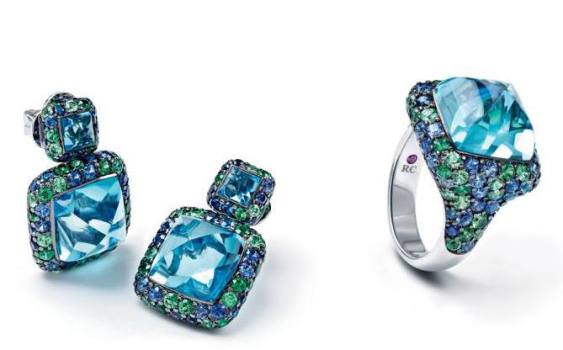 Fantasia Collection which will be launched in Basel 2013 is inspired by a constellation of wonderful stars, a blooming explosion of fireworks for a collection in which the magnificence of diamonds is celebrated by enhancing their ecstatic purity. White gold to intensify the light of colorless diamonds and rubies, yellow gold to light up the lovely combination of white and cognac diamonds or yellow sapphires. Timeless elegance and glamour for jewels which are spectacular in their sober eccentricity.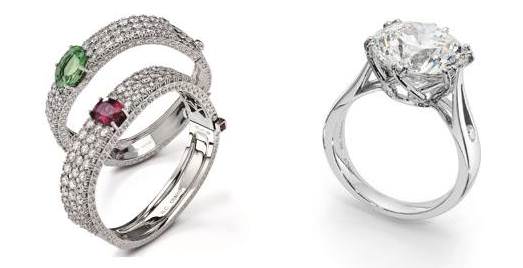 Cento - There is a new era in cutting diamonds, always pushing the boundaries to capture the ultimate brilliance and Roberto Coin is the first jewellery designer to create a 100 facet diamond, Cento. For over 30 years Coin has been creating jewellery that combines tradition and craftsmanship with the latest technologies. It is Coin's unique ability to blend timelessness with innovation - as well as inspired artistry - that marks the company's perennial success. Combine the craftsmanship of a master cutter unveiling the beauty of a diamond and Coin driven to achieve the perfect symmetry and fire of the Cento and you realize why this is the heirloom of the future. It is cut from the finest rough available and the 100 facets of theCento make it the most unique and individual diamond today.
All the creations of this Grand Master contain a hidden secret, a ruby, set to come into contact with the skin, which according to ancient tradition ensures beauty, happiness and prosperity.