Taking a stroll along the rue Saint Honoré, a stone's throw from the Place Vendôme in Paris, Lydia Courteille's small boutique stands out as a beacon to all jewellery connoisseurs and gemstone lovers. Here flamboyant and theatrical design meets rarity.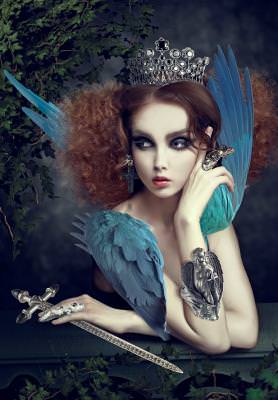 Lydia Courteille – biochemist, antiquarian and collector, traveler – has always had a fascination with the beautiful, the strange and the curious. An autodidact, her inquisitive mind knows no limits, be it for design or her choice of stones.
Her unique jewels start with either a drawing or evolve around a central theme, which is usually a stone.
Iridescent stones are a favourite, especially opals, moonstones, cat's eyes; the play of light on the surface creates a special atmosphere, a mystery.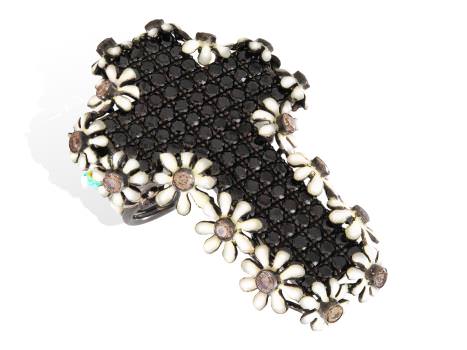 "A jewel is harmony, then colour or the absence of colour. It must have a sense of proportion, it should bring fantasy."
She uses frogs, bats, piranha fish, monkeys and insects deliberately, not just for their provocative quality but because the shapes help her add interest to Although not particularly religious, the ethnologist in her is hard at work, she likes to use theological symbols for their shapes and for the ideas that they can invoke.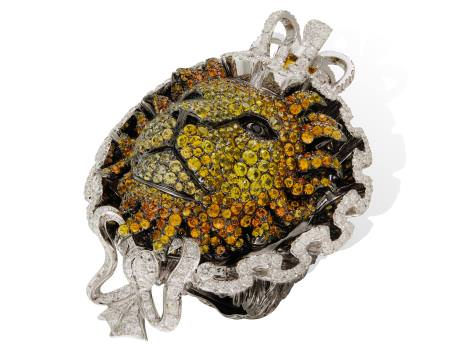 She may use crosses juxtaposed on each other set with black and white diamonds to create the frameworks for her more imposing gemstones and crystals; or she may use the Star of David and the Hand of Fatima for a similar effect. Four leaf clovers and roses are other favourites. Scarabs from ancient Egypt may be set alongside skulls, creating a contradiction between immortality and mortality.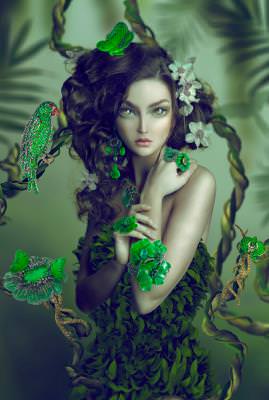 Courteille is inspired by the world around her. She carries a notebook everywhere she goes to jot down small sketches and to stick in scraps of paper. Many of her ideas come from chance, a moment, a place and by necessity, the constraints that are encountered running a business.
"I have always been interested in everything around me – textiles, geology, butterflies, stamps..."
As a free spirit, Courteille knows no boundaries, she uses the colours and inclusions in gemstones to enhance and tell a story. Such stones need to be admired for their age and rarity: "A drop of water in a rock crystal, it costs nothing except that it has been there for 50 million years…millions of years."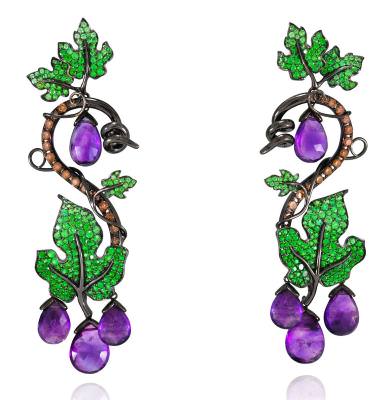 For the story of Courteille's jewels to be complete, a rendez-vous at her Parisian boutique, or at her exhibitions worldwide in Moscow, Hong Kong or Miami, must enchant, beguile and bewitch.
Text by Juliet de La Rochefoucauld