Once in a while, a jeweller escapes the trajectory of mere beauty to elevate its art to an entirely new dimension. The innovatively brilliant designs of MKS Jewelry International, under its house brand, Mokoso Atelier, go beyond amazing. They continually surpass the expectations of even the most discerning clients.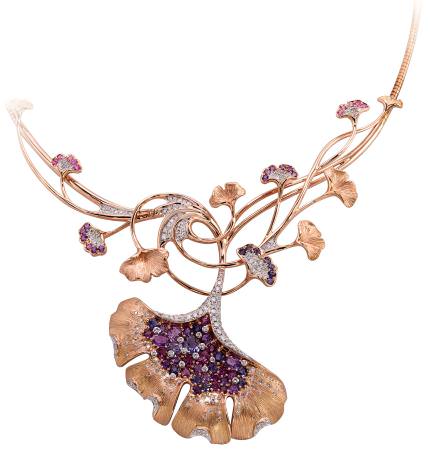 The Mokoso brand stands at the pinnacle of aesthetic achievement, unparalleled craftsmanship, technical mastery, and poetic imagination. This is not jewellery you simply wear. This is jewellery you experience on every emotional level. From internal feelings of ultimate luxury and fascination to the undeniable intrigue of enviable onlookers, Mosoko jewels evoke feelings so enchanting they're almost magical.
Three and a half decades ago, MKS began captivating minds and hearts with its highly original designs. Today, celebrities and royals across the globe collect Mokoso's award-winning pieces. And it's no wonder. Every collection endeavours to capture the illusive nature of life—some in articulated three-dimension. Others intrigue with settings of invisibility, or captivate with precious jewels that rotate 360 degrees. And still others inspire imagination with the majestic fluttering of butterfly wings.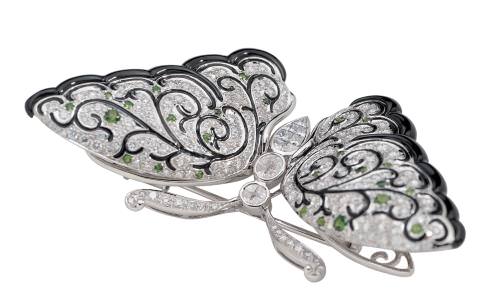 The master craftsmen at MKS bring each designer's artistic inspiration to life with uncanny expertise and meticulous attention to detail. Front and back, every jewel personifies perfection—the unquestionunquestionable signature of the masterpieces that Mokoso has come to symbolize.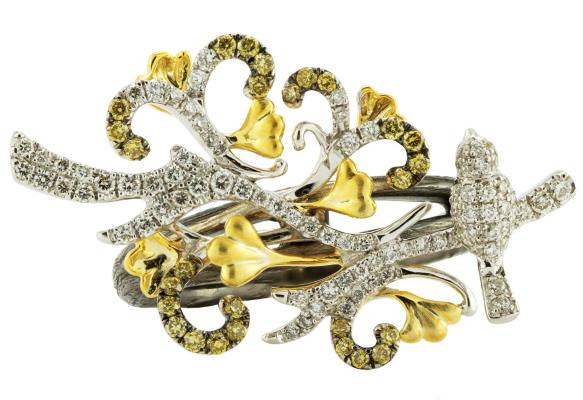 Setting imagination free is a hallmark at Mokoso. It's Uncaged Life™ Collection with its stylized birdcage and white and chocolate diamonds evokes the inner longing within all of us to fly forever free.
Flutterfly™ captures our sense of whimsy with gold, diamond and vibrantly coloured precious gem wings that flutter. Mokoso's unique mechanism creates the movement with such grace that one can easily imagine that these stunning butterflies really can fly.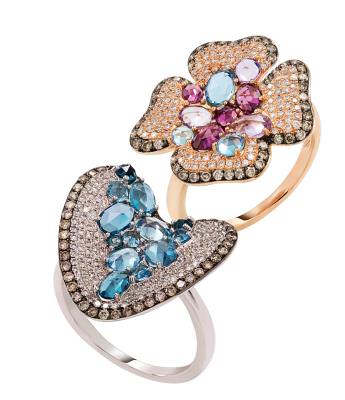 Mokoso also tempts our palate with the sheer beauty of Rock Candy—irresistible treats that sparkle like finely spun sugar crystals. Each earring, necklace, and ring bursts forth in delicious colour, as does Mokoso's Summer Berry Sling™ collection. Featuring vibrantly fresh precious stones, these alluring jewels are a toast to fun, joy, and the finer things in life.
Mokoso also invites us to think beyond the lateral and celebrate depth in Third Dimension™. This thought-provoking collection sharpens our senses by allowing us to uncover intricate layering patterns woven throughout geometric structures. Each new glimpse reveals yet another design dimension.
The intertwined nature of Mokoso's Twist and Turn™ collection inspires the contemporary flow of our fluid lifestyles. Continuous and reinventing gold and diamondstudded lines sparkle with the excitement and vibrancy of futures untold.
But what is life without dreams? Mokoso helps you capture each one in its magical Dream Catcher collection. These jewelstudded Native American-inspired talismans symbolize all that is positive, while warding off evil spirits. Close your eyes and dream—you may be surprised.
With over thirty different collections and a thiry-five-year history of award-winning designs—both internally branded and manufactured for other companies— MKS along with its phenomenally successful new house brand, Mokoso Atelier, are undeniably Beyond Amazing.