The Italian maison has created an ingenious new jewellery concept which has an innovation patent.
Innovation meets the traction of the goldsmith, celebrating the achievement of a new generation in jewelry. This is how the creations by Serafino Consoli Jewelry come to originate, amazing objects in which genius and new technologies are applied with master craftmen proceedings of Made in Italy. It is a literal revolution.
Eight years of experimentation
It took over 8 years of experimentation, testing and research towards perfection in order to give life to the new collection Serafino Consoli Jewelry.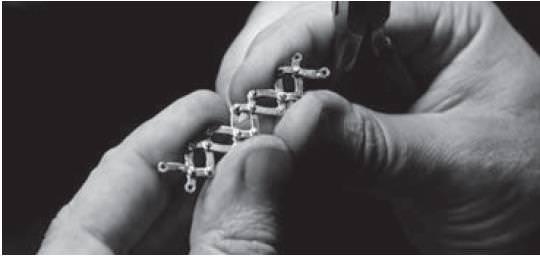 Invention patent
The technology used is as simple and as complex in the manufacturing because each product contains thousands of welding spots and more than a hundred components. With a simple touch, the creations by Serafino Consoli Jewelry can change, adapting to the style of each of us: rings that become bracelets "Ringcelet", multi-size-rings "Brevetto", necklaces and earrings that change shape.
Serafino Consoli - multisize ring - "Brevetto"
Jewels forever
Jewels are not only to wear but to live with. This is because they are molded according to the wishes of the people who wear them. The precious creations by Serafino Consoli become objects forever because they can be adapted to child fingers as readily as those of an adult and, in fact, can fit all fingers
Serafino Consoli - Ring becomes bracelet - "Ringcelet"
The headquarters between art and design

For over 50 years, Serafino Consoli has been a protagonist in the jewellery and clockmaking world and in 2005, the company chose to invest in its own innovative craftsmanship project. However, innovation is not only in production but pervades all through the company. This is confirmed by the futuristic architecture of the maison which is located close to Milan.