From the 25th anniversary edition of the Salon International de la Haute Horlogerie (SIHH) to Baselworld's record-breaking edition, the road to ultimate awe is definitely paved with diamonds. It was an extraordinary privilege to witness the launch of high jewellery watches in both Geneva and Basel this year. And one thing is clear: the more (diamonds), the merrier (their owners). Here is a selection of some of the ones that shone the brightest during the first half of this year.
Diamond Punk by Audemars Piguet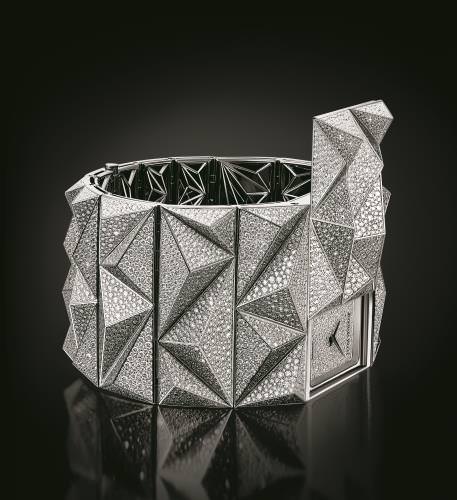 Drawing its inspiration from the graphic design codes of the punk era, the stunning Audemars Piguet Haute Joaillerie cuff timepiece disrupts traditional ideas of gem-set watches. 7,848 snow-set diamonds define the sharp, clean-cut geometrics of the cuff bracelet, which is designed as a unique piece of 56 dazzling pyramid facets. Set with additional 300 diamonds, the dial is revealed beneath a secret sliding cover. The timepiece is also available in a diamond and onyx version. Diamond Punk's original aesthetic combines with Audemars Piguet's savoir-faire in order to create a new Haute Joaillerie design language that exudes creative energy.
Carpe Koï by Van Cleef and Arpels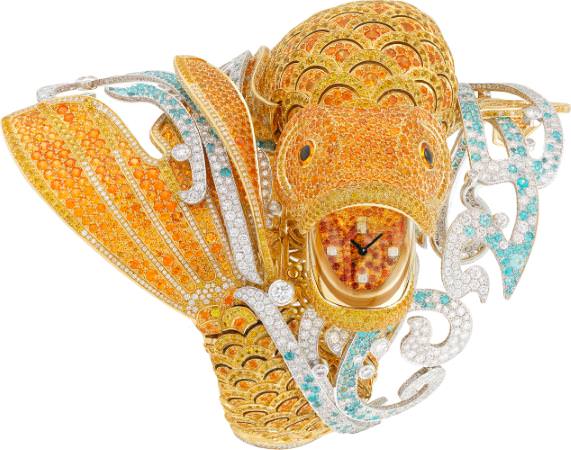 The Carpe Koï watch bracelet reflects once more the theme of nature in movement that has accompanied the Van Cleef and Arpels Maison since its very first creations. A tribute to the Japanese culture, this unique piece takes the shape of a carp – the orange-coloured fish renowned for swimming against the current. The body of the fish is adorned with 8,000 gemstones. Yellow sapphires and spessartite garnets are set on yellow gold and form an enchanting gradation. Paraiba tourmalines and white diamonds suggest the calm tranquility of life beneath the water. Wrapped around the wrist like a protecting talisman, the bracelet is unfastened by pressing on the carp's tail, releasing the body. The fish's mouth opens delicately to reveal a dial entirely set with precious stones, displaying the time with elegant discretion.
Rêve de Panthères by Cartier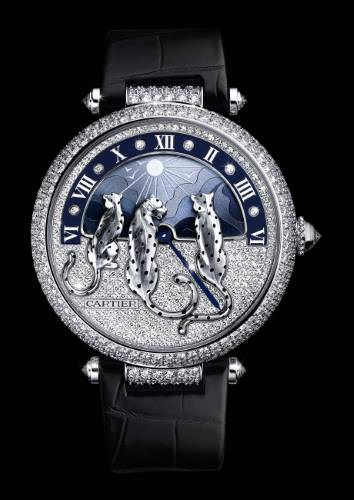 Brought to life with the highest standards of fine watchmaking tradition, this high jewellery timepiece reveals the extensive range of Cartier's creativity and expertise. The Rêves de Panthères watch boasts a rhodium-plated 18K white gold case set with 315 brilliant-cut diamonds and a beaded crown set with a brilliant-cut diamond totaling 5.73 carats. An ode to the iconic Cartier's official animal, the watch features three rhodium-plated 18K white gold panthers, their supple bodies dotted by black lacquer spots. The bracelet is rhodium-plated 18K white gold set with additional 564 brilliant-cut diamonds totaling 15.59 carats. The Rêve de Panthères high jewellery watch is certainly one more demonstration of Cartier's excellence and innovative strength.
Lierre de Lumière by Boucheron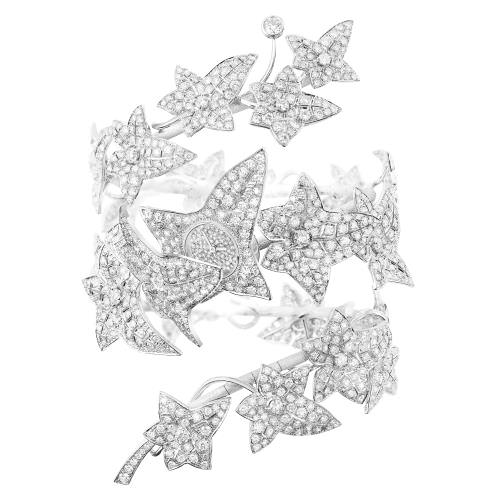 The Lierre de Lumière collection offers a new take on nature and Paris, both of which are traditional sources of inspiration for Maison Boucheron. Captivated by the wild ivy that grew beneath the arcades of the Palais-Royal, Frédéric Boucheron pays tribute to Nature, which preserves its place in the city. The leaves delicately intertwine around the wrist to form a bracelet with a secret opening. A watch is hidden beneath Lierre de Lumière's sculpted gold foliage, decorated with an openwork design and set diamonds. A bezel-set diamond on the central leaf elevates itself, revealing the tiny secret timepiece. This bejewlled timepiece boasts a total of 1,223 diamonds.
L' Heure du Diamant by Chopard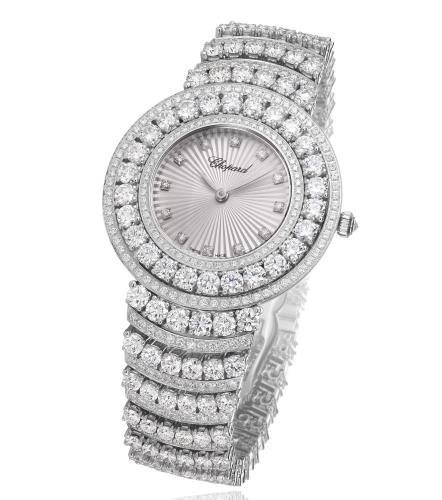 Under the guidance of Caroline Scheufele, Chopard Haute Joaillerie has been enriched with a series of dazzling collections. They reveal expertise in various artistic crafts dedicated to serving a modern vein of inspiration. One example is l'Heure du Diamant high jewellery watch. Crafted in 18k white gold, it is fully set with brilliant-cut diamonds (21cts), and features a silvered guilloche dial, indexes set with diamonds, a crown set with a briolette-cut diamond and a quartz movement.
Summer in Provence by Fabergé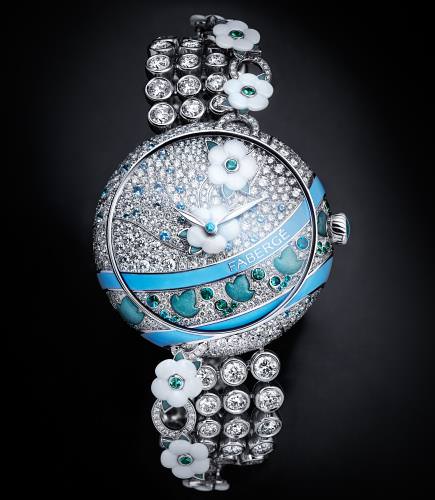 The Haute Joaillerie Summer in Provence watch was designed as a garland of flowers woven on a warm afternoon in the south of France. The bracelet is composed of diamonds set like the beads on a necklace, with a central garland of tiny flowers winding its way along its entire length. Forming an interlacing pattern of precious ribbons, diamonds and emeralds mingle with colourful fine stones and dainty flowers. Two small enamel bands undulating together provide the Fabergé signature. The case is made of 18k white gold, set with 374 diamonds, 17 Paraiba tourmalines, 10 emeralds, as well as turquoise and emerald green enamel strips. The 18k white gold bracelet features 93 close-set diamonds, 144 diamonds on rings, 10 emeralds, with freshwater mother-of-pearl flowers and soft green chrysoprase leaves. The 18k gold dial displays additional 332 diamonds, 19 Paraiba tourmalines and 15 emeralds.
The Jeweler's Secret by Harry Winston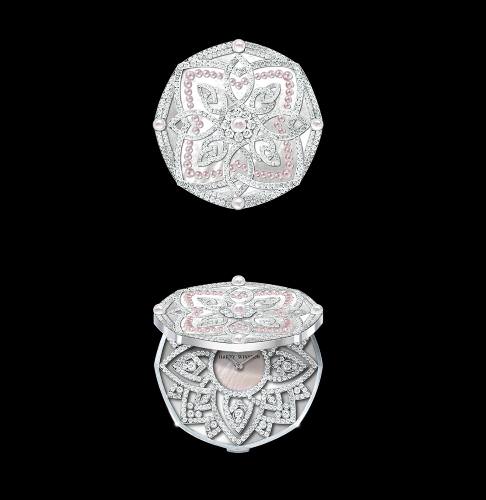 Drawing inspiration from the powder compact, Harry Winston created an artistic masterpiece with an enchanting union of pearls, diamonds and pink sapphires. As a quintessentially feminine watch, the Jeweler's Secret allows both to read the hour and to check one's appearance, using the built-in mirror. The interior of this mysterious timepiece reveals an amazing diamond motif that features four pear-cut and four marquise-cut diamonds set using several different techniques. Among them, the unique "closed and grain" setting technique was used for setting the pink sapphires and diamonds. Adorned with 752 diamonds, 48 pink sapphire cabochons and five rosy-pink Akoya pearls, this pocket timepiece required the master artisan's full force of creativity and expertise.