From childhood, the French artist jeweller and master glassworker René Lalique (1860-1945) was fascinated by the nature surrounding the Champagne region where he spent his holidays. Like a true naturalist, he conceived a passion for plant life and the study of insects whose colours and light he so deeply admired.
From this he created spectacular jewellery, incredible reproductions of the impressions of nature that had always captivated him. While daring entirely new combinations of materials, he reinvented the jewellery of his time just as Sarah Bernhardt revolutionized theatrical performance.
He shared the same fondness for animals, plants and sumptuous finery as his close friend the actress. He would invent jewellery for her for both the stage and the city. With the ambition of "designing something never seen before", he produced some of the most beautiful jewellery in Art Nouveau, stunning pieces of unrivalled realism.
Sarah Bernhardt, the Divine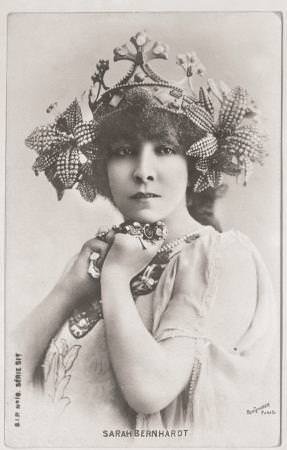 Sarah Bernhardt led a dazzling life.
The daughter of a courtesan and unknown father, she was raised by a wet nurse and then in the convent. Mystical temptation was quickly swept aside by a much more devouring religion: that of absolute freedom.
She became an actress and served the greatest playwrights of her time, performing on stages around the world, each time arousing the same admiration for her talent.
Rebellious, exalted, extravagant, charming Sarah Bernhardt refused herself nothing, laughed at conventions, collected roles and lovers, as well as shoes, dresses and sumptuous jewellery to adorn her attire and hair; she became the ambassadress of the French arts, of theatre, of fashion and ornament. She lived with exotic animals, at times slept in a coffin; she was scandalous, criticised, and above all, admired.
"The queen of attitude and the princess of gestures" for Edmond Rostand, she was a "Golden Voice" for Victor Hugo, a "Sacred Beast" for Jean Cocteau, "Divine" for her worshippers and a Muse for René Lalique.
As the incarnation of the modern woman, she refused to let anyone dictate her life. Her famous phrase "Anyway!" sums up her philosophy: regardless of the obstacles, she did it… anyway!
Sarah a free woman - Adrienne
The story of Adrienne Lecouvreur would inspire a play, an opera and several films. A tragedienne of unequalled talent, Voltaire's mistress and a beautiful, free woman, her mysterious death would inspire many legends, including one in which she was probably poisoned by a jealous rival. Sarah Bernhardt was the first to incarnate her, before writing a play that retold her story based on this tragedy. A tribute to Adrienne, in whose life she saw many aspects of her own.
The Adrienne collection celebrates drama in a contrast of sculpted onyx and diamond tears. The rings are adorned with a rubellite recalling the famous red of the theatre.
Her Secret Garden
The lily-of-the-valley was a favourite motif of René Lalique that decorates necklaces, bracelets and pendants with its tiny bells. This simple delicate flower is the perfect incarnation of Sarah Bernhardt's early life in the convent. Later, during her Conservatory years, the actress' talent would blossom and her voice burst into fullness. There she became the flamboyant lily, a powerful flower of imperial beauty.
She would wear a crown adorned with lilies specially designed by René Lalique for her role as Melissinde in The Princess Far Away by Edmond Rostand: a sumptuous stage jewel that reflects the essence of her personality.
Her Menagerie
The vibrant colours of parrot and peacock feathers, the iridescent reflections of the beetle's elytra or dragonfly's body… Lalique took his inspiration from an abundant animal world of flamboyant colour.
The actress reflected this exotic fauna in her menagerie as a symbol of her free and untameable personality. Crocodiles, boas, pumas, chameleons… parrots and beetles with legs dressed in threads of gold were the ones Sarah Bernhardt domesticated best, wearing them as practically living ornaments.
Sarah, the eternal woman "Vesta"
Goddesses, nymphs, mermaids… the mythological female figures inspired René Lalique in many of his designs. The Vesta collection, symbol of the Goddess of the same name that incarnates the Sacred Fire, the phoenix woman who is able to be reborn from her ashes, pays tribute to the eternal House of Lalique inspirations.
As a goddess of tragedy and theatrical legend, Sarah Bernhardt was a muse for René Lalique and a living myth who inspired his jewellery designed for the theatre stage. Mythological goddesses or mythical muses, these women's stories and inspirations continue to live on today in a collection in white gold paved with diamonds and mother-of-pearl.