It is exciting to see redefinition of perfection in jewellery design, from Jean Paul Gaultier's creation of the 'Broken' stone for Swarovski to artistic creations of emerging jewellery designers like Ornella Jannuzzi.
KAPUTT - Jean Paul Gaultier & Swarovski
Have you ever looked at a Swarovski crystal and thought to yourself: it's a little too sparkly for my minimalist or noir look?

That might have been just the thought in Jean Paul Gaultier's mind when designing a new cut for Swarovski, celebrating the brand's 120th anniversary. One year of development and close collaboration between Swarovski and Gaultier produced an assortment of six 'perfectly imperfect' crystals: irregular in form and indeed beautifully 'broken' as the meaning KAPUTT (in German) suggests. KAPUTT made its debut with Gaultier's Spring Summer 2015 collection for Paris Couture Week, and the designer had exclusive use of the new crystal until September 2015. Thereafter, the KAPUTT cut became part of the Swarovski crystal selection.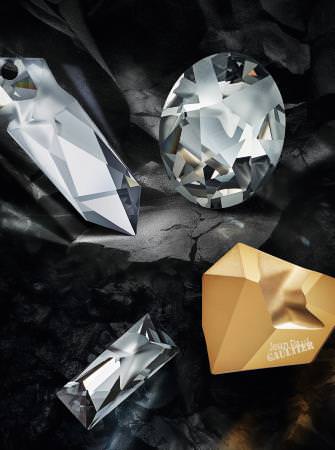 Celebrating the unpredictable, KAPUTT accentuates Jean Paul Gaultier's flair for edgy extravagance, the genius that earned him the label 'enfant terrible' of fashion. To complement the Kaputt Collection, Gaultier also designed the Crystal Scarabaeus Green effect inspired by the verdigris roof of the Paris Opera House and by the scintillating metallic green-blue-purple lustre of the scarab beetle once worshipped by the ancient Egyptians.
ROCK VAULT - British Fashion Council & Stephen Webster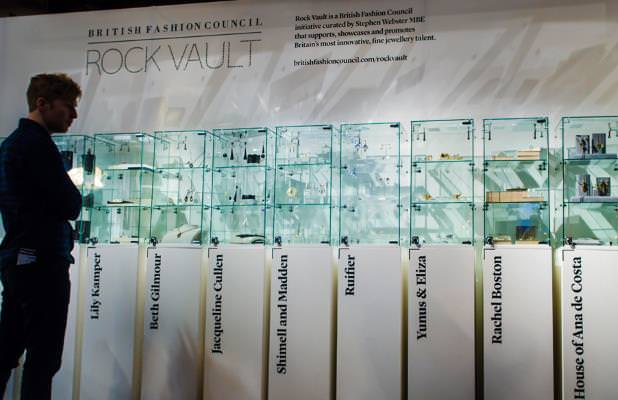 From unusual designs to unusual rocks, Rock Vault winners are the new rock stars of British jewellery design and they did rock the London Fashion Week Designer Showrooms.
Curated by the award-winning jewellery designer Stephen Webster MBE, Rock Vault is a fine jewellery initiative launched by the British Fashion Council in 2012 to celebrate and support new talent in jewellery design. As previous winners completed their three-year Rock Vault cycle, five new designers joined Rock Vault in 2015: Completedworks, Lily Kamper, Rachel Boston, Ruifier and The House of Ana de Costa.
Five of the Rock Vault designers have now been commissioned by Hearts On Fire, a multi-channel diamond and jewellery brand, to create unique pieces of jewellery using their world renowned diamonds.
DESIGNER SPOTLIGHT
Ornella Jannuzzi's work combines the souls of high fashion and avant-garde into distinctive and powerful fine art pieces. Characterised by harmonious composition of materials, colours and textures, her rings inspired by the wonders of nature are imperfectly perfect indeed.
Mount Zion (left), À l'Ère Glacière (center), Cubic Crystallization (right).
"I aim to bring Nature to a precious level, and pay homage to it. I use unusual materials for high-end jewellery like natural elements, uncut gemstones and mineral specimens and I have a very specific way of setting stones. I always strive to give my pieces the most natural aspect possible, as if they had grown or been formed by Nature itself. I do not create a metal structure to hold stones, but I try to extend 'nature's artwork' through the metal." – Ornella Jannuzzi