Leading Italian jewelry designer Roberto Coin announces the opening of his first "pop up" boutique and sponsorship of the 2010 FTI Winter Equestrian Festival (WEF).
The temporary boutique is scheduled to open on February 4, 2010 in the upscale Worth Avenue West Pavilion which has established itself as the main shopping destination for the West Palm Beach area. Upon the conclusion of the Festival, the boutique will close its doors on April 8, 2010.
The 12-week affair is held annually at the Palm Beach International Equestrian Center (PBIEC), located in Wellington, Florida. The WEF is considered the longest-running event in horse sports attracting thousands of spectators and equestrians alike from affluent families around the world. In addition to the event's following, the WEF also serves as a qualifier for the FEI World Cup Finals and Olympic Games. WEF is known as the premier event in horse jumping competition.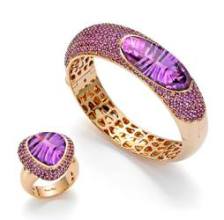 This first of its kind boutique will offer some of the brand's newest collections such as Capri Plus, Ipanema, and Moresque. CapriPlus, a collection of pendants, rings and bracelets offered in various precious stones mixed with gold and ebony wood. Ipanema is an ultra-glamorous collection of colored precious gemstone pieces, available in bracelets, necklaces and rings. The newest Moresque pieces feature interwoven threads of yellow or peach gold and are decorated with colorless diamonds, and offered in rings, bracelet, necklaces and earrings.
Other Roberto Coin locations include Rome, Dubai, Macao, Baku, Venice, Atlanta, Asheville, Vero Beach and Carlsbad.
Roberto Coin has been an icon in the jewelry industry for more than 30 years. His designs include his signature Appassionata Collection and the Roberto Coin Cento Diamond Collection. His collection is available in over 400 stores nationwide including better jewelry and specialty stores and now features supermodel Christy Turlington Burns as the face of his new advertising campaign. His designs have also been worn by such celebrities as Ashley Judd, Salma Hayek, Brooke Shields, Jennie Garth, Jenna Fischer, Demi Moore, Melissa Etheridge, and Jennifer Hudson.