Boucheron, the French High-Jewelry House, celebrates the launch of the movie "HOME", for which its parent company PPR is the exclusive worldwide partner, with an online auction benefiting "the Initiative for Responsible Mining Assurance", an effort to promote and verify more responsible mining practices for gold and other metals.
Boucheron will participate in the movie's promotion. A section on www.boucheron.com will be dedicated to inform visitors about the project. On this occasion, the House has especially created "The Magnetic Quatre", a unique combination of four golds. Precious metals and gems are amongst the earth's most precious gifts; the amalgamation of different golds and textures of this unique product symbolizes our planet's four elements; wood, air, water and earth and reminds us of their fragile balance.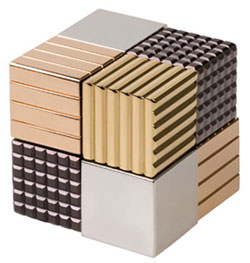 The Magnetic Quatre will be auctioned off on eBay.fr the day after HOME's worldwide premiere, on June 6th to June 13th. The online auction will be accessible through www.boucheron.com. All the proceeds will go to "he Initiative for Responsible Mining Assurance".
The worldwide release of the movie will be organized by EuropaCorp on June 5th, 2009 - World Environment Day - in cinemas, on television, on DVD and on the Internet around the world.
The aim of this simultaneous worldwide broadcasting is to enable as many people as possible to watch the movie together. The objective of HOME is not to make a profit. It's only benefit of Home will be to contribute towards increasing awareness of our responsibility towards the planet.
On June 5th we all have a date with the Planet!
Source: Boucheron
More information: www.boucheron.com