With the much-anticipated opening of its first New York boutique, located at 694 Madison Avenue, Fabergé, the legendary master jeweller launches a new chapter in its geographic repertoire.
The jewel-like boutique, intimate, inviting, a haven of luxury, is designed to balance opulence and modernity, in contemporary Fabergé style. In the spirit of the spectacular flagship in Geneva - Switzerland, the Madison Avenue store is decorated in exquisite materials, silk curtains and wall panels, brushed oak flooring, painted wood accents, in a soft, sensual palette of grey and silver, punctuated with a rich purple button-backed wall, subtly evoking Romanov splendour. The striking facade of the boutique, a champagne coloured lattice, is inspired by the Coronation Egg, one of the legendary Imperial Easter eggs created by Peter Carl Fabergé in 1897, in celebration of the coronation of Tsar Nicholas II.
| | |
| --- | --- |
| | |
The new 850 square foot boutique will house Fabergé High and Fine Jewellery, Handmade Timepieces, Cufflinks, and Silver collections. Designed under the artistic direction of Creative and Managing Director, Katharina Flohr, the collections are testament to the eminence of contemporary Fabergé artistry and jewellery making. The new designs include exquisitely crafted one of a kind necklaces, bracelets, earrings and rings destined to become investment pieces; as well as couture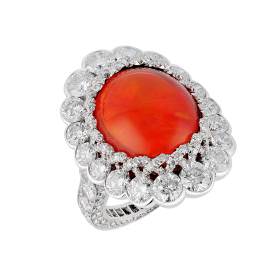 To celebrate Fabergé's historic links with America's great families – the Vanderbilts, Forbes and Morgans amongst others – the Madison Avenue boutique will launch with an exclusive new collection, Les Précieuses de Fabergé paying tribute to the unrivalled style of America's Gilded Age society. Les Précieuses comprises a series of precious single stone cocktail rings and delicate earrings.The creations are each centred on arare and dramatic coloured stone, set in an intricate diamond mount in two colours of gold, subtly interwoven with iconic Fabergé style references.