Rio Tinto's rare pink diamonds have been combined for the first time with Imperial Jade in a landmark piece of jewellery.
Known as The Argyle Empress, the statement necklace designed by luxury jeweller Chow Tai Fook, combines more than 43 carats of rare Argyle pink diamonds with 33 rare Imperial Jade beads. The Argyle pink diamonds include five of its signature Pink Tender diamonds, collected over the past five years.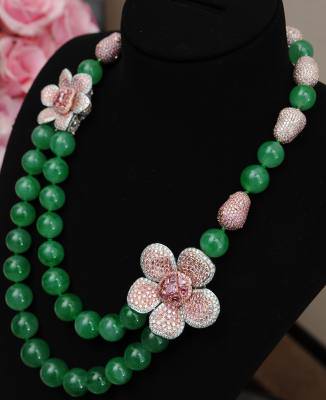 Valued at US$5,500,000, The Argyle Empress has been designed around two beautiful pink diamond encrusted flower motifs depicting the Hong Kong Camellia, the perfect counterpoint to the verdant colours of the leaves depicted in the surrounding jade.
The Argyle Empress is being showcased at various events in Hong Kong, before travelling to London as part of an Argyle pink diamond jewellery exhibition at Kensington Palace, London.