In 2012, Tiffany marks 175 years of design excellence with the company's icon—the 128.54-carat Tiffany Diamond —leading the celebration. Set in a spectacular diamond and platinum necklace, the legendary stone will take part in anniversary events in Tokyo, Beijing and Dubai, returning home to New York City, where Tiffany was founded in 1837.
The Tiffany Diamond is one of the world's largest and finest fancy yellow diamonds. The transcendent and mesmerizing beauty of this wondrous stone symbolizes Tiffany's reputation as the quintessential jeweler for diamonds of the utmost quality. The necklace designed for this priceless gem was created in this great tradition.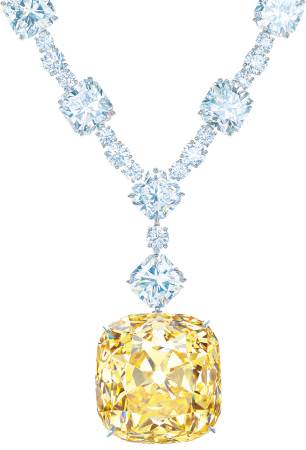 The Legendary Tiffany Diamond in a New Setting
Tiffany's jewelry designers submitted innovative ideas and concepts for the new setting, and the result perfectly reflects their efforts. Over a year in the making, the elegant necklace of white diamonds totals over 100 carats and features 20 Lucida® diamonds and 58 brilliant-cut diamonds. The Diamond's mounting, an openwork motif of sunrays, is designed with 481 sparkling stones.
The Diamond's origin is well known to gemologists, historians and jewelry collectors. Discovered in the Kimberley diamond mines in South Africa in 1877, the 287.42-carat rough stone was acquired the following year by founder Charles Lewis Tiffany. It solidified Mr. Tiffany's reputation as the "King of Diamonds" and made his enterprise the world's diamond authority.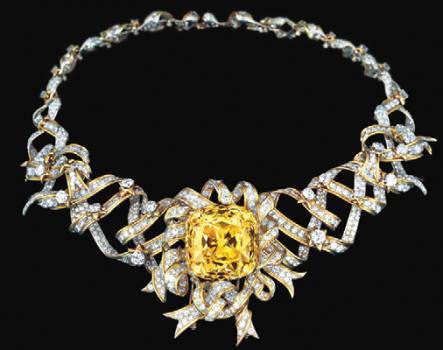 Schlumberger's Ribbon Rosette necklace
The Diamond has been set on four previous occasions, two of which involve original designs by Jean Schlumberger, Tiffany's renowned jewelry designer. The stone was set in Schlumberger's Ribbon Rosette necklace to promote the 1961 film Breakfast at Tiffany's; and it was mounted in Schlumberger's Bird on a Rock setting for the designer's 1995 retrospective at the Musée des Arts Décoratifs in Paris.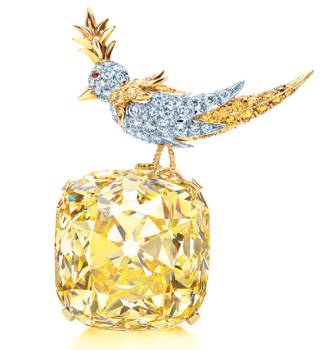 Schlumberger's Bird on a Rock
After its 2012 anniversary tour, the Tiffany Diamond in its new setting will return to its place of honor on the Main Floor of Tiffany's Fifth Avenue flagship store.