Magerit is presenting its new "Versailles" collection. "Versailles" is a sophisticated, ambitious collection which draws its inspiration from the artistic period heralded by Louis XIV to forge refined, yet eye-catching pieces that evoke the harmony and joie de vivre associated with this golden age.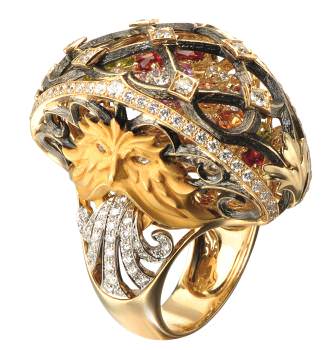 Each piece in the "Versailles" collection reflects the customs and lifestyle of this glorious era. The distinctive setting and figures of the Court of Louis XIV are recreated in all of their splendour, including such traits as: the exaltation of the absolute monarch, whose figure and status as the central arbiter of power are reinforced and embellished, and the representation of the Versailles Palace as a haven of luxury, whose architecture and décor served as an allegory of monarchic glory.
The collection is thus pervaded by symbols and iconography of the Sun King, such as a yellow gold piece featuring the head of Apollo, the "God of gods", shrouded in rays of light, representing absolute power, and ornate engravings that suffuse the pieces with genuine the gardens at Versailles are also present in the collection, represented through a collage-like arrangement of semi-precious stones and the exquisite interlacing of white and yellow gold.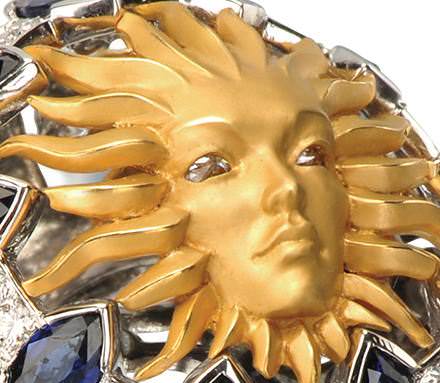 The majestic fountains of Versailles are another leitmotif in the new collection, being brought to life in glorious detail. Fish forms, with each scale worked individually by hand, and cascades of brilliants imitating the water spouting from their mouths, contrast with the variegated presence of elaborately crafted human figures, such as in the "Couple" ring, crowned by a sumptuous amethyst gem, and in the collection's flagship piece: a necklace featuring the figure of a woman draped in peacock feathers, rendered in 18-karat white gold and studded with white and green diamonds and sapphires to dazzling effect. cachet. The latticework and harmonious colours that are hallmarks of Cherubs, which adorn the fountains at Versailles as part of the recreation of several scenes from the myth of Apollo, are also depicted in the collection in white and yellow gold, playing off against natural elements that underscore the pieces' flair and elegance.
The pieces of the "Versailles collection" have been imbued with a strong sense of realism. Each detail has been painstakingly crafted using the finest goldsmithing techniques to turn the pieces into miniature sculptures in which an assortment of minutiae can be gleaned, including human figures and traits; fish, their scales and the water flowing from their mouths, and the texture of birds' feathers, among others. All this comes together to fashion what is undoubtedly one of Magerit's most spectacular collections.