From August 12th 2013 to March 31st 2014 Piaget presents in its exhibition entitled "Gold and colour" in the Piaget Time Gallery located above Piaget's Geneva Boutique.
Technique serving design
True to its pioneering spirit, Piaget launched watches in the early 1960s featuring hard stone dials vying with the radiance of the shimmering gold bracelets. Over 30 different stones spelled the triumph of colour, while the chains and bracelets expressed boundless creativity and a rare degree of technical mastery. This two-fold virtuosity stems from a demanding approach based on unwavering standards of excellence combining time-honoured expertise, a tireless quest for the avantgarde, along with the traditional art of watchmaking. The unmistakable Piaget signature.
This major upheaval stemmed from a specific characteristic of the brand, that of ultra-thin movements. First presented at the Basel Fair in 1957, the slim 2 mm Calibre 9P with its generous diameter afforded new opportunities for visual expression – and spelled a genuine revolution in the field. Technical and aesthetic innovation was conveyed firstly through watches with colourful gemstone dials and secondly through ever more sophisticated gold workmanship. More than ever, quality and craftsmanship formed the very core of these creations radiating an inimitable sense of exclusivity. The in-house artisans constantly pushed the boundaries of technical feasibility, whether in creating ultra-thin movement, crafting hard stones to within infinitely small tolerances or making gold bracelets as supple as fabric. The Piaget expertise was thus eloquently confirmed and its vocation as a watchmaker and jeweller truly determined.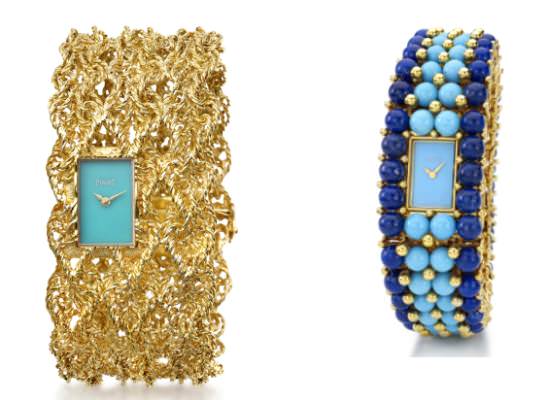 A colourful artist's palette
Propelled by the incredible creative momentum of the 1960s, the House raised hard stones to the rank of precious stones. The brand soon grasped the value of using these materials and immediately mastered the requisite gem-cutting skills. Colour became the hallmark of the brand: jade, coral, lapis lazuli, tiger's eye or turquoise… Over 30 different stones were to adorn a stunning array of exceptional models. Thanks to their interaction with light, to their inclusions and their subtle nuances, they gave unique character to each creation. Surfing the Op Art wave, Piaget created astonishing graphic effects by combining various hard stones. The latter indeed soon also invaded bracelets, transforming watches into full-fledge jewellery creations.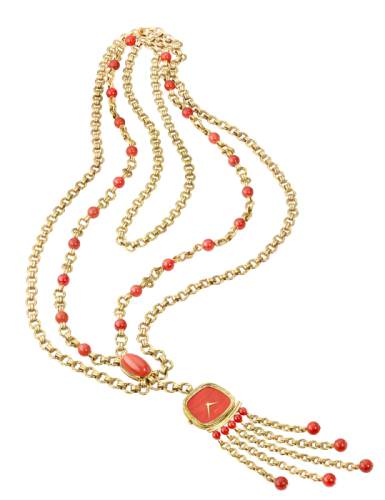 Hard stones, a symbolic universe
With the appearance of hard stone dials, Piaget forged a powerful creative image and surrounded itself with a symbolic and powerfully evocative aura. Throughout the long history of art and culture of the Chinese empire, jade has always held very special significance almost comparable to that of gold and diamonds in the Western world. Jade was used not only for refined and devotional objects but also to adorn the tombs of high-ranking members of the Imperial family. This stone is regarded as the symbol of good, of beauty and of all that is precious. It embodies the virtues of Confucius: namely wisdom, justice, compassion, modesty and courage. Famed for its iridescence, opal lies at the heart of countless legends relating to its composition and to the difficulty of fashioning it. Humankind has always believed in the healing powers of opal, which is also a symbol of purity. Used in jewellery for several millennia, and notably by the Egyptians, turquoise is believed to protect and to serve as a lucky charm. Among many cultures of both the New World and the Old World, this stone was considered to be blessed and to bring good luck and production. Its blue colour evokes both the sky and water. A deep blue stone spangled with pyrite that infuses it with the magic of a star-studded sky, lapis lazuli was one of the first stones used by humankind in ancient civilisations, appearing on jewellery as well as in decorative objects. The Egyptians along with other peoples of the Middle East believe that it protects them from the forces of evil. Ruby heart, one of the hardest and thus most difficult stones to work with, is said to protect people from bad influences and is distinguished by its vivid warm purple colour. Coral is said to guarantee fertile harvests and to prevent lightning from striking boats. In the Middle Ages, people used to hide a piece of coral in a purse or pocket as a lucky charm. In Ancient China, corals stood for wealth and high social status. Native Americans consider coral as a sacred stone that symbolises "life force energy" and protects against the evil eye. Each stone has its own secrets and the variety of colours is virtually infinite. Piaget shows a rare degree of virtuoso skill in exploring the entire spectrum through highly diverse creations featuring a blend of elegance and exclusivity. While Piaget plays with the theme of colour in a supremely understated manner, its designers are also capable of translating it in exuberant and extravagant ways. It is here that the goldsmithing expertise cultivated by the House comes into play.
Piaget the goldsmith
In its tireless quest for perfection, Piaget took the decision in 1957 to craft its watches exclusively from precious metal. This essential choice was to lead to the in-house integration of gold and platinum workmanship and to engender exceptional expertise. In 1961, Piaget began acquiring various workshops specialising in goldsmithing as it sought to achieve complete vertical integration of its production. The brand now has the means to fulfil its ambitions. The chain bracelets represented the firm's first steps in the pursuit of new ways of working with precious metals in order to enhance its timepieces. Today, the Manufacture Piaget is one of the rare companies still perpetuating the jeweller-chainmaker profession. This skill is cultivated within a workshop entirely dedicated to this art and where numerous bracelet prototypes are stored – representing an invaluable memory bank of expertise passed on from generation to generation. This approach effectively preserves the inhouse know-how illustrated through exceptional models from the brand heritage such as a magnificent yellow gold and coral cuff-watch featuring spectacular woven metal fringes, or a sautoir necklace made from a material resembling a precious coat of mail. Piaget mingles colour, volume and materials in an approach that it has raised to an art form.