The House of Harry Winston unveils the one-of-a-kind Mrs. Winston High Jewelry Timepiece, a stunning blend of high jewelry and horlogerie that brings new meaning to the word beauty.
The Mrs. Winston High Jewelry Timepiece pays tribute to Mr. Harry Winston and his beloved wife, Edna, reflecting the perfect marriage of her personal style and his famous saying "If I could, I would attach diamonds directly onto a woman's skin." This superb creation joins the exclusive Ultimate Adornments High Jewelry Collection, which consists of exquisite designs that recall unique adornments from around the world.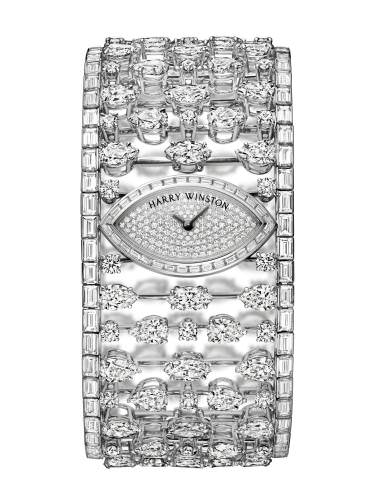 Magnificently handcrafted in platinum and diamonds, the exquisite timepiece is hand-set with more than 47 carats of the world's finest diamonds and required 440 hours to create.
Like all of Harry Winston's scintillating creations, this piece is set with only the finest quality diamonds, D, E, F in color, and VS+ in clarity. The 18-karat white gold dial is set with 144 brilliant-cut diamonds in varying proportions, and housed within a striking marquise-shaped platinum case, outlined with 32 baguette-cut diamonds creating an inimitable sparkle.
A magnificent array of 230 fancy-shaped diamonds adorn the bracelet, creating an intricate pattern of diamonds, with baguette-cut diamonds along the outer edges and mixture of pear, marquise, and brilliant cut diamonds appearing to float along delicate bars of platinum for a delightfully shimmering effect.