Montblanc adds two new assortments to its growing Men's Jewellery Collections. While both collections bring innovative design and the finest craftsmanship to the fore, each has its own distinctive theme and inspiration.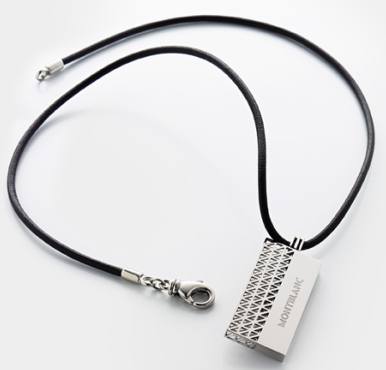 The Montblanc Graphic Collection, carefully cut from stainless steel, is inspired by the unconventional elegance of contemporary architecture where clean shapes and graphic detailing collide with surprising results. The Montblanc League Collection, created with the forward-thinking man in mind, brings sleek contemporary shapes and colours to those who do not fear exploring a universe of surprising materials whether stainless steel with red-gold colour PVD finish or titanium.
Montblanc Graphic Collection
The shapes and design cues of contemporary architecture are the inspiration behind this Men's Jewellery assortment. Visual simplicity and elegance are the guiding principles for these perfectly symmetrical creations, using the most advanced techniques to deliver a unique graphic effect. Like the finest architectural design, the appearance of these accessories changes depending on the perspective they are viewed from.
The rectangular cuff links are divided in two by their opposing textures. One half's surface in polished stainless steel, is engraved with the Montblanc brand name; the other half displays an intricate skeletonised graphic motif. A pendant featuring the same structure hangs from a masculine black leather cord. The collection is completed with a stainless steel ring, combining the purity of the polished surface with the greater complexity of the hollow graphic design, cut away with the greatest attention.
Montblanc League Collection
This Fine Jewellery Collection is centred on the novel use of distinctly masculine materials, often associated with advanced technology and high performance. The combination of titanium and carbon delivers a bold effect. When these materials are enhanced, the stainless steel with a red-gold coloured PVD finish, or diamonds, the result is absolute refinement while always dominated by a very contemporary twist.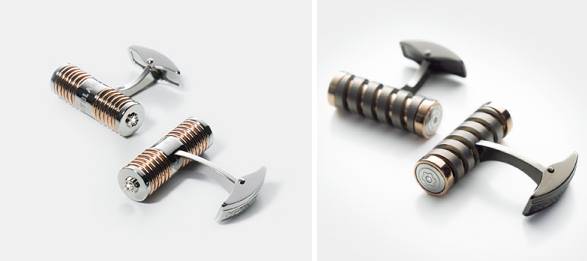 Two pairs of cufflinks in an elongated bar shape alternate a red-gold coloured PVD finish, with either stainless steel or titanium for a more industrial appearance both feature a brilliant diamond set within a Montblanc emblem. This Montblanc collection talks above all to the 21st century man who is looking to indulge himself with a different style of jewellery, and be noticed wherever he goes.