Following the success of Gucci Jewelry's Icon ring in black synthetic corundum, the Icon range has now been refreshed with the addition of two new white rings in zirconia powder.
Crafted by Gucci Jewelry goldsmiths in Italy, these white rings are made from an innovative new material: zirconia powder. Unlike an alloy, zirconia powder is a pure material, making this an ideal alternative for those prone to allergic reactions from metals. Furthermore, zirconia powder is not used as a coating, but rather as a solid material, which means that the ring will not tarnish.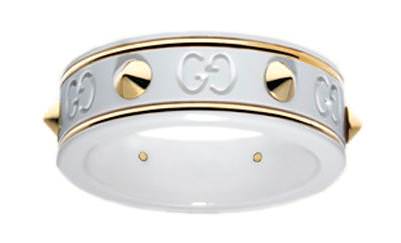 Gucci Jewelry's new Icon ring comes in two variants, each in a slim 7mm style. The simple white version displays Gucci's iconic GG motif around the band, whilst a more contemporary variant shows the GG pattern accented with yellow gold studs. Both styles feature two 18kt yellow gold strips, which offset the bright white material.