The Piaget Rose collection, launched in 2012 for the 30th anniversary of the Yves Piaget Rose, continues to flourish with a third extension. Dedicated to feminine beauty, 14 amazing jewellery creations have blossomed.
With each new flowering, the most important element is to capture all the qualities of this flower and to stir emotions through the aesthetics of each piece. At times elegant and glamorous, while at others delicate and feminine, like the ever-changing rose within its floral kingdom.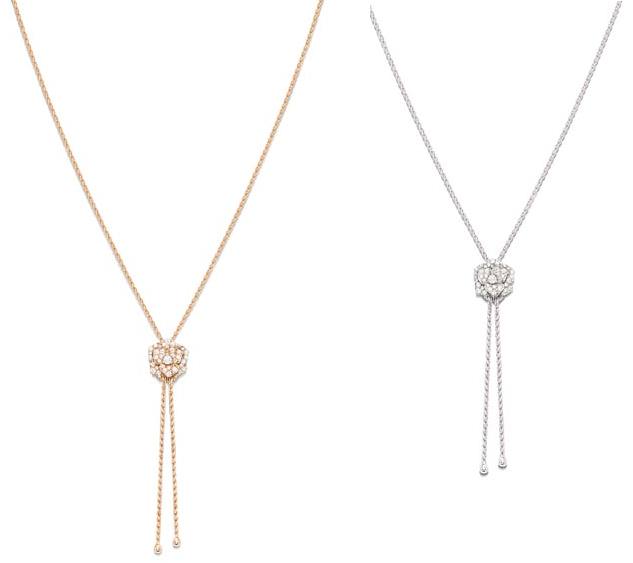 A symbol of love and seduction, the rose reveals its playful side with a new technical development conceived by Piaget's jewellers. In the Piaget Rose jewellery pendant concept, a generous flower jewel slides on a chain, thus enabling the creation of different styles depending on the mood of each woman. Worn close to the neck, the rose shines to enhance the softness of the skin; while by floating lightly on the décolletage, it reveals its seductive, luxurious side glittering with diamonds.
The Piaget Rose cable inspiration collection is a symphony of gold and diamonds, pink and white, like two intertwined rosebushes. A collection bursting with freshness inspired by the beauty of the rose in its plant environment, it is a reminder of Yves Piaget's passion for the wild roses of his childhood with their intertwined branches. A bracelet, with its voluptuous rose and rose buds in an asymmetrical position, encircles the wrist with unbridled elegance.Evoking the mysterious and daring nature of the rose, a secret clasp is ingeniously hidden in the heart of the rose. A gentle press on a delicate petal activates an invisible mechanism that releases the bracelet opening. A ring and hoop earrings with diamond-set stems highlight the sometimes rebellious nature of the rose in the natural environment.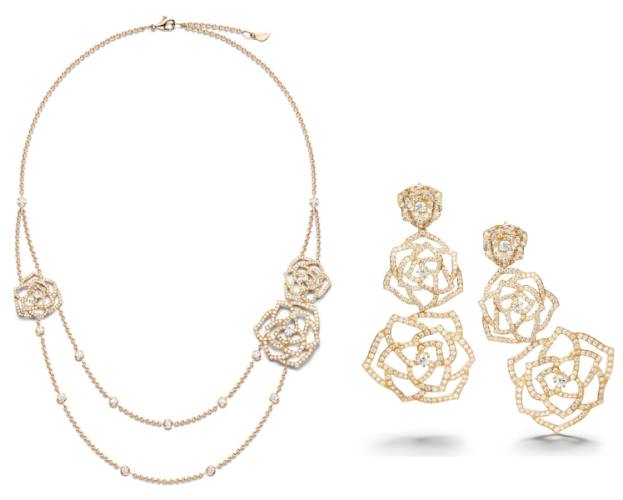 The Piaget Rose lace inspiration interpretation reveals a cascade of roses that creates a fascinating impression with the lightness of its diamond-studded lace. Pendant earrings in openwork pink gold lace produce a graceful movement, accentuated by the sublime sparkle of diamonds . No matter what the occasion, the Piaget Rose lace inspiration sautoir necklace is ever-surprising by offering four different ways to wear it: as a sautoir (long necklace) or standard-length necklace, as a diamond chain or as a double bracelet . These creations embody the moving fragility of the rose confronted by the elements that surround it.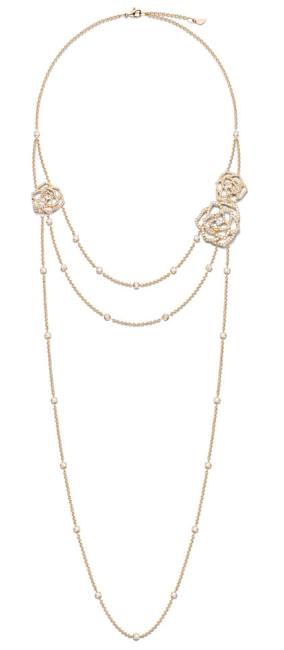 Modern and surprising, the new variations of the Piaget Rose collection illuminate and enchant. The Piaget garden, lush with charm, grace and emotion, is a veritable ode to the rose. An adored and reinvented flower, lovingly cultivated by Piaget to enhance feminine beauty. www.piaget.com