Fope's spring fair season closed on Monday 2nd June. During the two latest events – Vicenzaoro Spring and JCK in Las Vegas – Fope introduced a series of new jewels, always in keeping with the aesthetic philosophy of the Italian brand: evolution in the mark of tradition. The first new addition is the collection Wild Rose, with a totally original design. There are also new versions of Fope's most popular collections, all in 18-karat gold and, obviously, made in Italy.
Wild Rose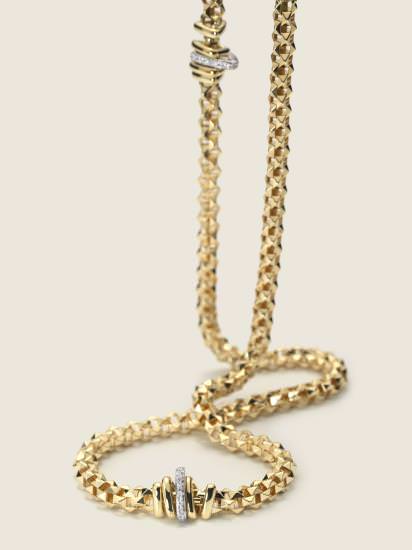 With its vigorous geometric design inspired by the "clou de Paris" decor, Wild Rose is a fresh addition to the Flex'it family. A mixture of craftsmanship and automation, research and talent, typical of Fope creations, Wild Rose is a new interpretation of the exclusive patented system that makes the gold mesh flexible.
Solo
Solo
The Solo collection becomes colourful: available with amethyst, tourmaline, citrine quartz, aquamarine, and iolite, with or without diamonds. Bigger cuts of chalcedony and quartz stones are used for vintage-looking pieces.
Vendôme
Vendôme
There is a new design for the flat and square patterned Flex'it mesh: a contemporary interpretation of the classic "clou de Paris" decor, made more precious by the pave-set diamonds. The rings are available both in the traditional and flexible versions.
New Virginia
Virginia
A classic collection featuring the iconic Novecento mesh and a new version of the Virginia pattern, with soft round shapes covered in diamonds.