The Gem and Jewellery Export Promotion (GJEPC) in affiliation with the Surat Diamond Association (SDA), will host the India Gem & Jewellery Machinery Expo (IGJME) at The International Exhibition & Convention Centre, Surat, from 28th – 30th November, 2014.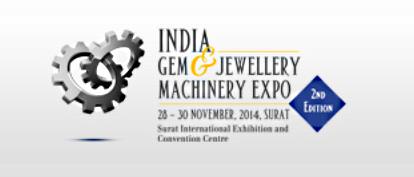 The inaugural edition in 2013 saw 75 exhibitors spread across 100 stalls. This year's edition has grown bigger and will witness about 85 exhibitors, with 30 new companies, 135 stalls featuring leading international & domestic suppliers of machinery, Tools & Equipment and new technologies for manufacturing of Diamonds, Jewellery, Gemstones, Allied products, services such as Packaging, IT & Software and Publications etc.
Speaking about the expo, Vipul Shah, Chairman, GJEPC said, "Technology always plays a significant role in the growth and development of any industry and helps to prepare for the future. The demand for advancements and up gradation is upbeat in our industry and this only goes to prove the importance of the category. Surat is the hub of India's massive gems & jewellery manufacturing activity and through IGJME we hope to attract decision makers not only from surrounding regions but all over India."
India & Surat in particular, being one of the leading gem & jewellery manufacturing destinations globally, IGJME provides an ideal platform to identify and upgrade to state of art infrastructure. Around 5000 decision makers from the production and retail segments of gems & jewellery industry are expected to visit the expo which will showcase the latest in the technology arena. Exclusive concurrent Knowledge seminars by renowned national & international speakers will address the current and future needs of the industry and provide an opportunity to the exhibitors and visitors from the aspect of Creativity & Discipline.
Dinesh Navadiya, President, SDA said "The fair is in continuation of our joint efforts with GJEPC to present different technologies from various parts of the world at a common ground with the objective to impart Knowledge and know-how about the advancements prevalent in the industry. The fair will provide easy access to manufacturing requirements to enhance production, optimize costs, strategize resources and have an edge over competition. We believe that up gradation should be a continuous process and avenues of improvement such as IGJME should be expanded for the betterment of our industry"
Speaking about the event, Nirav Bhansali, Convener, Exhibitions (National) at GJEPC said "Since last year, IGJME has grown reasonable and managed to garner noteworthy interest from our industry members. We are confident to attract the decision makers and Production Heads who are constantly on the lookout for up-gradation and new age technologies. The fair not only presents the latest in technology from across the world but also provides an unbeatable opportunity to learn new techniques and other advancements which are necessary to cater to the growing needs of our industry."
The fair has also managed to attract a group of international companies under Turkey pavilion and other individual companies from Israel, USA. Leading international industry brands such as Alpress, Eksen, Guvenis, nLight, Nokta Model, Pandora, Tarzz Model amongst others will be on display at this 'one of its kind' expo.