On 11th November, Christie's Geneva sale of Magnificent Jewels achieved SFr.147,256,875/ US$150,216,738 / €120,853,717, selling 89% by lot and 94% by value, realising the highest total for any Magnificent Jewels sale in the world.
This extraordinary result, combined with the Patek Philippe 175 and the Important Watches sale, concludes Christie's 2014 autumn sale week with a grand total of SFr.181,327,938/US$185,011,232/€148,815,838, the highest total since the first Christie's auction in Geneva in 1969. The Blue Belle of Asia realised SFR.16,9M/US$17,2, establishing a new record price for any sapphire sold at auction.
Rahul Kadakia, International Head of Christie's Jewellery Department: "Christie's Geneva welcomed over 600 registrants to the sale from over 30 countries. We are extremely proud that the Blue Belle of Asia established a new world record for any sapphire sold at auction for SFr.16,965,000/US$17,295,796. The private collector, seated in the room, is now the new owner of the most valuable sapphire in the world. The JAR "Parrot Tulip" bangle bracelet realised SFr.3,525,000/US$3,595,853 against a pre-sale estimate of SFr.190,000-290,000, and established the second highest price for a creation by JAR. Jewels from major collections also realised exceptional prices such as the Art Deco natural pearl and diamond necklace from the private collection of the Baroness Edouard de Rothschild which sold for SFr.5,093,000/US$5,195,369."
Geneva Magnificent Jewels highlights include:
The Blue Belle of Asia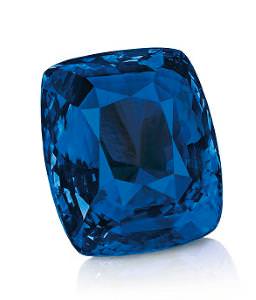 This magnificent sapphire of 392.52 carats bought for SFr.16,965,000/US$17,295,796 set a new world record price for any sapphire sold at auction.
The Cartier Tigers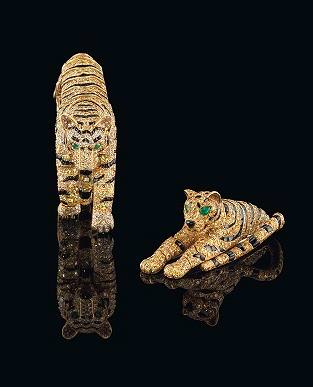 After a bidding battle between collectors seated in the room and on the telephone, the legendary Cartier tigers, formerly in the collection of the Duchess of Windsor, have been acquired for SFr.3,077,000/US$3,138,848. The consignor Sarah Brightman intends to offer a portion of the proceeds from the sale to The Andrew Lloyd Webber Foundation.
Empress Eugenie's « Feuilles De Groseillier » brooch
The spectacular and historic antique brooch once part of the French Crown Jewels sold for SFr.2,285,000/US$2,330,929. This piece, created by Bapst Jewellers in 1855, was previously owned by the Metropolitan Opera of New York.