Dazzling pink sapphires and flaming coral, radiant citrine quartz and fresh aquamarine. Fope adds bright summer shades to the unmistakable Novecento gold mesh.
The 'Solo' and 'Love Nest' bracelets feature pave-set pink sapphires and diamonds creating a shaded effect. A citrine quartz as bright as the sun adorns another 'Solo' bracelet, while the '900' collection bracelets sport a traditional cabochon-cut red coral. Finally, bracelet, earrings and ring of the 'Solo' collection are embellished with fresh, light-blue aquamarine.
For the summer, Fope has chosen tone-on tone vibrant, yet sober shades which match beautifully the 18-carat yellow and rose gold. The precious metal has been the hallmark of the brand since 1929, and represents the company's strong traditional values, along with innovation, which is expressed today through their exceptional performance: the manufacture of flexible bracelets feauring a unique patented system of invisible micro-springs made of 18-carat gold.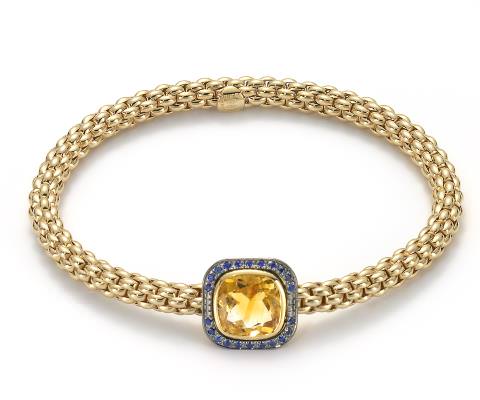 At the end of the summer, in September, Fope will present their latest creation: a brand-new variation on the 'Eka' collection, the result of scientific research and traditional craftsmanship. This original technical wonder will be the exaltation of gold jewellery.