In an explosion of daring colours and unexpected shapes, Piaget has continuously rewritten the rules of jewellery and watchmaking with audacious and seductive creations. Whether exploring the marriage of brilliant stones and expert goldsmithing, or shattering existing conventions by effortlessly fusing fine watchmaking and jewellery, Piaget has captured the glamour and carefree spirit of the times, in a style that has become so distinctly "Piaget".
Inspired by the Extremely Piaget High Jewellery Collection, a dazzling display of diamonds, emeralds, sapphires, hard stones and intricate gold work, the Maison introduces a new and exclusive capsule collection that revisits its legacy and passion for surprising creativity with radiance and charisma. Boundless imagination paired with the supreme mastery of every jewellery technique, put the signature "Piaget look" in the spotlight once more.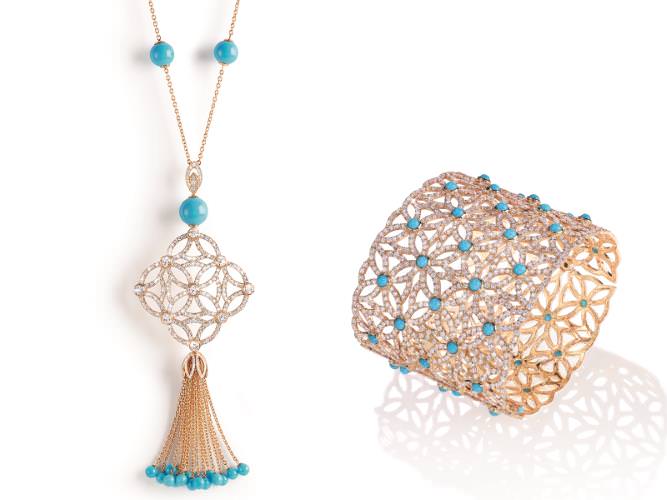 The cuff, a Piaget classic that originated during the company's defining creative period, is at the centre of a collection defined by the finest gold craftsmanship and masterful gem-setting. Mirroring the textures of the most exquisite fabrics, the Extremely Piaget handcrafted gold cuffs are imbued with an instantly recognisable identity that incorporates three legacy design cues that are unmistakeably "Piaget". The marquise diamond, a cut characteristic of Piaget's jewellery work takes on an oval shape, giving optimal sparkle to some of the designs in the collection, while other colourful stones provide the flamboyant creations with their captivating allure.
The 'palace' décor, with its shimmering mesh-like texture, gives the outside surface of the bracelet an iridescent effect, and is often compared to wild silk. With this uniquely Piaget technique, watchmaking and jewellery are seamlessly fused into a luminous combination of precious gold and dazzling stones, as a flourish of brilliant diamonds elegantly cascades down the pink or white gold adding radiance to the cuff. While Piaget jewellers may know how to give gold extraordinary luminescence, with the 'torsade' décor they have also mastered the art of weaving gold into an elaborately knitted strip that intimately wraps around the wrist. Twisted pink gold threads come together to form a textured bangle and assorted ring, set with contrasting turquoise and bluish-green chrysocolla in a colour combination that is "so" Piaget. Light and feminine, the intricate open gold motif of the 'dentelle' bangle and ring create the illusion of delicate lace, set with brilliant-cut diamonds embroidered into the gold to emphasise the highly crafted gold work. Playfully capturing the light, a white gold sautoir necklace displays the delicate 'dentelle' pendant from which a profusion of diamonds and turquoises flow.
Perpetuating Piaget's legacy of fearlessly reimagining jewellery and watchmaking, the capsule collection has been designed to be continued, continuously evolving over time with the addition of new surprising pieces imagined and crafted by the jewellers, goldsmiths and gem-setters who lend their know-how to the creation of radiant pieces that are in every way 'Extremely Piaget'.