The new Gucci Flora collection expresses a stunning and contemporary mood that showcases the exceptional skills of Gucci's Italian master goldsmiths.
Poetic, delicate and elegant, the line explores different styles featured in both the high jewelry masterpieces and the exquisite fine jewelry. Gucci Flora's dainty flowers and butterflies are worked in novel materials and techniques: 18kt white and pink gold, diamonds, precious stones, and fine hand-painted enameling.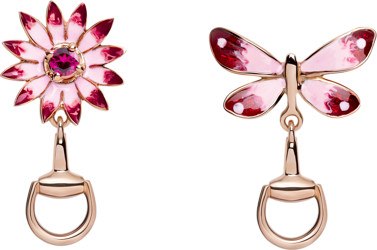 Necklaces, bangles, earrings, and rings match to offer a perfect combination of femininity and modernity. A skull introduces a new bold addition to the original design, an epitome of contemporary jeweled street chic.