High on the list of priorities for the company is its philanthropic efforts, perhaps a curious gesture given the tough economy, but according to Montblanc Chief Executive Officer Lutz Bethge, it's times like these that it's even more important for companies to do what they can to give back.
In early May, the company hosted the gala event for the Montblanc and Signature International Cultural and Charitable Photo Project, an initiative that will benefit UNICEF and its efforts to provide quality education to underprivileged children and young people all over the world.
The photo project features portraits of some of Hollywood's leading actresses portraying their favorite literary heroines, with thespians such as Lauren Hutton, Sienna Miller and Susan Sarandon channeling characters from The Age of Innocence, War and Peace and Carmen, respectively, all while wearing Montblanc jewelry. The group of portraits will tour the globe over the next few months, stopping in New York, London and Hong Kong before culminating in a live auction to be held in Los Angeles in September.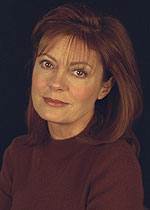 SUSAN SARANDON © UNICEF/HQ00-0080/TOUTOUNJI
"I see how my life and the lives of my kids are connected to the outside world. How can you not participate in the world you live in?" – Susan Sarandon
Montblanc will also launch a second, more accessible project this summer.
The "Signature for Good" initiative is a collection of limited-edition pens, jewelry and small leather goods that will be available for sale in Montblanc stores and through the brand's retail partners. Pieces in the collection range from about $165 all the way up to $27,300, and 10 percent of the retail price from each sale made from June 1, 2009 until May 31, 2010 will benefit UNICEF.
source:NationalJewelerNetwork