On the occasion of the legendary birthday party dedicated to Fawaz Gruosi's closest friends, de Grisogono presents the "Folies" collection. Hundreds of precious stones and thousands of carats are brought to life.
MINERAL BEAUTIES
Gemstones carry with them the geological echoes of our planet's formation. Over the 4.000 minerals that are on earth, de Grisogono cover a list of incredible gemstones and some of the world's rarest ones. If value and associated rarity are based on classification and degree of "im"perfection, there are more intangible criteria that speak about the emotions the stones can bring. Mineral beauties have always occupied a central place in de Grisogono design.
SPARKLING 2 - COLORED ROCKS
Combining the sheer sparkle of diamonds with the vivid colours of rubies, emeralds and sapphires Fawaz Gruosi has raised mineral beauties to the stature of extraordinary genuine stars. Consistently confirming its peerless gem-setting expertise, de Grisogono knows how to subtly balance its mastery of top-flight and secular high-jewellery techniques whilst always keeping its bold and innovative signature.
LIGHT BLUE & WHITE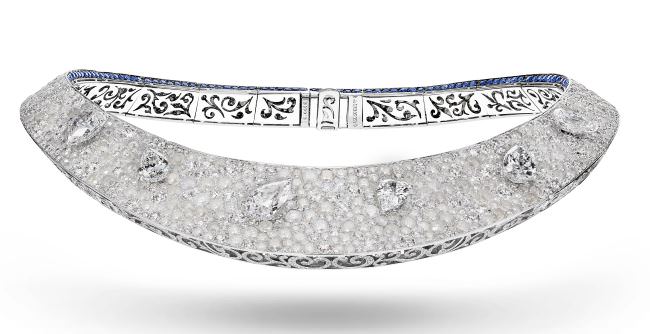 A one-of-a-kind diamond choker. Paved with more than 90 carats of white and icy diamonds, the choker is incrusted of 6 pear-shaped diamonds. Enhanced with a delicate row of blue sapphires, the necklace features a set open-worked delicately engraved with de Grisogono's characteristic scrolling motifs.
RED & WHITE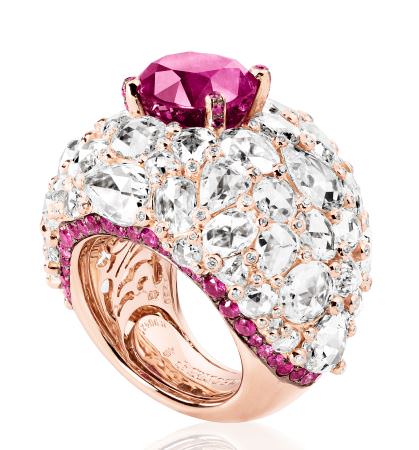 Weighing about 20 carats, the ring features an oval-shaped unheated Burma ruby of 8 carats. Surrounded by 4 claws set with rubies and diamonds, its ring body emphasizes rose-cut diamonds studded with close set diamonds. A wave of swaying rubies are deeply contrasted with the signature chiaroscuro black-rhodium. The rose gold is delicately engraved with de Grisogono's characteristic scrolling motifs.
BLUE & GREEN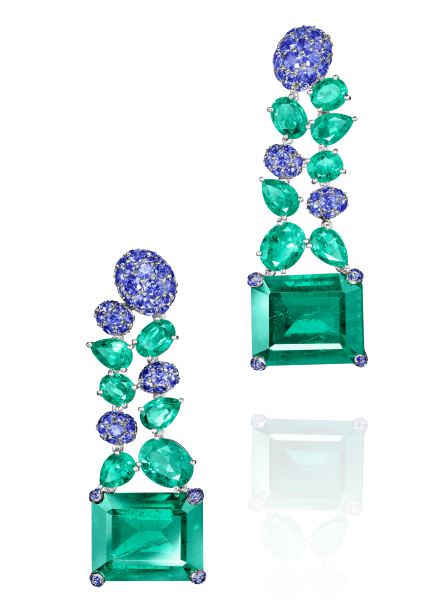 The protagonists of these splendid pieces are two rectangular emeralds that mark the end of the cascade enhanced with sapphires and emeralds of different shapes. Lightly asymmetric, these earrings remind of Sardinian summers with their green and blue colours.