Fendi clients have now the opportunity to "customize their time" by creating their own watch design with the new Policromia Made-To-Order program.
A new exclusive service that allows clients to customize the Policromia watch, by selecting a huge variety of noble materials, from genuine stone inserts to baguette or brilliant cut precious stones to mother-of-pearl colors. More than 100'000 combinations are possible to define unique designs.
For the very first time, customers have the opportunity to mix and match different precious stones and genuine materials in the multilayered Policromia Made-to-Order box to create their own one-of-a-kind jewelry timepieces during exclusive dedicated events.
A program celebrating the FENDI daring creativity on the wrist
Fendi is famous for offering customers fine-crafted creations that can be uniquely personalized to express individual taste and style. With the Policromia Made-To-Order experience, Fendi Timepieces takes this time-honored tradition of luxury customization to an unprecedented new level of sophistication and style.
The name Policromia originates from the Greek words poly (multiple) and khrôma (colors), embodying the idea of several colors together, with a mystic reminder of a surreal Goddess living in a far world. It has been accurately chosen as the name of the Fendi Timepieces Watch Collection, designed in collaboration with Delfina Delettrez Fendi, globally renowned jewelry designer and 4th generation of the Fendi family.
With the exclusive Policromia Made-To-Order program, customers have more options than ever: 20 different levels of personalization in 2 case sizes (33 mm and 38 mm), with 4 levels of choice per element and an endless array of unique luxury combinations. In all, more than 100,000 possible combinations of luxury materials: 18 karat golds, genuine stones, diamonds and precious stones, mother-of-pearls, and genuine exotic Fendi leathers in a variety of elegant colors.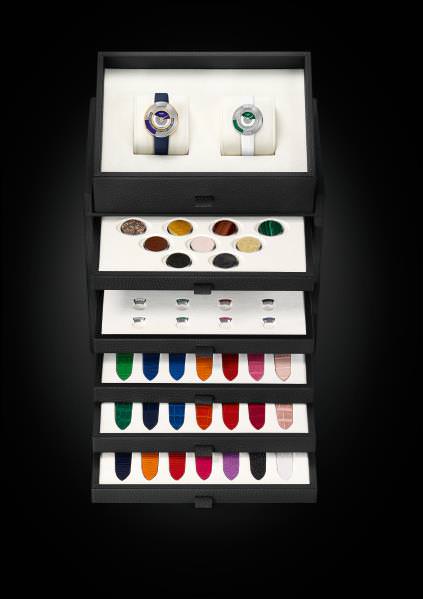 The palette of precious materials to choose from in the Policromia Made-To-Order box is stunning: 18 karat golds, motherof- pearl colors, a variety of genuine stones such as malachite, opal, jasper, tiger eye, and fossilized coral, baguette cut diamonds, emeralds, rubies or blue sapphires, and the same in brilliant cut versions.