By Mr. E
A practical diamond-set timepiece, you ask? This versatile, high jewelry timepiece can be worn either as a pendant or as a wristwatch.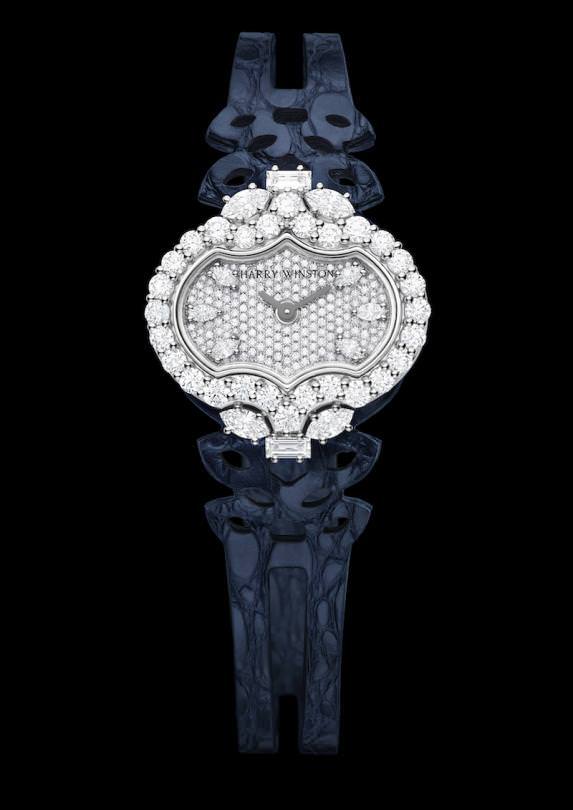 Another high jewellery timepiece is coming our way from luxury brand Harry Winston, inspired by New York City. The new Divine Time evokes the Art Deco movement in the United States, a period that Harry Winston holds dear to its heart.
That's because the company was founded during the heyday of the Art Deco movement in 1932. And since then, the house has taken some of the spotlight of the high jewelry scene away from Paris and brought it to the " Big Apple".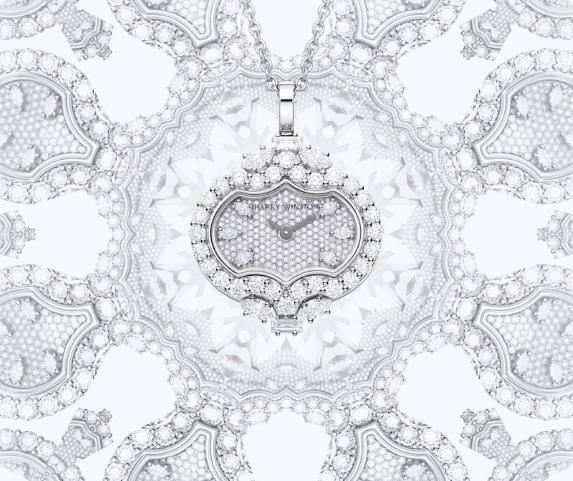 In another throwback move, the designers of the Divine Time have brought back the pendant watch. Currently making a bit of a revival – together with pocket watches - pendant watches have always been a glamorous way for women to accessorize. Already last year the brand unveiled the romantic Rosebud Heart, and with the Divine Time it seems to be continuing with the trend.
This high jewelry timepiece is tailored towards women who value versatility and the spectacular sparkle of diamonds. An array of them, cut in different shapes and sizes, covers the entire 18-karat white gold timepiece.
The dial is paved with 188 brilliant-cut diamonds, with six additional marquise diamonds serving as the hour markers. Because the diamonds-on-diamonds look reduces legibility – and indeed seems a bit superfluous - the gem setters have placed the six hour markers above the dial, giving a bit of needed depth.
The elegant case, which measures 25mm by 26mm is set with an additional 28 brilliant-cut diamonds, crowned at both ends by a magnificent trio of diamonds. All of this add to the brilliant look and also accentuates the curves of the quartz-powered timepiece.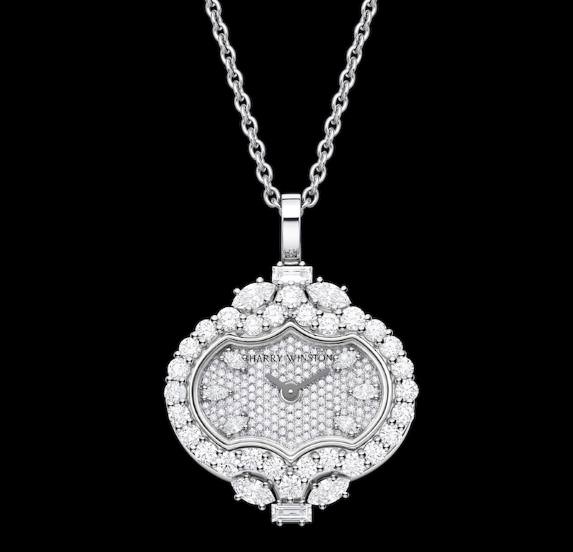 The Divine Time certainly is luxurious, but it also attempts to bring a dose of practicality as well. It can be worn as a pendant with a Harry Winston tag, again set with a brilliant-cut diamond on an 18-karat white gold chain.
Or it can be worn around the wrist on an alligator leather strap. And yes, if you were wondering, of course the strap is also embellished with an additional 27 brilliant-cut diamonds, more precisely on the ardillon buckle.