The story of Reflet begins in 1947, with the birth of the Modernism movement. Art becomes "contemporary". Visual arts, fashion and especially architecture and design are thrillingly daring.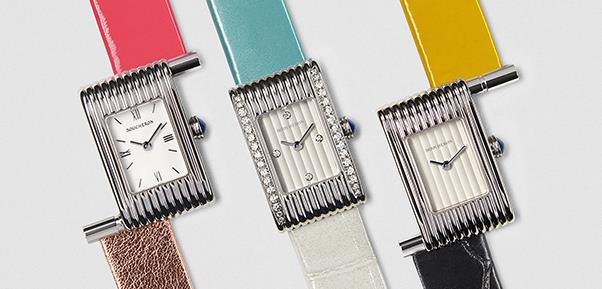 Finally, the timepiece Gérard Boucheron always dreamed of wearing is created in the Maison's workshop : sculpted gadroons, stretched out shapes and invisible clasp.
Reflet, both ultra-modern and stylistically emblematic of 1950s design, is the Maison Boucheron's watchmaking Grand Classic.
The Reflet watch proudly displays one of the inventions signed by Maison Boucheron: the invisible clasp.
It allows you to change the strap to suit your outfit or mood, while keeping Boucheron's long tradition of creating pieces that can be worn in different ways.
Its elegant rectangular dial, both masculine and feminine, is decorated with a cabochon sapphire winding, which completes this timeless by Maison Boucheron.