The DeLaneau Moonlight Dragonfly is an exquisitely delicate creation that pays tribute to women, who are always at the heart of our brand. The femininity of this timepiece is evoked through the softness of the colours, as well as the two motifs that are united on the dial. Like a woman, the timepiece is filled with emotion and takes us along a new poetic path.
The feminine nature of this creation is conveyed by the moon, which is set with diamonds of various sizes and cuts. Women have always been compared to the moon because they are changeable and multifaceted, constantly in transformation. The woman is also represented by the dragonfly, which symbolizes the power of feelings and the wisdom of transformation, according to its spirit and totem. And, as the life of the dragonfly is short, this glittering insect knows that it has to live its life to the fullest – a beautiful carpe diem message.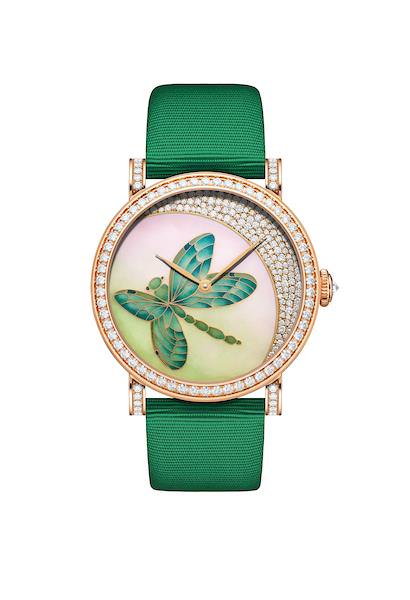 This delicate timepiece portrays a dragonfly realized with a gold cloisonné, resting on a semi-opaque enamel base. Complementing our heritage in jewellery watchmaking, the moon in champlevé is decorated with a "snow setting", allowing this shimmering effect achieved by having set 7 different size diamonds in a random pattern. The vibrant dial is enclosed in a 36 mm red gold case set with 78 diamonds and a diamond encrusted crown. The timepiece features an automatic movement and a fabric strap equipped with a red gold ardillon buckle set with 2 diamonds. The creation totals 2.4 cts.