MJSA presented the winners in all categories of the 2018 competition.
Professional Design Excellence
Open to all independent or company-employed designers, the Professional Design Excellence Category celebrates work that exemplifies the best of contemporary jewelry design. The winners show a thorough grounding in the tradition of fine design, along with an eagerness for experimentation and innovation. By meeting the highest standards of craftsmanship and creativity, these designs truly deserve their award-winning status.
1st Place Winner (4 or more Years in Business) + Laser Distinction Winner - Adam Neeley, Adam Neeley Fine Art Jewelry, Laguna Beach, California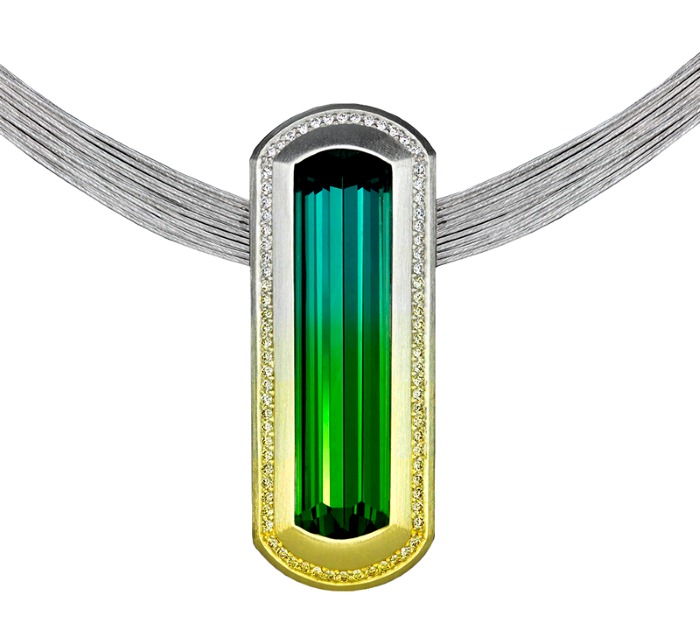 Ombré Pendant. This pendant showcases a rare 25.39 carat blue/green bi-color tourmaline cut by Stephen Avery. It is hand-fabricated in color-gradient Spectra Gold, which seamlessly transforms from rich yellow into white, and is adorned with complementing pavé-set natural canary diamonds that fade into white diamonds. The pendant is mounted on a 10-strand 14k white gold cable chain. Adamneeley.com.
2nd Place Winner (4 or more Years in Business) - Rachael Mitchell, Stuller Inc., Lafayette, Louisiana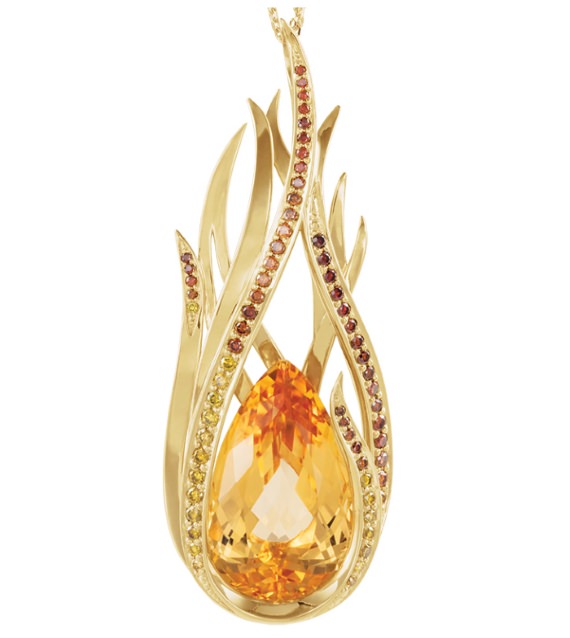 Fire Teardrop Pendant Necklace. This piece features a 20.77 carat pear-shaped topaz gemstone with yellow, burnt-orange, and garnet-red colored diamonds, all set in an 18k yellow gold pendant with a 14k yellow chain. The biggest challenge with this piece, Rachael says, was devising a way to set the center stone without introducing prongs into the design. With digital scans of the stone, she was able to create a hybrid semi-bezel/ tension setting. Stuller.com.
1st Place Winner (1-3 Years in Business) - Xuehui Liu, Grace•Hui Jewelry Studios, San Jose, California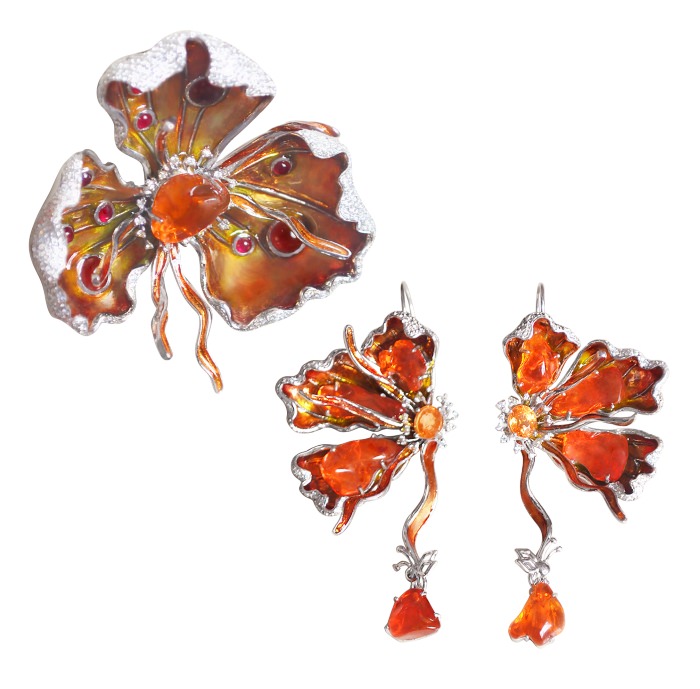 The Eternity of the Plant Kingdom Set. Nine Mexican fire opals are included in the petals of the earrings and the firework-like brooch, all of which are made from 18k white gold. A spessartine sits at the center of each earring, and a total of 1,020 diamond pieces stud the petals and the buds. The enameled interior of the petals and buds gradually change from yellow to orange-red. Ten cabochon rubies of different sizes also decorate the petals of the brooch.
2nd Place Winner (1-3 Years in Business) - Julie Lamb, Julie Lamb New York, Hastings on Hudson, New York
The Entrepreneur Ring. Designed to make a statement, this ring features five channel-set baguette diamonds that run east/west in a "see-saw" bar. A small tab at either end of the bar can be lifted with a fingernail to raise and tilt the row of diamonds. The bar can then snap back into place with a satisfying "click" after all the challenges of the day have been met. A round diamond accents the cylinder on which the bar balances, and five diamonds are set in azures along each side of the shank. JulieLambNY.com.
CAD/CAM Distinction Winner
Andrew Bugher, Andrew Bugher Design, St. Paul, Minnesota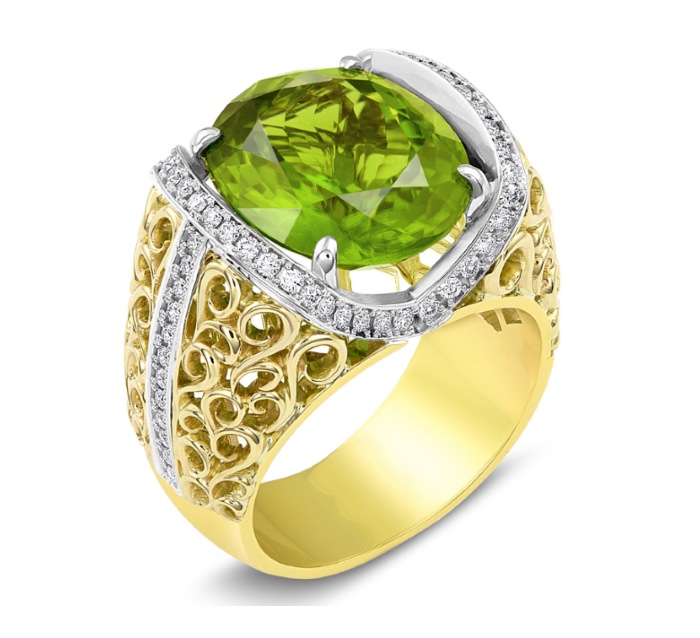 Peridot Scroll Ring. This 14k white and yellow gold ring features a 9.53 carat faceted oval peridot sourced from Pakistan, as well as nearly six dozen 1.2 mm round, ideal-cut diamonds. Andrew split his initial CAD design into six parts, creating individual STL files for the yellow gold ring shank with the under-bridge, the white gold setting section, and the four yellow gold scroll "panels." Each part was then grown on a 3-D printer, cast, pre-finished and polished, tacked together (using a laser welder), and finished. Andrewbugherdesign.com.
Custom Design Distinction Winner
Victor Hararuk,V. Hararuk JDS, Kyiv, Ukraine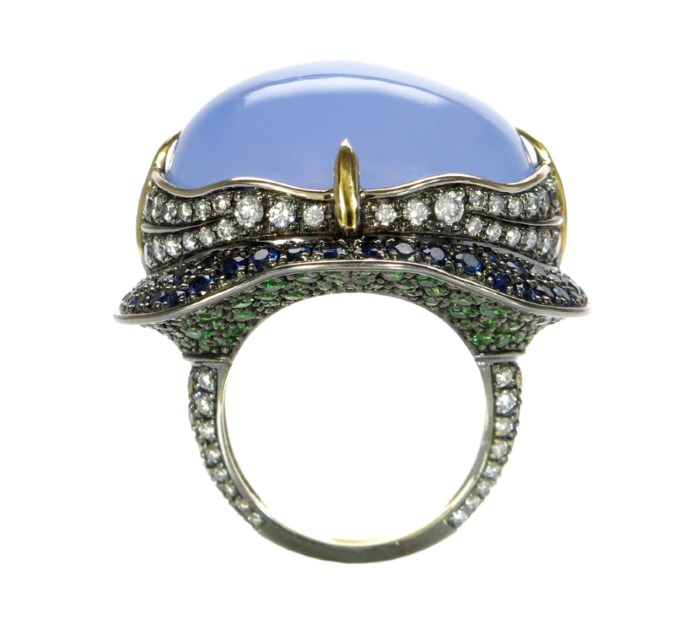 Atmosphere Cocktail Ring. Victor was commissioned to create a piece that reflected his client's love for the sky, air, and ocean. She did not want thematic elements in the design, preferring instead a simple, associative view that was "beautiful, elegant, and unusual in shape." The client agreed on an initial design with a simple, round shape. But while creating the model, Victor realized that he himself did not like it, calling it "too simple." So he went back to paper and pencil and added "waves," turned the original circular shape into an oval, and created a more organic look that "added life and personality." A bit nervous to present a completely new design, Victor nevertheless did so—and, after a long moment of silence, was informed by his client, "This is what I wanted!" Made from 14k white and yellow gold, the ring features a chalcedony (sapphirin) by Konstantin Z, a total of 106 diamonds, and 202 blue/green sapphires. facebook.com/hararukjewelrydesign.
Responsible Practices Distinction Winner
Wolfgang Vaatz, Earth Terra Erde Inc., Rio Rico, New Mexico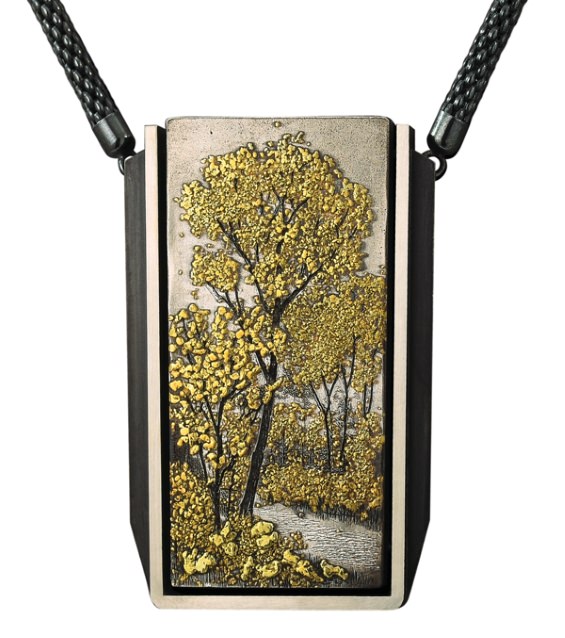 At the Creek Pendant. This hand-fabricated pendant features various sizes and shapes of California placer gold particles and nuggets, as well as Argentium silver.
Since Wolfgang's artwork typically depicts the natural environment, it is natural for him to try to have as little negative impact as possible on that environment. His studio is set up to comply with his own environmental restrictions: He uses only recycled precious metals and likes to work with natural gold from California because of the state's very strict environmental restrictions on gold mining. He purchased the gold directly from the miners for their asking price, knowing that all the gold had been collected with hand tools and hard work. The environmental impact of placer gold mining in California is so minimal that when mining season is over, there is very little trace that mining has happened, and any traces are mostly gone with the next spring flood. When it comes to stones, he prefers to purchase directly from the miners if possible. Otherwise, he works with dealers who adhere to high ethical standards. His studio is set up so that everything is done in an energy-efficient way, without generating too many materials for recycling. He uses household products for cleaning the metal. He also uses biodegradable pickle; however, with all the copper content it absorbs, it eventually becomes too toxic and has to go to the toxic waste station. Wolfgangvaatz.com.
Future of the Industry Winners
Open to any student enrolled in an art, design, or jewelry-related program at a college, university, or a proprietary technical school, the Future of the Industry Awards celebrate the talent that will lead the jewelry industry into the future. Showing both promise and passion, these designs mark the emergence of a new generation that continues the industry's commitment to craftsmanship.
First Place Winner - Angely Martinez, Fashion Institute of Technology, New York City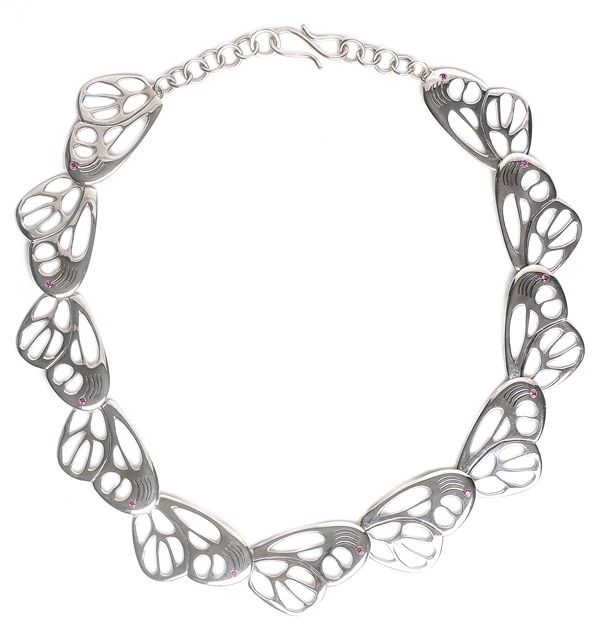 La Inspiración de una Mariposa Necklace. This modular sterling silver necklace is based on the Greta Oto butterfly, most commonly known as the "glasswing butterfly," whose wings are transparent (allowing the butterfly to protect itself from predators). The wings are connected by two half jump-rings soldered to each casting, and each wing features a synthetic ruby. The necklace measures 20 inches long.
Second Place Winner - Hsinyu Chu, GIA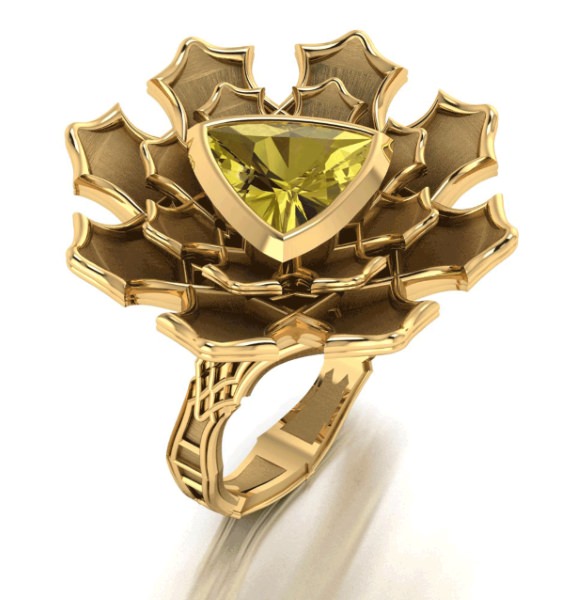 Interlock Ring. When she was a child, Hsinyu Chu's favorite toy was a spirograph. She remembers loving to draw intricate patterns by using all the circle wheels and rings—once she got started, she couldn't stop. Even as an adult she never tires of it, as it is one of the classic ways to create countless, amazing designs. Now she incorporates similar geometric patterns into her jewelry pieces. She manipulates the geometric elements in CAD, which she will print in resin and then cast in metal and set with desired stones.