MEETPHONE – A Creative Digital Solutions Publisher – creates Oz Bijoux©*, a jewellery designer brand where sophisticated designs and technology blend for the sake of personal safety, a worldwide premiere. Here a seamless blend of fashion and function ensures people that they will feel safe and confident as they are connected when necessary with the people they care most about.
A BRAND THAT TELLS A STORY
Oz Bijoux© line of jewelry pays tribute to the wonderful and phantasmagoric world described in Lyman Frank Baum's Novel « The Wonderful Wizard of Oz". Attractive thanks to their stylish and sophisticated designs as per the best jeweller tradition, Oz Bijoux© line of jewellery delivers to your love ones - caring or loving…? - beforehand written text messages.
Just as Dorothy's Red Shoes ensure that she find her way back home, your Oz Bijoux© jewel is your confidential life line to the people that matter most to you…
Oz Bijoux© blends French refinement with new technologies.
INTEGRATION OF A LEADING-EDGE TECHNOLOGY: A PERFORMANCE "MADE IN FRANCE"
With Oz Bijoux© a click is all it takes to act. Worn as pendants, necklaces or bracelets, and as such, part of your everyday life. The jewels allow you to trigger simultaneously different functions to efficiently communicate with your trustworthy contacts and thus to seize all the chances to be rescued in case of an emergency. Encased in the jewellery, invisible to the naked eye, and combined with the Oz Bijoux© app, the miniaturization of the electronics allows all with the click to:
Send Safe Check-in text messages sharing your GPS location;
Send simultaneously to 5 of your contacts Alerts made of an emergency call, an email and a text message, all sent at the same time and all sharing your GPS location, with the disclosure of the list of all the warned contacts cell phone numbers;
Trigger a loud ringing Alarm
Record voices and sounds around you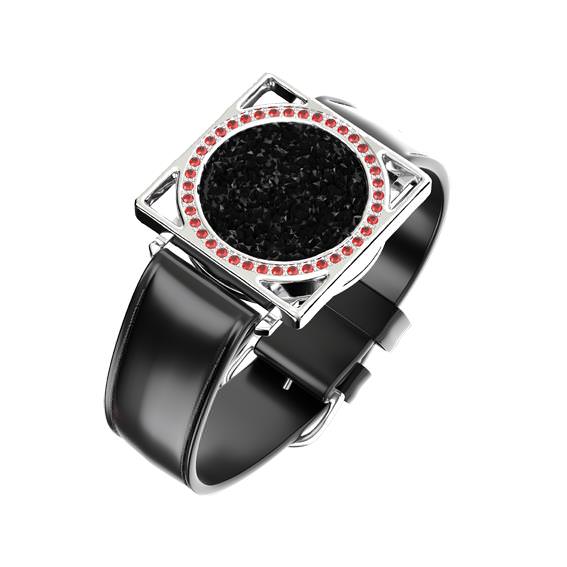 A SMART PRODUCT POSITIONING
The commercial offer for the Oz Bijoux© line of connected jewellery fulfills the world of affordable luxury: The whole R&D for each piece of jewellery has been carefully led and designed to target a wide audience of "beautiful jewellery amateurs". Designs are stylish, sophisticated, stripped-down, all suitable for high volumes sales and cycles.
This affordable luxury world calls for a very precise pricing strategy. Indeed, with Oz Bijoux© you have both the unique combination of creative designs made to please the widest possible audience, and an encased truly innovative technology, which is a one of a kind.
THE COLLECTION
Launch of the collection will take place at the September 2018 Bijorhca trade show, with Oz Bijoux© in the public eye and displaying about thirty references of its jewellery line for preview. Oz Bijoux© favors a line of jewellery able to encase the technology, thus priority is given to necklaces, pendants and bracelets that are part of the "Epure" and the "Dorothy" collections; rings and earrings will join in 2019 to complete each collection's set of jewels.
The Oz Bijoux© collection uses silver or gold-plated alloys beautified with Swarovski® crystals.
Available as a separate retail offer, chains and cables are multi size and range from 38 to 45 cm thanks to their 70 mm extension chain. So are the bracelets with sizes ranging from 15 to 21 cm.
THE SUPPORT OF AN ICONIC NAME AND COMPANY IN THE LUXURY WORLD: SWAROVSKI®
To maintain the collection's stylish and refined identity, Oz Bijoux© has called on the Swarovski company, the Austrian producer of the most beautiful cut crystal glass since 1895.
Oz Bijoux© designs are beautified with their crystals' myriad choice of colors, impressions, forms and dimensions, an amazing catalog that provides a fabulous source of inspiration to the Oz Bijoux© designers.