Fred House reissues an iconic jewel designed by Fred Samuel in the 60s: two feline legs, crossed one over the other, velvety and protective, infinitely flexible.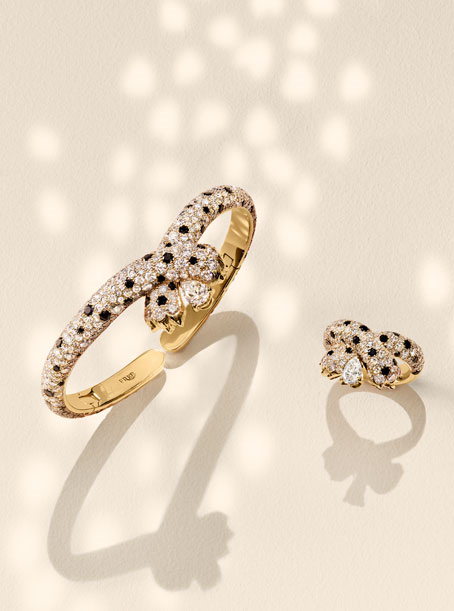 The Ombre Féline story begins in the 1960s, when Fred Samuel created a design of two wonderfully lithe, crossed feline paws. He evoked the animal's proud bearing through a single detail, rather than its entire outline. How to resist the seductive, protective power of these velvet-smooth feline paws folded nonchalantly, one over the other?
214 hours of work. This is the time it takes to crimp this yellow gold, diamonds and black spinel necklace, from the Ombre Féline collection.
This new edition also pays glowing tribute to someone particularly prized by the Maison and of whom Fred Samuel was especially fond: Princess Grace. She was wearing this famous ring in 1976 when, as guest of honour, she attended the opening night of the Fred boutique in the Principality. Fred Samuel's memory of the evening left him moved: "At last, the person for whom we had been waiting so eagerly, Princess Grace, arrived and cut the ribbon for the opening. Very considerately she showed me the panther ring she was wearing on her finger. 'I love this ring, it's always with me', she added…" *
*Mémoires d'un joaillier, Fred Samuel, éd. du Rocher. 1992