Paying homage to the great ceremonial necklaces of the Maharajahs, this piece showcases an exceptional assembly of emeralds, as well as sapphires and rubies, set in accordance with ancient Indian know-how and tradition.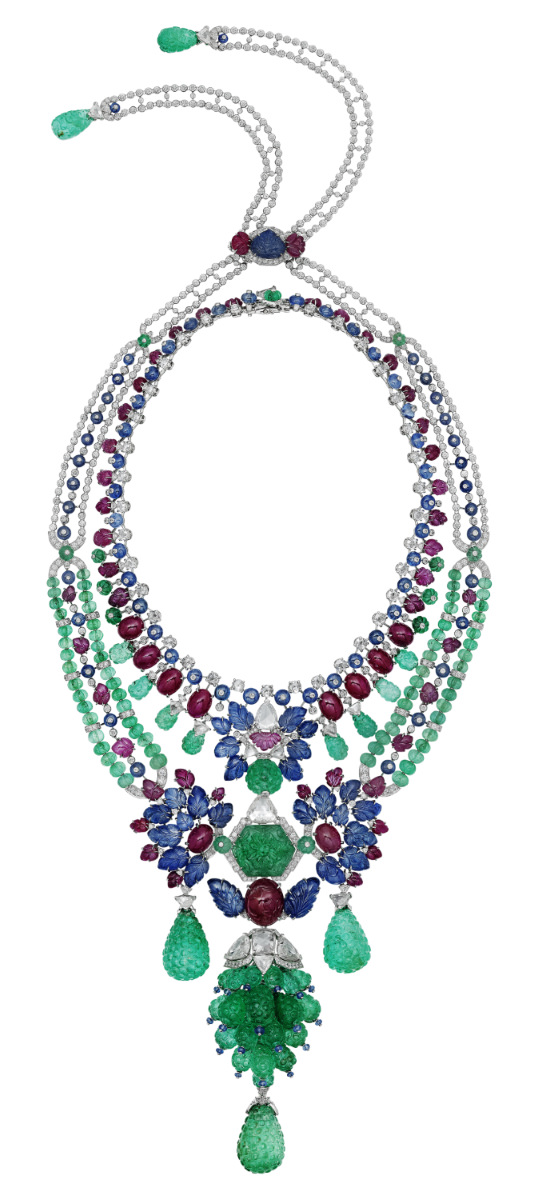 The engraved emeralds brought together by Cartier are all the more singular, as the "cluster" form of the pendant is rare in High Jewellery – though Cartier already made use of it in the 1920s and 30s.This pendant comprises 19 gems. The ensemble is completed by two emeralds totalling 86.96 carats and a central stone of 43.73 carats. All three are sourced from Colombia, one of the world's most renowned gem-mining regions.
Their impressive weight is accentuated by the colour, brilliant intensity and crystallisation of their combined forms. They are joined by an 18.58-carat hexagonal engraved Zambian emerald, a 23.24-carat engraved Burmese ruby, eight Burmese rubies totalling 46.34 carats and two Burmese rubies totalling 13.26 carats.