>> Messe München International honors Dieter Hahn
Dieter Hahn, owner of Ph. Hahn Söhne Company, was awarded the highest honor by Messe München International, the Medal of Excellence in Gold, for his extraordinary contribution and dedication to the company group Messe München International.
During the last few decades Dieter Hahn, who heads Germany's oldest diamond cutting company in fourth generation, has always been exceptionally involved in the event and a very attentive partner for inhorgenta europe. As early as 1974 he began exhibiting his high quality gemstones at the leading trade show for watches, jewelry, gemstones, pearls, and technology in the EU, and has known the event since its beginnings.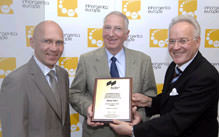 From left: Klaus Dittrich, Managing Director Messe München GmbH (MMG); Dieter Hahn, chairman inhorgenta europe advisory board; Manfred Wutzlhofer, Chairman & CEO Messe München GmbH (MMG)
He has lent his competence and drive to inhorgenta europe's advisory board for two decades as a member, and chaired it for the last 10 years. He has been one of the driving forces behind the continuing development of the trade show to keep it in line with the market conditions. As a founding member of the IDC (International Diamond Council) in 1975 he has had significant influence on the commonly used guidelines for diamond grading.
In addition, for 20 years Dieter Hahn also acted as the president of the Diamond and Gemstone Exchange, has been on the management board of the World Federation of Diamond Bourses (WFDB) for the last 18 years acting as treasurer, as well as chairman of the board of directors of the German Gemstone Museum in Idar-Oberstein, and deputy chairman for the Intergem exposition. Thanks to his unwavering dedication to the benefit of the industry Dieter Hahn has long since become an institution throughout the gemstone industry. www.inhorgenta.com

>> Platinum jewelry for men Diamond manufacturer Hans D. Krieger Fine Jeweller presents trendy men's jewelry made of high-caliber materials. The award-winning designer piece "Cold Sword" is a sword-shaped platinum pendant studded with 194 white and black diamonds. This piece of jewelry for men is attractive and easy to wear, because it looks like a traditional cross pendant at first glance. Only a second, closer look reveals the clever symbolism of the design. www.platininfo.de
>> Buckskin jewelry accessories Pouch – the term for a neck purse used by today's youth. The small pouches on long cords are currently very popular and in style to coordinate with the current hippie fashion trend. Jewelry manufacturer Thomas Sabo offers a new collection of "Pouchies" made of buckskin in a variety of colors. In addition to playful fringes the small bags also feature a strap where peace sign, panda bear, or daisy charms from the special sterling silver collection can be attached. The Pouchies safely accommodate money, keys, or even an MP3 player. www.thomassabo.com

>> Bracelet collection for young individualists "Lucky Life" by Essen-based jewelry company Max Fröhlich GmbH is a bracelet collection for young, female individualists. The graceful charm bracelets can be customized with more than 80 different charms, and allow a fresh approach every day. Trendy objects for the summer include mini purses, small pumps or stilettos, or even colorful flip flops. All bracelets and charms are made of 925 silver. www.maxfroehlich.de
More information on www.inhorgenta.com