By Cynthia Unninayar
With her two passions as inspiration—one for jewellery and one for flowers—designer Ji-Eun Kim created a very original and beautiful collection of fine jewellery using real blossoms.
For Korean designer, Ji-Eun Kim, traditional jewellery did not go far enough in expressing her love of Nature. "On earth, there is nothing more beautiful than Nature, especially its colourful flowers," she muses. "I wanted to capture this beauty in gold and precious gemstones." She and her team at Vajra experimented with various casting techniques to try and cast real flowers and leaves.
"The first challenge was to find flowers that did not wilt. The second was to give the right colour to the flowers once they were cast," she explains. In addition to capturing Nature's blooms in precious metals, she set out to find eco-friendly materials and manufacturing techniques. After all, immortalizing Nature in flowers and leaves is one thing. "But it is also important not to harm the environment in the process," she insists.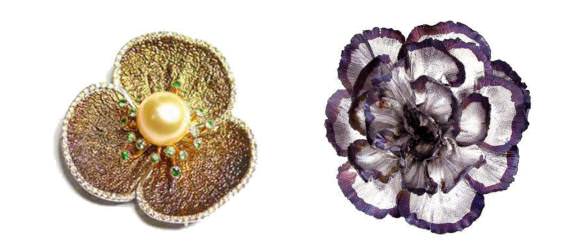 The result is a special precision casting technique using gold or platinum that realizes the actual form and texture of the natural living flower or leaf without using any artificial treatments. Innovative and original, this technique has received several patents. When you think that a leaf or flower's thickness is approximately 0.2 to 0.3 mm, the reproduction of the blossom is quite amazing. "All of our jewellery is carefully handcrafted in our workshop in Korea, and we often have customers who bring in flowers that have a special significance for them. We will cast them, put in the right colours, and provide them with a beautiful piece of jewellery. It is a memorable keepsake of an important occasion that they can cherish forever."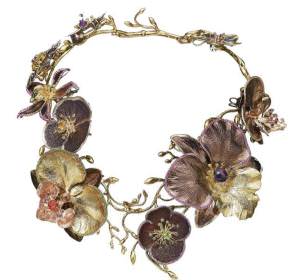 Vajra's Gina Collection is sold in the brand's own boutiques in Korea and China, as well as through retailers in Hong Kong, China, Japan, Taiwan, Singapore, Dubai, and the United States. The brand is also present at the major trade shows in Korea, China, Hong Kong, Dubai, and JCK Las Vegas. Are there plans to expand? "Yes," adds Ji-Eun Kim. "We are now starting to explore the European market." Where, it is sure, customers will appreciate the eternal blossoms of Vajra's Gina Collection.