By Kiran Nirankari
India's premium jewellery show, IIJS Signature, sponsored by the Gem & Jewellery Export Promotion Council (GJEPC), held for the last three years in the idyllic seaside resort of Goa, ended its third edition on a positive note.
India's importance in the global gems and jewellery marketplace can be summed up in a few words: the nation is the world's largest consumer of gold; the world's largest producer of polished diamonds (a staggering one billion stones are polished every year); exports of gold jewellery have grown 15 to 20 percent a year over the last decade; and total annual gems and jewellery exports are worth some US$21 billion. More than one million Indians are involved in one way or another in their nation's jewellery and gem industry.
The ultimate trade show in this vast market is the by-invitation-only IIJS Signature show, held at the Kala Academy in the resort city of Goa from February 19 to 22. Goa is a former Portuguese colony and is well known as being an eco-friendly region with attractive architecture and an amazing 105-km palm-fringed coastline of virgin beaches, bays, and estuaries.
The Signature exhibition featured India's top jewellery manufacturers and loose diamond and coloured gemstone dealers, and emphasized India's growing stature as a major jewellery production centre in terms of creativity, design, quality, and state-of-the-art technology. Exhibitors included large local companies such as the Gitanjali Group, which has nine brands, and Venus Jewels, as well as overseas exhibitors such as USA-based Somerset Manufacturers and Fana Jewelry. GJEPC chairman Vasant Mehta described the show: "IIJS Signature highlighted India's capabilities to produce jewellery on par with international centres in the world. It is the ideal platform to facilitate a broader business dialogue." One reason that Goa was chosen is that the venue offers exhibitors and buyers the opportunity to "mix business with pleasure" according to fair officials.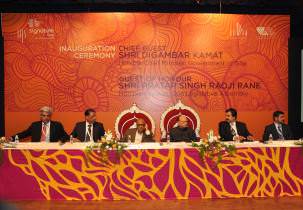 And mix business with pleasure they did. Buyers at this year's show saw a wide range of designs, from traditional to modern, although most exhibitors said that 70 to 80 percent of demand at the show was for traditional pieces—and even the Western style jewellery should have an element of Indian traditional designs to be appealing to the local market. Most buyers were from India because the domestic market is strong since the global meltdown did not affect the country as much as the rest of the world. "Jewellery is part of the Indian psyche, so there will always be a demand," explained Pankaj Parekh, Chairman, GJEPC Eastern Region. To reduce dependence of the nation's gem and jewellery industry on the slow United States market, the country is making inroads into new areas such as the Eastern European nations and the Middle East. Buying delegations organized by the GJEPC this year came from Armenia, Bangladesh, Iran, Russia, Uzbekistan, Poland, and Azerbaijan. Alex Popov, CEO of the Moscow Diamond Bourse commented, "The diversity of Indian gems and jewellery is a great advantage. The 'by-invitation-only' concept gives the opportunity for customers to concentrate on selected manufacturers and to expect better product and service, which eventually helps them to raise their store sales." From another part of the world, Chandu Siroya, Vice Chairman, Dubai Gold and Jewellery Group Managing Director, stated, "India has become the preferred destination" for sourcing finished jewellery...suppliers now have a better synergy with buyers' visions and requirements. What is impressive is that the majority of manufacturers have made massive investments in infrastructure and technology for improving quality and meeting delivery schedules, apart from having creative in-house designers. In this challenging economic climate, it is more important than ever to take advantage of such a market opportunity which is ideal for long-term players." Similar sentiments echoed by Denes Dencsy, president of the National Precious Metalsmith Guild Association in Hungary, "Indian jewellery manufacturers offer many advantages—reliability, flexibility, quality."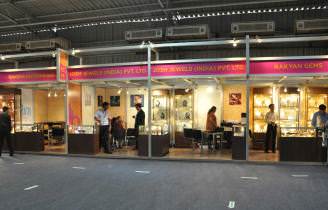 The next IIJS Signature show will be held at a different venue, to be determined at a later date. But as for Goa, it will be a destination where the top Indian producers can meet buyers from India and around the world where they can "mix business with pleasure."