The Harry Oppenheimer Diamond Museum (HODM) will host the Shining Light Awards 2010 - 2012 Southern African Collection in a new exhibition named "All about Diamonds".
A reception in honor of the exhibition will take place on June 29, 2011 in the presence of Mrs. Varda Shine, CEO DTC; Mr. Shmuel Schnitzer, Chairman of the Board of the museum; Mr. Moti Ganz, Chairman of the Israel Diamond Institute Group (IDI), to which the museum belongs; Mr. Avi Paz, President of the Israel Diamond Exchange and Mr. Eli Avidar, Managing Director of IDI. The "All about Diamonds" exhibition will be open to the public from July through September. The curator of the exhibition is Yehuda Kassif, art director of the HODM.
The exhibition is the culmination of the latest De Beers Shining Lights diamond jewelry design competition, first held in 1996. Its objective is to support the Southern African jewelry industry and to further its exposure worldwide.
The collection features 30 magnificent items, created by designers from South Africa, Namibia and Botswana. It includes 25,000 diamonds – natural black, brown, canary yellow, cape colored and brilliant white – with a total weight of over 630 carats. The diamonds, which were contributed by 30 diamond companies, are set in 18 karat yellow, white or rose gold, and one of the pieces uses wood as well. The spectacular pieces include 15 necklaces, 8 bracelets, 4 rings and 2 head pieces and are valued at a total of US$3.2 million.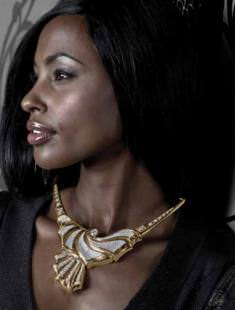 Museum Chairman Shmuel Schnitzer said that by hosting this exhibition the Israeli Diamond Industry was honoring the close ties that it has enjoyed for many years with the De Beers family of companies, which he said are based on a firm and loyal friendship. "We are also paying tribute to our relations with the African countries represented here, all outstanding diamond producers. These ties, which have always been excellent, are of great importance to our industry," he said.
IDI Managing Director Eli Avidar said that the institute was pleased to host the collection, especially because of its high quality of design and manufacturing techniques. "One of our goals at IDI is to promote cooperation between the diamond industry and the jewelry design and manufacturing communities in Israel. We are certain that this collection will expose Israeli designers and manufacturers to new ideas and will serve as an inspiration for new locally-made diamond jewelry," he said.