GJEPC's India International Jewellery Show Signature 2012 is back with its 5th edition to showcase the world's best and finest in gems and jewellery across 22,00 sq mts of space in the financial and commercial capital of India – Mumbai. With over 10, 000 visitors, 800 booths, 450 + exhibitors IIJS Signature 2012 has grown to more than double its size and much more grande than its previous avtaars seen in Goa and Mumbai.
The fifth edition of India International Jewellery Show – Signature IIJS is to be held from January 6-9, 2012, at Bombay Convention & Exhibition Centre (NSE Complex), Mumbai. IIJS Signature has been conceptualized to represent and showcase the best that India has to offer in design, craftsmanship and quality. This exclusive platform will see participation from India's leading, hand-picked companies who will display the choicest in products and design.
Varda Shine, CEO, Diamond Trading Company, Chief Guest and Rajiv Jain, Chairman, GJEPC inaugurated one of India's finest and year's first gems & jewellery show for the year. IIJS Signature undoubtedly showcases India's finest in top-of-the-line jewellery design and manufacturing.
Commenting on its fifth edition, Rajiv Jain, Chairman, GJPEC said, "We believe that IIJS Signature 2012 is a landmark event bringing forth the best in the Gems & Jewellery B2B business segment and is slated to become a property as strong as the world renowned IIJS. This year Signature-IIJS will be even more attractive with 200 new exhibitors as well as International Pavilions from Thailand, Israel, Belgium and Turkey. A dazzling display of innovative design and quality that will raise the bar for top-end retailers and we look forward to a great new year for the Gems & Jewellery Industry".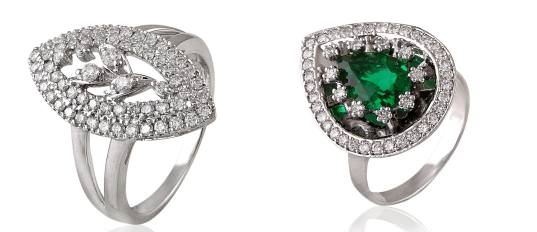 With the global economic slow- down first in US and now in Europe, the turmoil in the Middle East market and the slowing down of economies of India and China has resulted in the jewellery sector across the world go through a downward trend. The unprecedented decline of rupee in a short span of time, the increase in price of gold bullion has slowly started affecting the demand of jewellery in domestic sector which is not a healthy indication for the industry. In this scenario, when the income levels of the consumers are not growing, the future growth of jewellery sector truly depends on the identification of newer geographies, new consumer segment etc such as the noveau rich consumers of India and China.
Adds Rajiv Jain, Chairman, GJEPC, "Various global initiatives such as IIJS Signature, IIJS, IIJW and our recently announced association with the Ministry of Tourism to market jewellery worldwide with Incredible India Campaign, the Mines to Market summit, participation at different prominent exhibitions in the world, all have contributed to our efforts in promoting Brand India abroad and help the industry at large in identifying and cultivating new consumer segments and geographies".
Comenting on the successful launch of IIJS Signature's 5th edition, Varda Shine, CEO, Diamond Trading Company (DTC) said, " It is a great pleasure to be present here in Mumbai, for the Signature IIJS Show, 2012. The highly creative collections and designs on show, for the next few days will make it a fantastic exhibition. It shows us, supports the idea and also gives us the insights into the signature of Indian society, as it currently is, innovative, exciting and confident. Alongside the innovation and creative nature, there is also appreciation for the legacy of diamonds, in this beautiful country".
The IIJS, IIJS-Signature and IIJW jewellery shows organised by the Council have provided a platform for the industry to grow and collectively set a benchmark in terms of quality, design and business practices. GJEPC is encouraged by the participation of industry members from around the country in these promotional initiatives. Another joint effort that is underway is in procurement of raw materials which will support the industry in managing its growth.