The Thai government announced the lift of 20% tax on imported gems and jewellery products to be sold at the 52nd Bangkok Gems and Jewelry Fair (BGJF52) this coming September.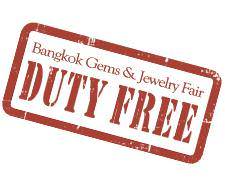 Foreign exhibitors will be allowed to bring in and sell gems and jewellery from other countries duty-free, while local exhibitors can reduce their selling prices after cutting down on imported parts and products' costs. Thus, both local and foreign buyers at the fair can take advantage of 20% savings, giving them additional purchasing power at the Fair.
"We are privileged to have the government working alongside us so directly," says Somchai Phornchindarak, President of the Thai Gem and Jewelry Traders Association (TGJTA) and Chairman of the Gems, Jewelry and Precious Metal Confederation of Thailand. He said the government decision came at the heels of TGJTA's strong advocacy for a concessional duty rate of 0%, and they are happy to see their requests granted.
"The government has been with us every step of the way, helping to promote exports as well as developing overseas markets via trade fairs, road shows and exceptional exhibitions. All these changes predict a gleaming future for all," added Phornchindarak.
The concession is considered as a temporary grace period (15 days before/ after the BGJF52) for everyone attending and participating in the BGJF52. Products to be covered by the measure are pearls, precious stones and metals, imitation jewelry and coins – all categories that fall under the International Trade Commission (ITC)'s Harmonized System Code, Chapter 71.
Suttipong Damrongsakul, Chief Executive Officer of the BGJF Organizing Committee, said the move would significantly propel Thailand to become the "golden gateway to the gems and jewelry industry of the Association of South East Asian Nations (ASEAN) — a region burgeoning with a 600 million population."
The import duty-free incentive can only be availed of at the BGJF52 though, by exhibitors endorsed by TGJTA. Sellers who are not endorsed would still have to pay the standard 20% import tax. Moreover, the regular 7% Value Added Tax still applies to all exhibitors, local and foreign.
The BJGF52, scheduled this September 6 to 10 at Bangkok's IMPACT Exhibition and Convention Center, is expected to draw tens of thousands of buyers from all around the world. Last February, the 51st fair received over 30,000 visitors from more than 130 countries, including buyers from Dubai, Russia, China, Bahrain, Brazil and Canada. The bi-annual event is regarded as the world's fifth and Asia's second largest trade show in the gems and jewelry market. The fair boasts of gross export revenues exceeding Bt400,000 Million or US $12.8 Billion.
Phornchindarak said the strength of the industry is built on such solid foundations as "excellent designs, reputed quality, premier craftsmanship and state-of-the-art technology. These qualities, along with best possible support services, have seamlessly propelled our industry, all despite rocky economic conditions worldwide since 2007."
Another tax-free initiative the BGJF is offering is the Zero VAT Pavilion, where buyers are exempted from paying the 7% value-added tax imposed on rough gems and raw materials imported into Thailand for manufacturing. It's a government-backed policy that aims to strengthen the country's position as the "World's Gems and Jewellery Hub" and the largest manufacturing centre for such products in the entire globe. Damrongsakul says the Zero VAT Pavilion will surely entice those looking for excellent bargains.
Aside from the tax cuts, TGJTA says it will initiate a variety of new features that will enhance trade activities like seminars, contests, trend updates, and special offers.
At the 51st fair last February, BGJF introduced the Business Matching Service –a scheme that helps foreign buyers identify, locate and communicate with exhibitors long before the fair actually begins. After registration, customers are assisted by staff members of the Fair to view suppliers' profiles, see their latest products, and select those whom they wish to meet. The service is free of charge, conducted online, and done in the comfort and privacy of buyers' offices or homes. In return, sellers are able to study the buyers' specifications and prepare customized sales pitches well ahead of time.
"The service is immensely popular as it gives buyers the ability to both swiftly and accurately locate very specific suppliers in an amazingly fast and convenient way," says Damrongsakul.
Additional privileges that the Matching Service offers to is the chance for buyers to meet and sit with sellers, by appointment, in a private, comfortable room with special VIP service.
According to TGJTA, hundreds of buyers from the previous fair availed of the service and were highly satisfied with it. Around $30,000 to $2million worth of gems and jewelry were purchased using that method alone.
At least 1,500 gem and jewellery suppliers participated in the 51st fair last February. Organizers say they're putting up an additional 3,500 booths this year, expecting a significant rise not only in the number of exhibitors, but also in the number of booths the sellers will be renting. They say commercial space is running out fast, so exhibitors are urged to register right away.
Now running on its 30th year, BGJF52 will be held at the IMPACT's famous Challenger Hall, Asia's largest column-free, ground-level exhibition facility. Shuttle service will be available to and from Bangkok's 5-star hotels to give added convenience to buyers and sellers alike.