The Gem and Jewellery Export Promotion Council (GJEPC) will organise its 7th edition of Signature 2014. Scheduled from 21st to 24th February at the Bombay Convention & Exhibition Centre, Mumbai, this show is one of the most awaited gem and jewellery fair in India.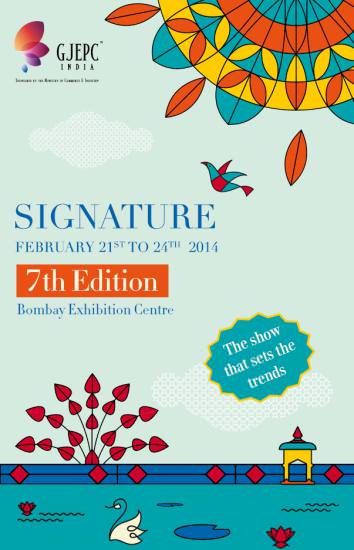 Signature 2014 will showcase the highest quality, cutting edge designs and superior craftsmanship by the participants. This is a B2B event where traders will have the opportunity to discover the latest trends, meet with the leading manufacturers and plan their collections and inventories. After the culmination of the festive season, jewellers look forward to re-stocking their stores with the trendiest jewellery collections which will be accomplished with style at Signature 2014.
Mr. Vipul Shah, Chairman, GJEPC, commenting on the imminent show said, "Signature is a great platform for international as well national retailers and manufacturers congregate to build associations, conduct business and forge partnerships that enable business transactions through the year. The success of the show is evident through the increasing level of queries from new companies and support from existing exhibitors with over 80% repeat participation. With an optimistic trend in the global economy, we are confident of grander response this year."
This year as well, the show will feature sections on Loose Diamonds & Gemstones bringing offerings from the world's largest manufacturer, Gold Jewellery that will highlight innovative approach to design and manufacturing, Studded Jewellery in latest trends and designs, the Signature Club where one can experience Couture jewellery at its best besides International pavilions from Belgium & International visitors from USA, Japan, Hong Kong, Thailand & Malaysia.
"Signature is exceptional revenue generating and networking platform for the exhibitors, attracting serious buyers thus forging long-term business associations. As macro-economic headwinds improve in developed markets such as the USA and Europe, we envisage good business for the participants" Said Mr. Nirav Bhansali, Convener, Exhibitions (National), GJEPC.
Inspite of current crisis which Indian Gem & Jewellery Industry is undergoing, Signature show exhibitors are optimistic as they as they feature their latest designs and creations to niche visitors.
The trade fair will see participation of over 550 exhibitors showcasing their creations to more than 10,000 visitors from 350 cities & towns across India and over 500 International visitors from 28 countries. The sheer size and scale of the event speak volumes of the acceptance and reach of Signature. The event is also the testimony to the efforts of GJEPC in ensuring smooth growth of the gems and jewellery growth in India.
Some of the key highlights of Signature 2014 are:
An online Buyer Matching Program: This online matching program enables participating exhibitor's beforehand screen other exhibitors, get automatic matches to their requirements. It helps them in sending enquiries to other exhibitors to schedule and confirm their appointments beforehand facilitating business negotiations at the event.
Signature Mobile Application: The Signature Application allows participants and visitors to locate stalls of different traders and shows the closest route to reach there. It basically gives a complete route map of the entire Signature ground for any person on their mobile.
Exclusive Elite Club for Top Retailers: The Elite Club offers selected retailer's privileged hospitality at Signature Mumbai. At an exclusive lounge they can enjoy a quiet moment, relax and have access to the Internet and refreshments.