The Gemological Institute of America (GIA) announced last month the expansion of its recently launched eLearning program to include its core diamonds course, "Diamonds & Diamond Grading." GIA eLearning was launched in January with the Accredited Jewelry Professional (A.J.P.) diploma program.
GIA's eLearning features interactive multimedia, including interviews with experts, instructor lectures and "see it for yourself" segments. Students who want to earn a GIA diploma through Distance Education now have a comprehensive online learning experience where they can read, hear, see and personally interact with the subject matter more than ever before.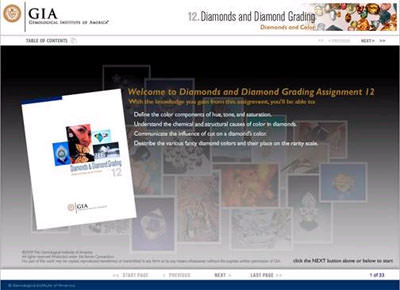 The Diamonds & Diamond Grading eLearning course teaches the skills needed to judge and grade the color, clarity and cut of diamonds; how to determine proportions and estimate the carat weight of diamonds; the fundamentals of diamond treatments, synthetics and simulants; and much more.
"Everything is at your fingertips, or just a mouse click away," says Duncan Pay, director of GIA's Course Development department. "We integrated video clips, interviews with industry professionals, helpful animations and slide shows, directly into the materials."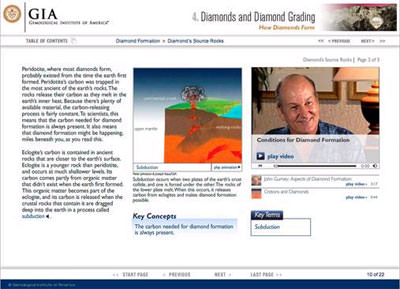 "All of the multi-media features provide new depth on topics like discovery of mines and how diamonds are cut, graded and sold," Pay says. "We even added a review lecture at the end of most assignments, where Distance Education students benefit from an instructor-delivered presentation, similar to those enjoyed by our on-campus students."
Pay added, "All of this provides a much "bigger picture" of the diamond industry. You'll really understand the interconnected nature of the industry – from mining and recovery, through the supply chain, to the decisions cutters make and to how GIA grades diamonds. Students tell us they were pleased with the A.J.P. program via eLearning, but Diamonds & Diamond Grading taught by eLearning is simply the best we've produced to date."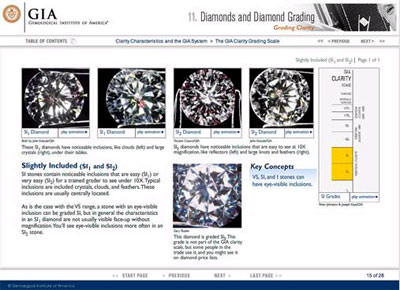 To see a demonstration of GIA eLearning, visit www.gia.edu/elearning.