The Bangkok Gems and Jewelry Fair is set to launch the Thai capital into the gemstone capital of the world, assert industry leaders. Organisers are inviting visitors to enjoy traditional Thai hospitality at the 57th Bangkok Gem and Jewelry Fair (BGJF) held at the IMPACT Challenger, Bangkok from February 24 to 28, 2016.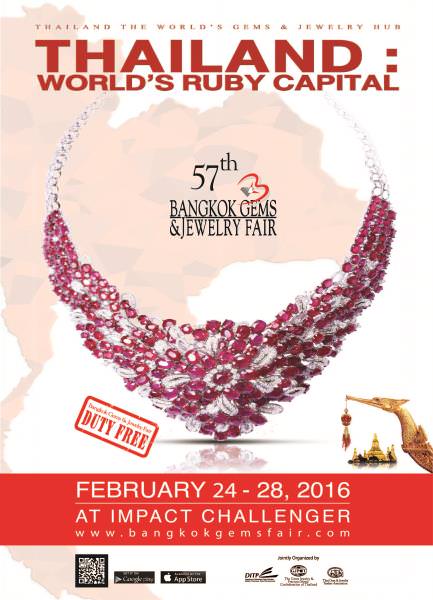 In recent years the fair has grown into the fifth biggest industry show in the world. The 57th BGJF will draw tens of thousands of buyers from all around the world, including the US, EU, Russia, China, ASEAN and the Middle East, all looking for best value for money option.
"Come and enjoy our famous Thai hospitality," invites Mr. Suttipong Damrangsakul, the President of the Thai Gem and Jewelry Traders Association (TGJTA).
The committee is offering accommodation in one of Bangkok's hotels for international visitors. All they have to do is register online at www.bangkokgemsfair.com to receive a free hotel coupon.
Mr. Somchai Phornchindarak, President of the Gems, Jewelry and Precious Metal Confederation of Thailand (GJPCT), believes the quality of gemstones on offer at the 57th BGJF is higher than at other shows.
"You come to Thailand to get the best, anywhere else you are getting the second best," he says.
The 40-year plus veteran of the industry says that Thailand has developed an international reputation for the finest quality coloured stones – or Ploi Thai – in the world. Whereas once the country's fame was solely for excavating the precious gems this is now not the case.
"Thailand has a hundred-year history with gems," he says, "but now we no longer have our own gems. Ploi Thai is the Thailand country brand; it doesn't matter where the stones come from they are assembled in Thailand. When you think of coloured stones you think of Thailand, that's why we call it Ploi Thai."
Mr. Somchai believes that Thailand is set to become the gem hub not just of ASEAN but of the world.
"In three to five years time Thailand will become gem hub of ASEAN, but we will not rest there," he says. "I want it to be capital of the world, that's why we are asking for government support."