By Cynthia Unninayar
A small village near Florence is home to one of the more unusual Italian brands, Raffaella Mannelli, named after its stylishly chic and passionate designer.
Since the age of three, Raffaella Ricci knew that she wanted to create jewellery. Growing up, she had a first-hand view of the goldmaking process at her uncle's factory in Arezzo. Later, while studying Foreign Languages at Florence University—she speaks four—Raffaella took courses in design in view of one day realizing her dream.
After working for one of the city's well-known jewellery retailers, where she gained experience in design and sales, she started her own company in 1998 with her husband, Alessio Mannelli, a practiced gemmologist with experience in industrial design.
At first, the pair focused on custom orders, then in 2002, the first Raffaella Mannelli Collection was launched. Quickly moving away from more traditional designs, she found inspiration in nature and art. "I have to just open a window and look at the trees or travel to the seashore to find ideas. I also look to art and architecture. I then begin to draw and the designs take shape," explains Raffaella in her studio in Borgo San Lorenzo.
And what unusual shapes they are! Using black ebony hardwood as a base, Raffaella combines gold and diamonds to create sinuous designs that seem deceptively simple. "They're not simple at all," she explains. "The carvers are specially trained but they must also have the talent to carefully follow the lines of the wood to achieve the desired effect. If not, the piece will break.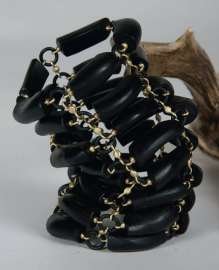 " Because each piece of wood is different, each piece of jewellery is also slightly different. The average piece takes five to seven days to produce, all by hand. The effect of the gold and diamonds against the black wood is indeed dramatic, but when adding colour, such as sapphires and other gemstones, the effect is dazzling. "The reception by retailers has been amazing," she says, adding that the United States is her largest market, followed by Italy. "Surprisingly, 2009 was our best year, and for the first quarter of 2010, sales were up 30 percent." The brand has a distributor in New York, who handles her North American clients, which include Bergdorf Goodman and many independent retailers.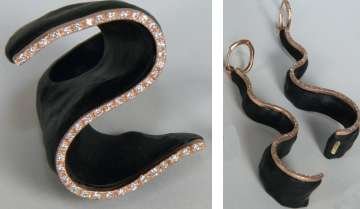 What's next for Raffaella Mannelli? "We will continue to create while looking for new challenges," she muses. Recently, she has been experimenting with boxwood, a white hardwood that is also fashioned into stylishly fluid designs with gold and precious gems. "Like ebony, boxwood is very hard, and also offers many possibilities." Together, this husband and wife team will continue their vision that combines natural materials, geometric shapes, and provocative designs for the Raffaella Mannelli brand, one of the true treasures of Tuscany.