By Cynthia Unninayar
Vendorafa Lombardi draws on 60 years of traditional craftsmanship and savoir-faire, combined with today's technology, to produce pieces that represent the best in creative Italian goldsmithing. Known for its innovation and research in the techniques of hammering and engraving, the brand's organic forms, floral inspirations, and classic patterns in 18K gold and precious stones are characterized by dynamic shapes, spatial harmony, and rigorous patterns. To learn more about this brand and its marketing efforts, CIJ Trends & Colours talks with Augusto Ungarelli, CEO of the company.
CIJ Trends & Colours: How is Vendorafa Lombardi positioned in terms of product and the brand itself?
Augusto Ungarelli: Vendorafa is positioned in the mid to upper range of the fine jewellery market. Its positioning is clear and precise due to various elements. These include the intrinsic characteristics of the product, the brand's core values, and the audience we are addressing. It does not offer a "fashion" product in the normal sense—its designs are not fleeting, nor season-dependent; rather they are perennial and timeless.
Every piece of Vendorafa jewellery is hand-finished in 18K gold by artisans drawing on sixty years of savoir-faire and tradition, while experimenting and innovating with the techniques of hammering, engraving, and embossing to provide texture and organic forms. Our customers understand the intrinsic quality of each piece and the efforts behind it. They find in Vendorafa the expression of their personal tastes. We are also very much positioned as a true "Made in Italy" brand, with all the qualitative and creative demands that the term evokes.
CIJTC: How is the philosophy of your brand expressed through design?
A.U.: The foundations of Vendorafa's philosophy—tradition, savoir-faire, innovation, experimentation—are translated into a product that reflects these concepts. The primary forms of our jewellery—organic patterns, floral forms, and classic geometry—represent traditional savoir-faire combined with innovative experimentation. They are the physical expressions of our research and creativity as well as our determination to explore new techniques and new horizons in the art of fine jewellery making and goldsmithing.
CIJTC: What does Vendorafa offer to retailers?
A.U.: There are many advantages for a retailer. First is the excellence of the product and how it is created. Each piece is not made haphazardly. It is the result of a planned design, where the shape, feasibility, and details are carefully defined, along with the materials used and the industrial techniques needed to produce a high-quality and reproducible product, followed by strict quality control—all in the tradition of fine wearable and hand-finished Italian jewellery.
Second is customer service. We are committed to a high level of service and support for our retail partners whether on the Via Montenapoleone in Milan, Bond Street in London, Place Vendôme in Paris, Ginza in Tokyo, Fifth Avenue in New York, or many Main Streets around the world. In the USA, Vendorafa is distributed exclusively by Opera Jewels' Massimo Zerbini. This partnership with our retailers includes active, versatile, and exclusive cooperation in the creative process to meet the needs of their customers, as well as short delivery times. I might add that our dedication to quality and efficient production combined with our professionalism allows Vendorafa to not only distribute its own jewellery to our retail network, but also to plan and create exclusive lines for large international brands, with these exports totalling about 80 percent of the company's production.
Third, in order to better enhance the buying experience for their customers, we offer training sessions for the sales staff about the jewellery, the values of the brand, and the creative process that results in each piece of Vendorafa fine jewellery. It also involves educating the client on what the "Made in Italy" label entails in terms of quality, design, and craftsmanship.
CIJTC: What serves as inspiration for the designs?
A.U.: Creating a piece of jewellery is, above all else, interpreting the material. The main inspirations are drawn from Nature, Art, and Architecture, sometimes individually, sometimes all together to create unique geometries and volumes. Architecture, in its own way, has a unique place in Vendorafa's designs. We start from the assumption that architecture has been created for human beings, to meet their needs and interests through avant-garde shapes. We interpret this in our jewellery. For example, our "Etnica" line is composed of interlocking hammered gold circles and precious wood elements that create soft and unexpected volumes, while "Twist" features the brand's characteristic hammered matte gold with an intertwined double band—in contrasting brilliant and textured finishes—twisting on the concave surface, set with diamonds. The "Sirena" collection creates innovative new shapes with intersecting surfaces plus diamond-set rounded and irregular edges.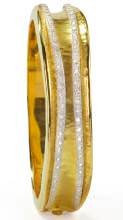 In "Pentagramma," Nature's pulsing energy inspires wavy lines enhanced by hammered gold balls and brown diamond accents. The graceful lines of "Onda" recall the long rolling waves of a calm ocean. Nature again serves as inspiration for "Dune" where curved lines and contrasting polished edges are reminiscent of gently sloping sand dunes. And, as infinite as the universe, the interplay of sensual lines offers movement and volume to the "Infinito" collection, while the "Nodo" collection evokes energy with its interwoven curves and sinuous hammered knots.
All our jewellery pieces have their own personality and specific design elements, but they are still all identifiable as Vendorafa by their organic forms and textured surfaces.