T
he first chapter of Bravery celebrated the pioneering spirit of Louis Vuitton, who left his hometown in Jura at age fourteen to make his way to Paris on foot. Leading on, the second chapter is dedicated to the fruits of his creative genius. By inventing the flat trunk, the ingenious visionary consequently revolutionised the world of travel.
"The Bravery collection is a metaphor for Louis Vuitton's life," says Francesca Amfitheatrof, Artistic Director for Watches and Jewellery at Louis Vuitton. "In the first chapter, unveiled in June, we presented the different stages of the journey he undertook. Now, we are celebrating the highlight of his career – the invention of the iconic trunk and all its distinctive characteristics. This is a new Louis Vuitton signature that we are introducing to High Jewellery."

Bravery Chapter II is composed around four themes: Le Multipin, Le Magnétisme, La Mini Malle and Cocktail Rings. Each piece – the necklace, ring, bracelet and earrings – is a mostly polychrome ode to the famous piece of luggage invented by Louis Vuitton in 1854.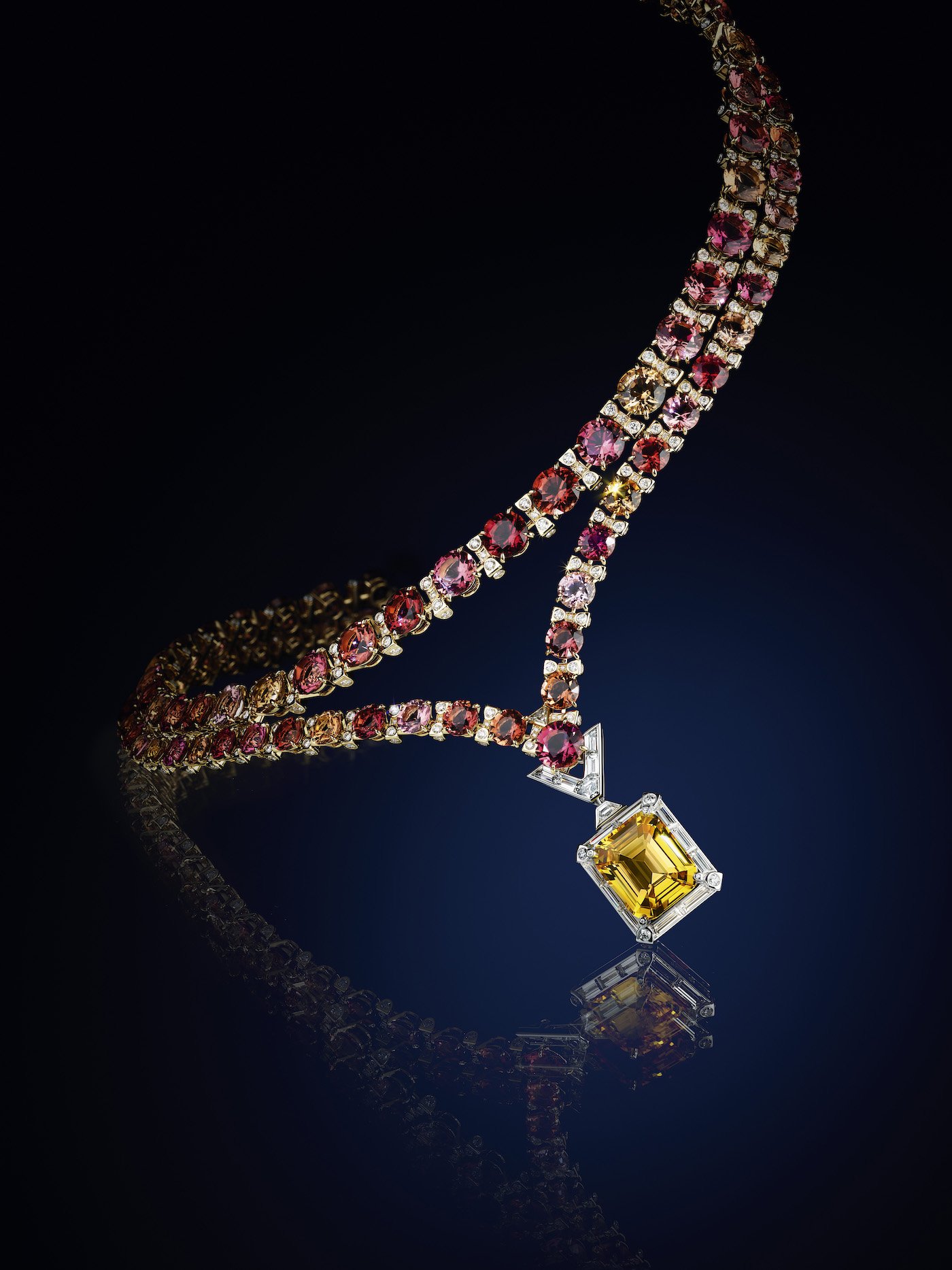 Francesca Amfitheatrof revives the extraordinary personality of the House's founder through energetic, playful and colourful designs that draw on the excellence of Parisian High Jewellery workshops and the unparalleled quality of coloured stones and diamonds selected by Louis Vuitton. Lively and dynamic to its core, the collection reflects the House's DNA and codes with a multicolour twist.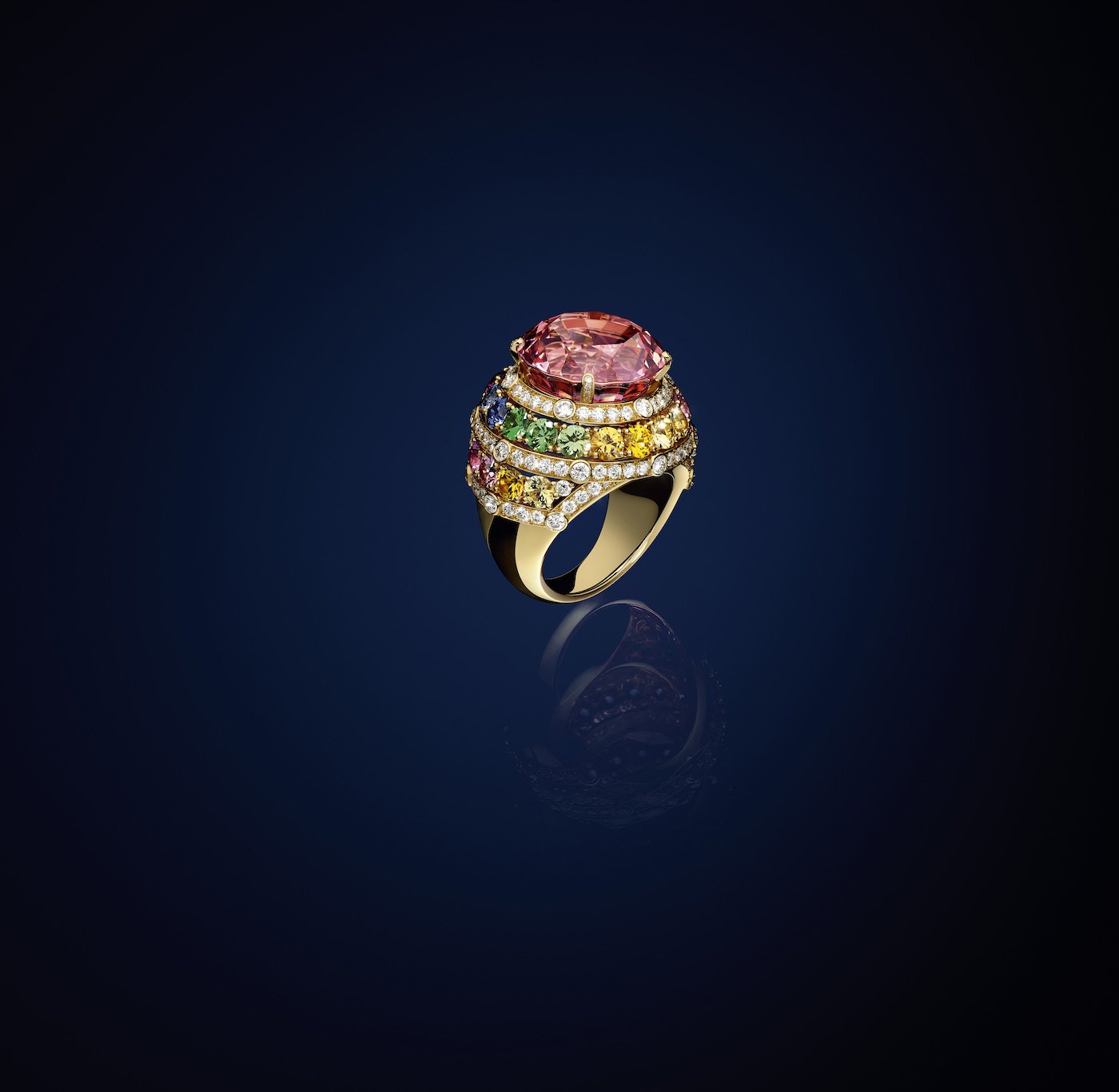 Le Multipin
Pink and green tourmalines, yellow citrines, blue aquamarines, violet tanzanites... Louis Vuitton showcases more than 100 colourful stones on the Le Multipin necklace, while revisiting its iconic lock.
One hundred carats of stones, perfectly aligned into three rows, illuminate an extremely rare 42.42 carat lagoon blue tourmaline. Surrounded by diamonds, the magnificent gem offers a lavish interpretation of the Louis Vuitton trunk closure.

It is accompanied by a cuff bracelet set with a 20.67 carat pink oval tourmaline and sixty coloured stones in a range of exceptional hues that bathe the lock of the famous trunk in a shower of light.
To complete the family, two pairs of multicoloured tourmaline earrings join a set of four opulent rings, each one centred around a tourmaline, carefully selected for its vibrant shade.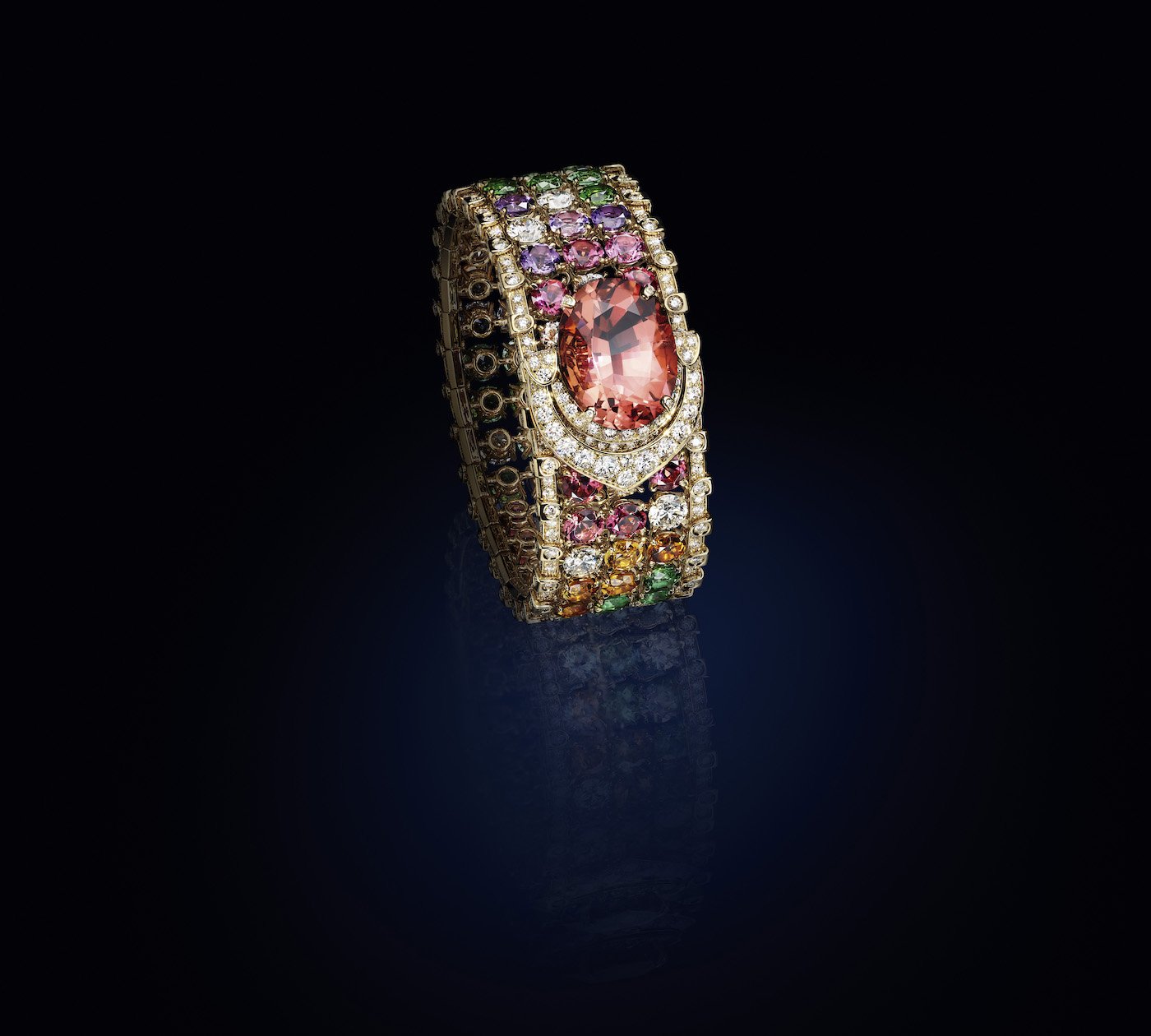 Le Magnétisme
With a spectacular intensity, the yellow hue of this 20.29 carat cushion-cut sapphire from Sri Lanka captivates the eye. It is the focal point of the Le Magnétisme necklace, which boasts two rows of pink, orange and yellow tourmalines, totalling 152.86 carats of stones.
Suspended from a baguette diamond-set V – symbolising both Vuitton and the shape of its trunks' metal corners – the detachable central sapphire can also be worn separately on a chain.

The rectangular silhouette of the iconic luggage is reflected in the framing of the main stone. The diamonds nestled between each tourmaline echo the metal studs on the trunk, resulting in a powerful, flamboyant piece of jewellery, in keeping with the quintessential aesthetic of Louis Vuitton High Jewellery. Additionally, three rings respectively set with a pink sapphire, a red tourmaline and a raspberry tourmaline are embellished with signature diamond accents.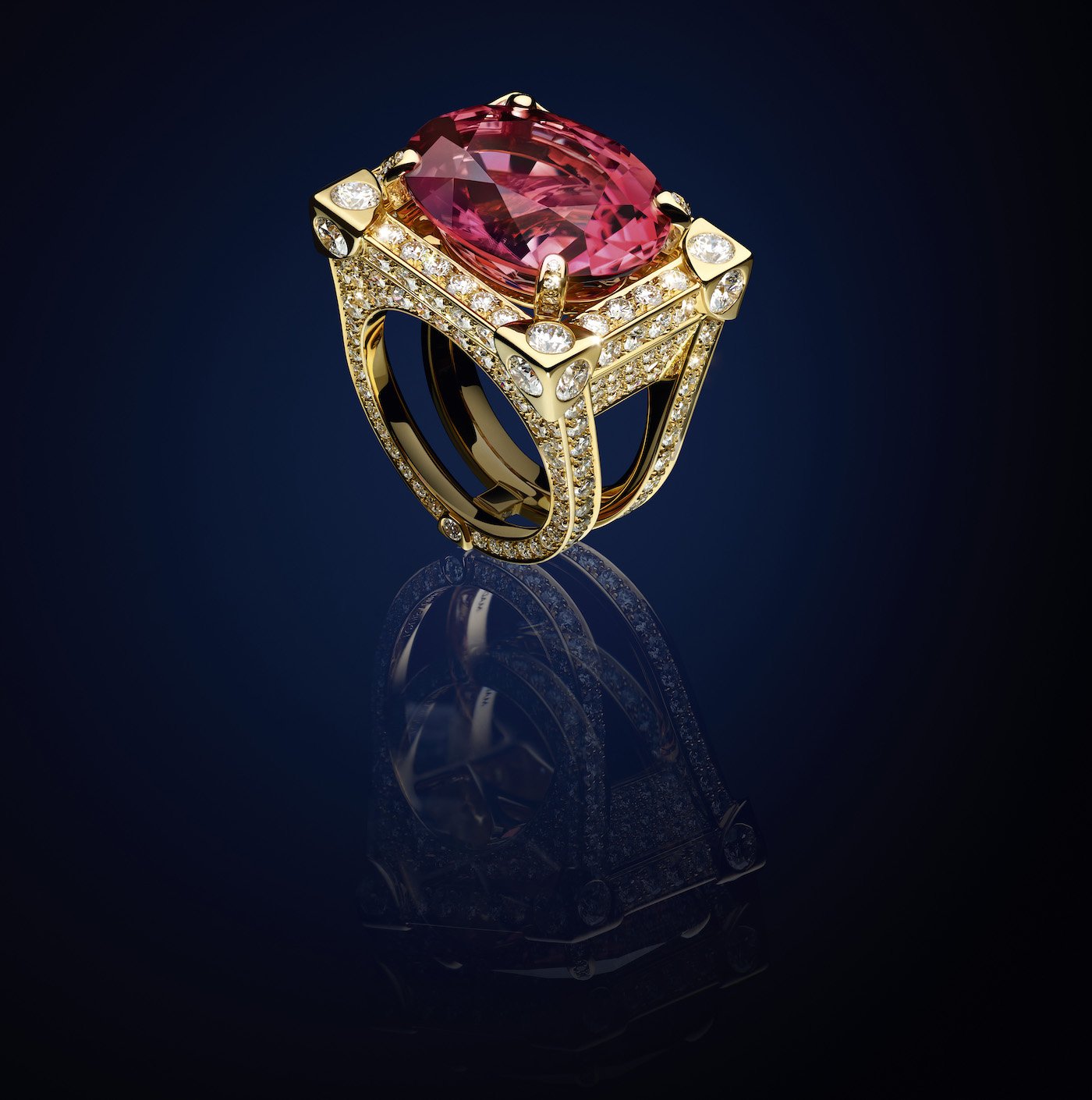 La Mini Malle
The only monochrome set, La Mini Malle translates the geometric shape of the Petite Malle, released by the House in 2014, into a white gold and diamond rendition. Miniaturised in every aspect, La Mini Malle becomes a key feature of a feminine-masculine theme, composed of diamond-pavé links and adorned with Monogram flower-cut diamonds. The choker features three Mini Malles – highlighted with three LV Monogram Star-cut diamonds, one of which weighing 3.34 carats – that enliven the series of square-cornered pavé links.

Along the same lines, a beautifully flowing long necklace is transformed into a choker and two sparkling bracelets. With unprecedented elegance, the signet ring features a diamond marquetry. The signature characteristics of Louis Vuitton trunks emerge from an arrangement of baguette and round diamonds, highlighting the majestic 1.55 carat LV Monogram Star-cut diamond. The set is completed by a bracelet and jewellery watch.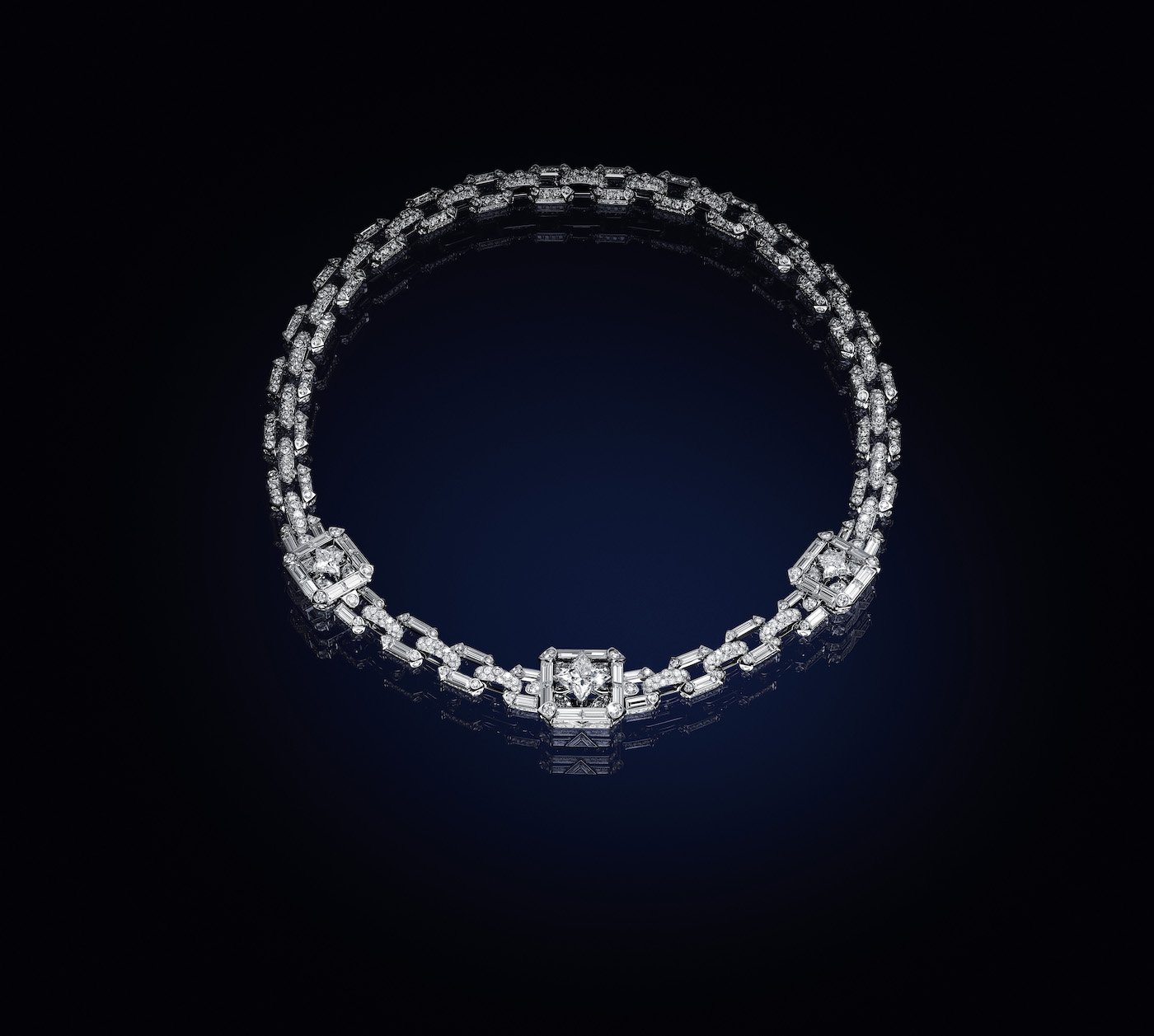 Cocktail Rings
Strength meets delicacy in these four Cocktail rings which all exhibit a central brilliant-cut coloured stone. Only gems with perfect colour homogeneity are flattered by a round shape. Three years of research went into finding these stones of unmatched quality.
On a geometric setting encrusted with diamond pavé, Louis Vuitton showcases a wonderfully pink 1.30 carat Padparadscha sapphire from Madagascar, a dazzling 1.34 carat ruby from Mozambique, a 2.09 carat cerulean sapphire from Madagascar and a rich, vivid green 1.34 carat demantoid Garnet. Luxuriously refined, each ring features intricate detailing, such as studs and angle mounts, evoking the silhouette of the trunk. These pieces can be worn separately or stacked.