G
rowing up, Caroline Scheufele dreamed of becoming a prima ballerina. Instead, she would shine on a different stage. As the daughter of Karl and Karin Scheufele, she joined Chopard, the watch company her parents helmed, gaining experience with every department alongside her brother, Karl-Friedrich Scheufele. Appointed co-presidents, each fulfils a role tailored to their temperament. Karl-Friedrich has skilfully developed the company's watch business, including the creation of the L.U.C manufacture in Fleurier. Caroline, meanwhile, has successfully guided the brand into new territory: that of high jewellery.
Exactly 26 years ago, she contacted Pierre Viot [director of the Cannes Film Festival between 1984 and 2000] with the offer to redesign the Palme d'Or trophy and become the festival's partner. A friend of Livia Firth, founder of the Eco-Age sustainability consultancy, Caroline Scheufele was the first jeweller to come to Cannes with a Green Carpet collection of ethical jewels, crafted from Colombian Fairmined gold and set with diamonds and coloured stones from mines that had been certified by the Responsible Jewellery Council. That was in 2013. Since 2018 Chopard has used nothing but ethical gold for its jewellery.
Caroline Scheufele
Sustainability extends to every area of Chopard's activity, from high jewellery to fragrances and watches. During a press conference at the latest Watches and Wonders fair in Geneva, Karl-Friedrich and Caroline Scheufele announced that the company's watches will contain 80% recycled steel in its Lucent Steel alloy, with a target of 90% by 2025. Joining the two co-presidents at the conference was Chopard ambassador, Julia Roberts.
Caroline Scheufele is captivated by remarkable gems. In November 2015 she purchased a 342-carat rough diamond that was unearthed in Botswana. It yielded 23 stones of remarkable purity that were set in the Queen of Kalahari high jewellery set, shown in Paris in January 2017. Five years later, in January 2022, Caroline Scheufele returned to Paris to present an exceptional emerald, the Chopard Insofu ("elephant" in Bemba) that was discovered in the Kagem mine in Zambia. It is one of the most important emeralds found to date, in terms of both size – 6,225 carats – and quality.
The Chopard name is renowned the world over for the irreproachable quality of the products that come out of its workshops, whether jewellery or watches. It also owes its reputation to the sunny personality, creativity and marketing acumen of its co-president. As partner to the Cannes Film Festival and designer of the Palme d'Or, Chopard's fame has grown. At the time of writing, Caroline Scheufele was at Cannes to present her new high jewellery collection. She is the best ambassador the brand could wish for.
Europa Star: You designed 76 high jewellery creations for the 76th Cannes festival, one for each year. What inspired this collection?
Caroline Scheufele: This year's theme was art in the widest sense: dance, music, sculpture, writing and film. The necklace with a feather motif, for example, evokes writing.
There are two particularly spectacular necklaces, one with heart-shaped emeralds and another with yellow diamonds. To what extent did the stones influence the design?
I designed both these necklaces around the stones. Important stones will always inspire the design.
Necklace in 18k Fairmined white gold and titanium, set with heart-shaped and pear-cut emeralds and brilliant-cut sapphires
How do you source your stones?
I go looking for them, or sometimes they come looking for me! Our partners at the mines and those working with roughs know we are always seeking exceptional and unique stones. The fact we have worked with the same partners for so many years means I frequently get first choice.
Speaking of exceptional stones, in January 2022 you presented a rough emerald weighing 6,225 carats that you've named the Insofu. What will happen to it?
It's in the process of being cut. It's taking shape. I'm working on the first designs. We should present the entire collection in Paris in January 2024, to coincide with the official opening of our hotel.
The Chopard Insofu Emerald ©Eric Sauvage
How many stones will the rough yield?
We don't know yet. Whereas we were able to calculate the number of stones we would obtain from the Queen of Kalahari diamond, with an emerald this is impossible. A diamond is virtually transparent, hence you can literally look inside it using a scanner, something you cannot do with an emerald. Because of its colour and inclusions or "jardins", the cutters can't work to a plan. They start from the outside and follow their instinct. When a piece detaches itself from the rough, they ask me whether I would prefer a flat stone or a pear shape. We're progressing step-by-step.
At Watches and Wonders, you and your brother Karl-Friedrich held a press conference with Julia Roberts in attendance. How did she become the ambassador first for the Happy Sport and then for Chopard?
I met Julia at Cannes in 2016 when she walked the red carpet barefoot. She was wearing an emerald necklace and I remember her saying, "With a necklace like this, who needs shoes!" When we started planning our Pure Happiness campaign, the marketing department suggested several actresses, all very beautiful, to front it but I could see we were missing the most dazzling smile of all: Julia Roberts's. I asked them to get in touch with her. If you don't ask, you don't get! She was delighted, particularly given our commitment to sustainability and the fact we use ethical gold in our collections. First she became the ambassador for our Happy Sport watches and she now represents the brand and all its women's collections, including the Alpine Eagle which is a unisex watch. She wants to come back and visit our workshops in Geneva. She's very dedicated.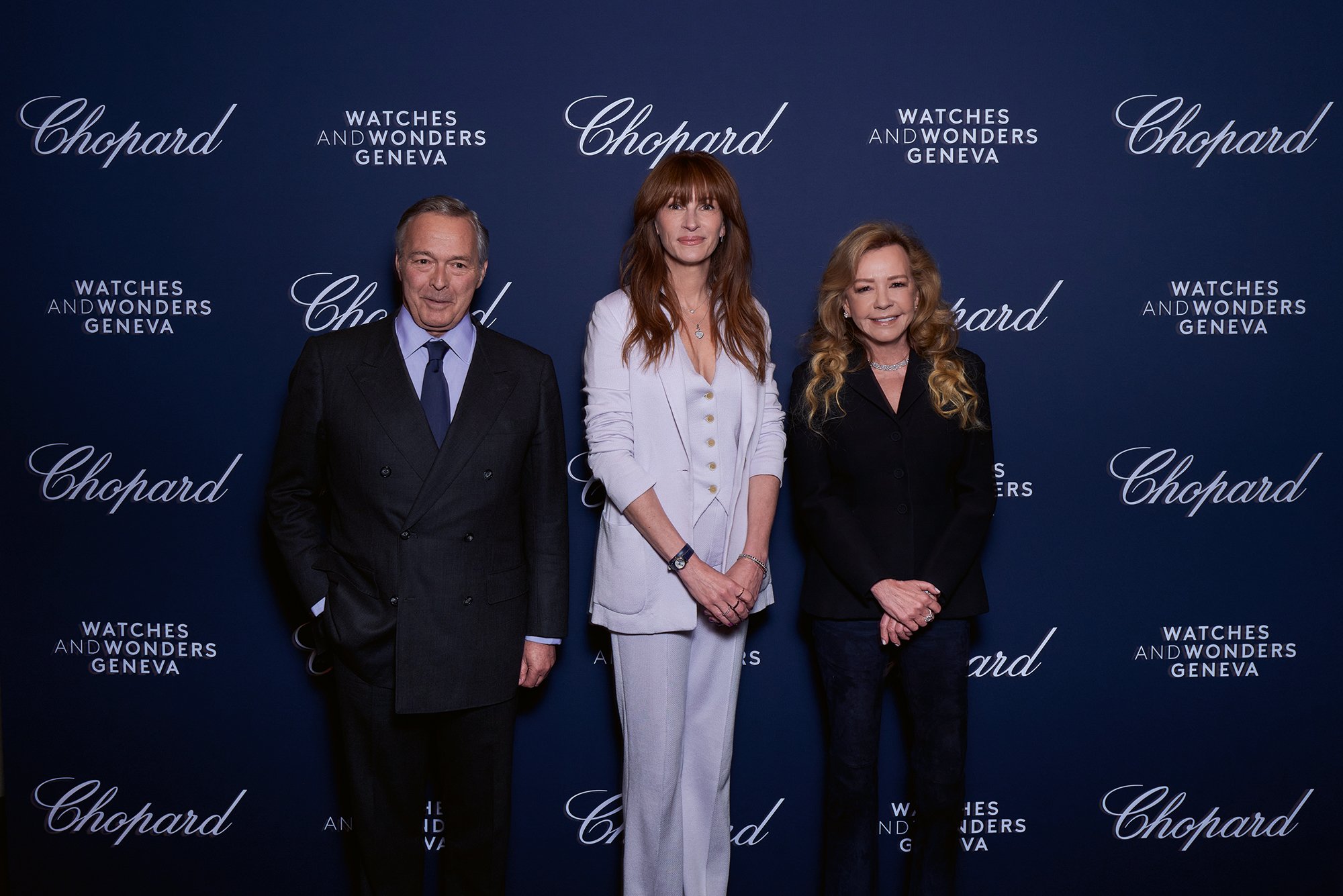 You were the first jeweller to work with Fairmined gold for the Green Carpet Collection. That was in 2013 when most brands hadn't given a thought to sustainability.
In 2011 Colin Firth won the Best Actor Oscar for The King's Speech. He wore an L.U.C mechanical watch. I had coffee with Livia Firth, his wife at the time and an advocate for sustainable fashion. She asked me where our gold came from. I answered "from the bank" but in all honesty I had no idea where it originated. That was the lightbulb moment. She put me in touch with NGOs and organisations that monitor due diligence. Back in Geneva, I talked it over with Karl-Friedrich, who has a strong interest in nature preservation, and he immediately came onboard. We started small, with an artisanal mine in Colombia. When we took delivery of the first few kilos we treated them with far greater respect than traditional gold. I started using it for high jewellery and my brother also introduced it into L.U.C watches. Today, Chopard uses nothing but recycled or Fairmined ethical gold.
Watches made with Chopard's 80% recycled Lucent Steel
Now everyone has followed suit. Can the luxury industry ignore the question of where its raw materials originate?
No. Luxury must be transparent. We must continue this journey to the end, even if much remains to be done. These are our values that we are highlighting.
What are the main problems when you choose to work only with ethical materials?
It's a question of time. By the end of 2023 we'll have covered all our steel watch production using Lucent Steel™ containing 80% recycled steel. This is already a huge step forward. We aim to increase this to 90% by end 2025. We've chosen to work with partners in Switzerland and Austria* who are close to our production sites. This cuts transport emissions. By using recycled steel we can reduce our products' carbon footprint.
Chopard is an independent, non-listed firm. What are the strengths and weaknesses of being a family-owned business?
Large groups don't have the freedom we have and they're not as agile. We can adapt quickly to different situations. At groups, CEOs come and go which takes away something of the brand's soul. You can feel that, behind our workshops, there is a family.
You and your brother have very different, complementary personalities. How do you co-manage the business?
We've always chosen to work together in the same office, even though we've moved four times. We're a bit like Yin and Yang. I'm the feminine side and he's the masculine side. It works well.
How would you describe the way Chopard is run? A participative democracy? A parliamentary monarchy?
A democracy. You can't do everything by yourself. You need teamwork in order to succeed. It's important that the artisans know why they are doing something and they do it with passion. Although it could be a parliamentary monarchy [laughs].
Looking back, what are you most proud of?
I can think of several milestones along my journey to where I am today, starting with the first clowns I sketched while still at school, which became a jewellery collection. Then there was the launch of Happy Sport, the first steel watch with diamonds. People thought I was mad and now it's one of our flagship collections. Of course, there's also our partnership with the Cannes Film Festival and the fact that we redesigned the Palme d'Or. Not forgetting the creative adventure inspired by the Queen of Kalahari diamond and obviously our commitment to ethical gold.