"W
hen the first jewels came into being, at the same time as civilisations, the first reflex was to seek themes in nature," explains Pierre Rainero, director of Image, Style and Heritage at Cartier. "Humans try to appropriate for themselves the values they attribute to elements of nature, whether animals or plants. From very early on, Cartier created bracelets of Japanese inspiration, floral themes like the cypress tree, with the stylisation of nature peculiar to those cultures."

All the major jewellery name have jewels inspired by nature in their collections, whether realistic or artistic interpretations. But no one has gone as far as Boucheron. In 2018, the jewellery maker used real flower petals as the main material for its collection of rings, Les Fleurs Éternelles.
Boucheron - Fleurs Eternelles Collection, 2018

©I. Cerboneschi
"Boucheron set up an R&D laboratory specially for this project," explains Claire Boucl, the "pétaliste" who immortalised the flower petals on the jewellery maker's behalf (read her portrait here). I had to stabilise around 10,000 petals from about a hundred different flowers. They were tested for their resistance to light by a researcher at the CNRS, the French National Centre for Scientific Research. My petals were as flat as goldleaf and floppy, we had to glue them and protect them with a kind of lacquer to solidify them without damaging them." The result was breathtakingly beautiful.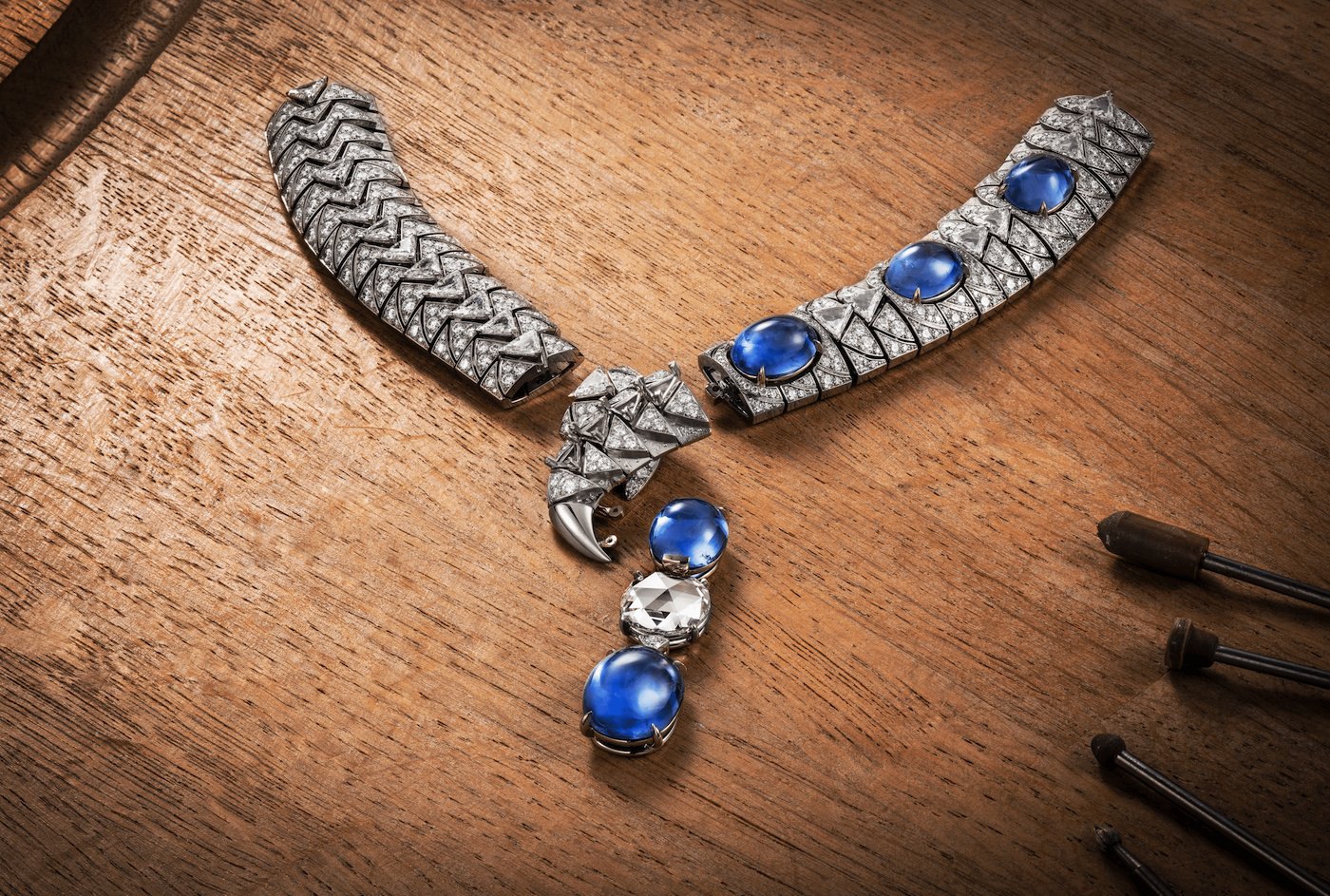 But no need to take realism that far to realise how beautiful are the treasures of our planet. Cartier is one company that has always raised nature to the status of muse. This year, the jeweller launched a collection paying homage to the "beauties of the world" – Beautés du Monde: the Nouchali necklace evokes a water lily, with a 10.61-carat rubellite at the centre, while the Water Aspis necklace represents a snake set with five sapphire cabochons totalling 43.49 carats.
Cartier - Beautés du Monde Collection in white gold, Nouchali necklace with a 10.61-carat cabochon-cut rubellite as its central stone, six kite-shaped diamonds totalling 3.45 carats, kite-shaped diamonds, chalcedony and rubellite beads, black lacquer, brilliant-cut diamonds

Iris Velghe © Cartier
Cartier - Beautés du Monde Collection in white gold, Water Aspis necklace in white gold, five cabochon-cut Ceylon sapphires totalling 45.49 carats, one 4.49-carat, F VS1 modified brilliant-cut diamond, lapis lazuli, triangular diamonds, brilliant-cut diamonds

Jonas Lindstroem ©Cartier
Among the brooches, an elephant coiled in on itself in petrified magnolia wood clutches in its trunk a pink sapphire brooch, while a quetzal with plumage of Paraiba tourmalines, sapphires, engraved tsavorite garnets and diamonds awaits a shoulder to alight on. But one of the doubtless most astonishing items has to be the Cymbale necklace, which is reminiscent of a cicada made of diamonds, rock crystal, rubies and onyx, the transparency of its wings rendered in faceted rock crystal set in an invisible structure. The insect is not reproduced in a narrative style, but symbolically, and the result is both graphic and symbolic.
Cartier - Beautés du Monde Collection, Cymbale necklace in white gold, set with a D VS1, 6.10-carat cushion-cut diamond, nineteen faceted Burmese rubies totalling 12.64 carats, eleven cushion-cut diamonds, rock crystal, onyx and brilliant-cut diamonds

©Cartier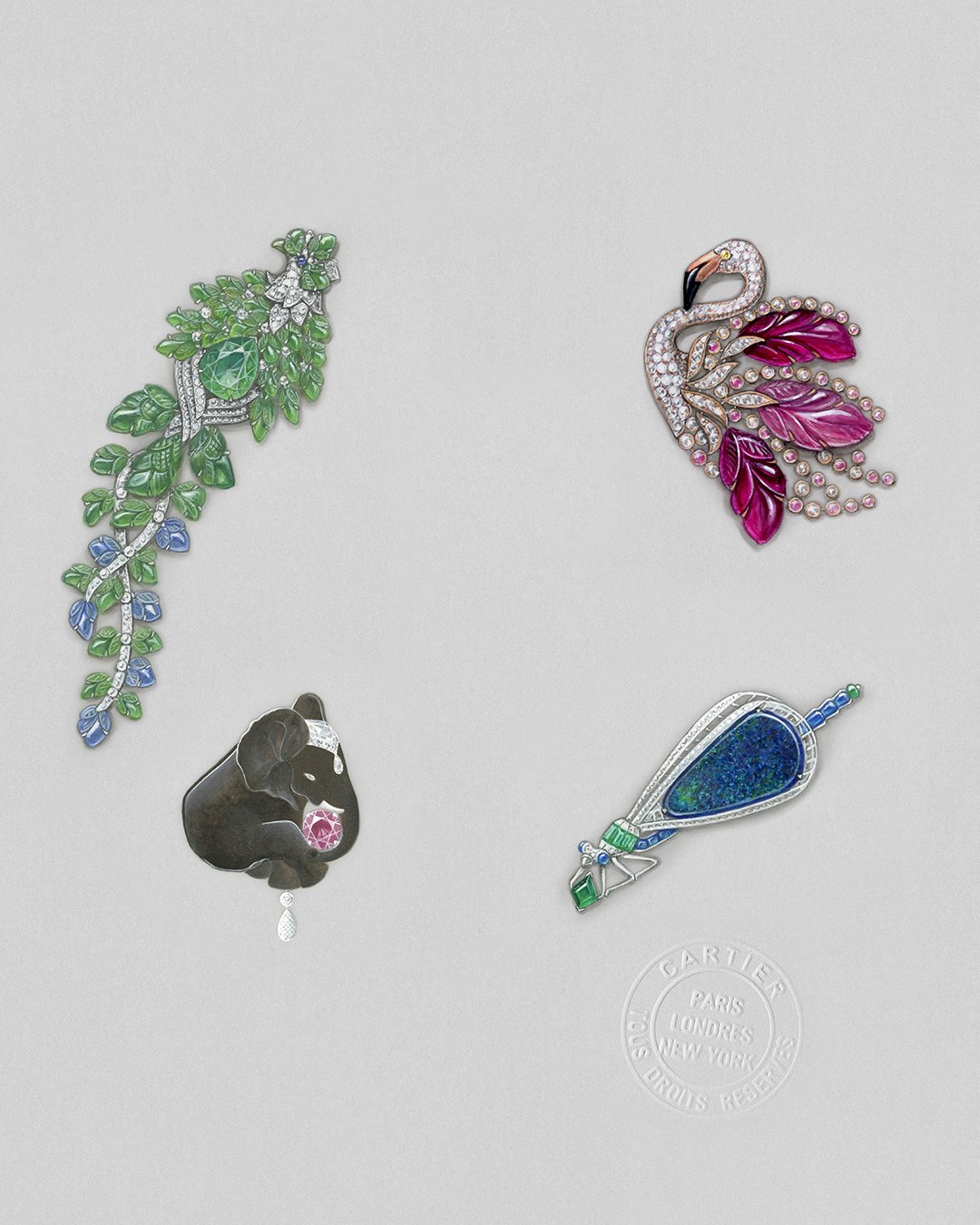 As for jewellers Bulgari, they took inspiration from an imaginary garden of Eden with their collection, The Garden of Wonders, which comprises 140 pieces in all. The jewels are not reconstitutions of things from nature, but interpretations. The snake, of course, one of the company emblems, takes pride of place in the collection in the shape of the Serpenti Ocean Treasure, in which two reptiles are entwined around an impressive, 61.30-carat, drop-shaped Sri Lankan sapphire.
Bulgari - The Garden of Wonders Collection, Serpenti Ocean Treasure necklace with a drop-shaped 61.30-carat Sri Lankan sapphire as the central stone
This collection is evocative of cascades, enchanting gardens and flowers, but also of other plants, as with the Emerald Venus. This was inspired by the shape of capelvenere, a type of Mediterranean fern, the Italian name of which means "Venus' hair", which appears to have grown around a 20-carat, octagonal Colombian emerald.
Bulgari - The Garden of Wonders Collection, Emerald Venus necklace inspired by a Mediterranean fern, with its central 20-carat Colombian emerald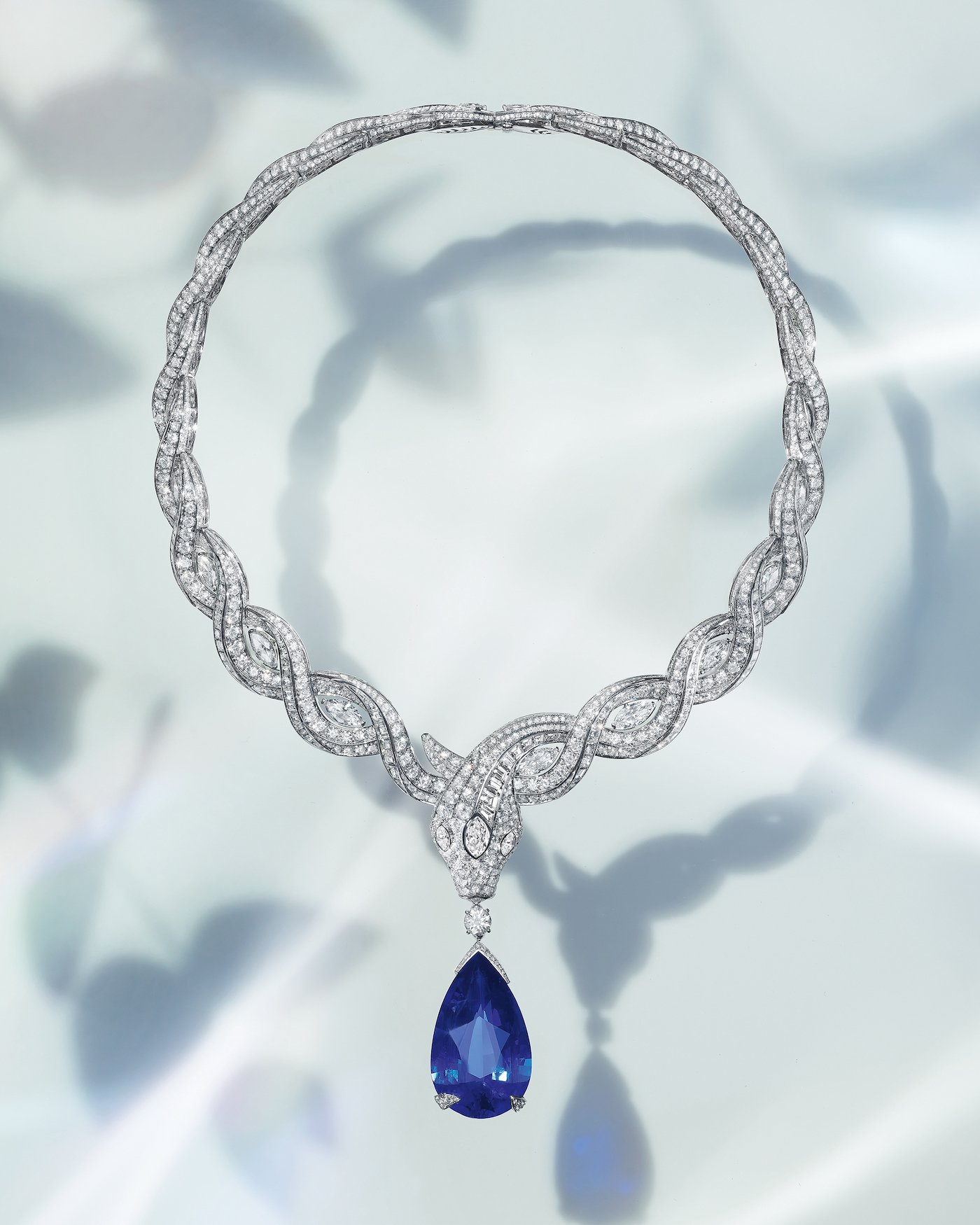 Chaumet has dedicated a collection of 69 items to the sea: from the currents of the Gulf Stream to lapping water and from starfish to mermaids and sailors' tattoos, the whole aquatic world is interpreted in evocative pieces of jewellery. You can literally see the little waves of a calm sea on a moonlit night interpreted in the necklace On the Water's Surface. To produce this effect of movement, the necklace is articulated and the diamonds set at different levels. A removable, 7.18-carat diamond drop appears to be falling, like a precious drop of water. The lines of the collection undulate like the sea.
Chaumet - Ondes et Merveilles Collection, On the Water's Surface necklace
Chaumet has even imagined adorning modern-day mermaids with Tahiti pearls and beads of lime-coloured tourmaline, including one cushion-cut tourmaline of 23.79 carats, with its Mermaids' Song necklace. A complete set of jewellery is dedicated to them.
Chaumet - Ondes et Merveilles Collection, Mermaids' Song necklace in Tahiti pearls and tourmalines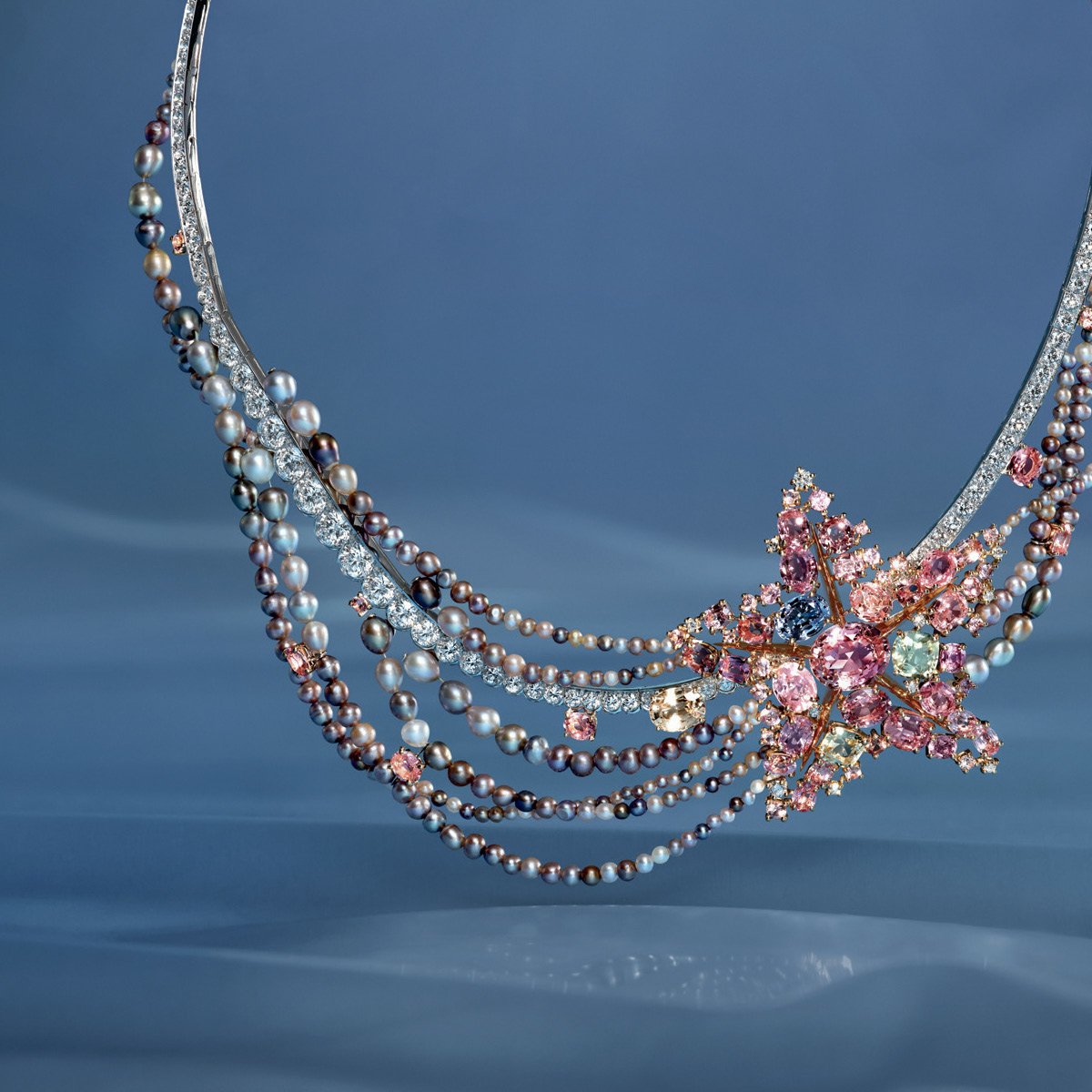 There's a change of atmosphere with Tiffany & Co. Its Botanica: Blue Book 2022 collection harks back to the 1940s fashion of animal and floral jewels. At the time, the emergence of these gentle and refreshingly themed jewels marked a clear break with the Art Deco style that had reigned during the 1920s and 30s. Geometry gave way to imagination.
Tiffany & Co. - Schlumberger® Botanica: Blue Book 2022 collection, Hedges and Rows necklace in platinum and 18k yellow gold with yellow beryls, turquoises and diamonds
Tiffany & Co. - Schlumberger® collection Botanica: Blue Book 2022, pineapple brooch in 18k yellow gold and platinum with demantoid garnets, pink sapphires, a rubellite and diamonds
But besides a need for colour, there was a historical reason for this radical stylistic turnaround: with World War II there was a shortage of raw materials. Precious stones were no longer imported and platinum was requisitioned by the army. Jewellers used copper in their alloys, hence the very warm shade of gold.
Tiffany & Co. - Schlumberger® collection Botanica: Blue Book 2022, Hummingbird brooch in 18-carat yellow gold and platinum with round blue sapphires of more than 7 carats, oval and round pink sapphires, round tsavorites, one round ruby and brilliant-cut round diamonds
Tiffany & Co. - Collection Botanica: Blue Book 2022, Tulip brooch in platinum and 18k yellow gold with pink sapphires and diamonds
Without drawing any parallels between the two periods, it is easy to imagine that the Covid pandemic, the wars in Ukraine and elsewhere and the announced energy shortages are justification enough for producing a cheerful and deliciously retro collection that gives pride of place to the fish, grasshopper, seahorse, parrot, pineapple and hummingbird brooches reproduced from Jean Schlumberger's designs for Tiffany & Co.
Tiffany & Co. - Collection Botanica: Blue Book 2022, Iris brooch in 18k yellow gold with enamel and Fancy Intense Yellow diamonds
Tiffany & Co. - Schlumberger® Collection Botanica: Blue Book 2022, Parrot Sabre brooch in 18k yellow gold with light plum and dark green paillonné enamel, black enamel, pink sapphires, one emerald and one turquoise
"We also took inspiration from the drawings of Louis Comfort Tiffany as well as from the flowers, such as rises, poppies and tulips, in the company archives and reinterpreted them for our contemporary clients," Victoria Wirth Reynolds, Vice-President & Chief Gemologist at Tiffany & Co. Like an invitation to an everlasting spring…
Tiffany & Co. - Schlumberger® Collection Botanica: Blue Book 2022 Seahorse brooch in 18k yellow gold and platinum with purple sapphires, spessartines, one emerald and diamonds